The best way to make use of Diablo 3 Season 21's double caches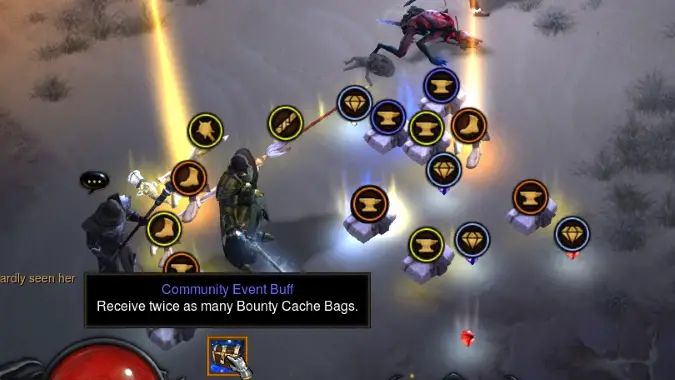 Diablo 3 recently buffed up Season 21 with an extra seasonal bonus that should leave you rolling in loot. The return of the Boon of the Horadrim is fairly basic — when you complete all the bounties in an act, you get two Horadric caches instead of one, and that's it. You don't get an extra Greater Rift or Empowered Rift cache, or any other cache like Haedrig's Gift. You only get extra Horadric caches for doing bounties in Adventure Mode. As a result, there are specific things that gain absolutely no benefit from this bonus that you should be aware of.
There's no benefit from the Boon of the Horadrim to any of the various Rifts you can run, be they Nephalem, Greater, Empowered Greater, or Challenge Rifts.
Neither Whimsydale or Whimsyshire are affected by Boon of the Horadrim.
The Realm of Greed is not affected in any way by the Boon of the Horadrim.
Treasure Goblins? Not affected.
Seriously there's absolutely nothing that is affected by this bonus except Horadric caches at the end of an Act's bounties. That's it.
But that doesn't mean there's no variety in terms of what you can use the buff to do. Because Horadric caches are the only source for the specific Act crafting materials, you can now farm those far more easily, and since the gear that drops from a Horadric cache scales with your Torment level, running Act Bounties serves as a decent way to gear up and keep gearing up in-between and before you begin running various Rifts. Also, because legendary gear drops from Horadric caches, and you can use legendary items in Kanai's Cube to reroll said items, the double caches means more materials to use to do that and more legendaries to use with the Cube. It also provides a good source of powers to extract in Kanai's Cube.
All of these uses benefit from the Boon of the Horadrim. And the best part is, no matter what Torment level you're at, the Boon will be of benefit to you, and it will only get better the higher your Torment level gets. So don't worry about the Boon interacting with any other aspect of the game — it doesn't affect anything but the specific Horadric caches that you earn for completing bounties in the various Acts.