It's not double treasure goblins, but Diablo 3's Season 21 is doubling up on Horadric Caches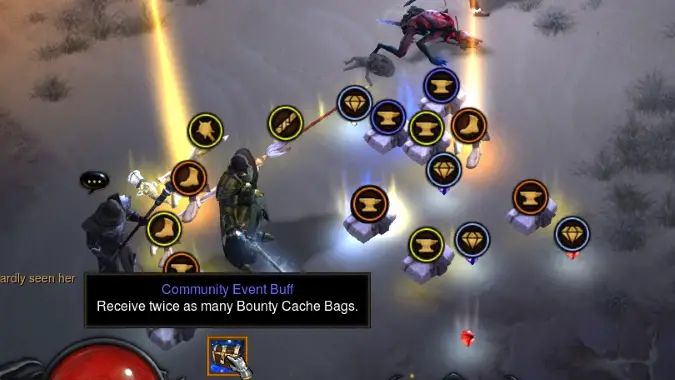 A while back, we asked the question Should Diablo 3 bring back double treasure goblins and while our answer was a resounding yes, Blizzard decided to go in a slightly different direction. We covered all the previous Seasons in depth, and if you'd told me Season 15's double Horadric caches was going to be what came back as a nice bonus in Season 21, I would have been skeptical. Yet here we are now, and double Horadric caches is indeed how Blizzard has chosen to entertain us.
Starting from 11am PT today and through the end of Season 21, all bounties will be doubled!

More info: https://t.co/oBJR4PAFZD pic.twitter.com/0tRpabTRkt

— Diablo (@Diablo) August 10, 2020
If you don't recall how this worked the last time, it's not overly complex to explain — essentially, while completing the Act bounties for Tyrael and doing the various tasks that clear out the regions of Sanctuary (and the High Heavens and Pandemonium as well) of demons and so on, you normally earn a Horadric cache after you've cleared all of the bounties Tyrael offers in that region. The cache's contents scale with the Torment difficulty your game is set on. Now, with double caches, instead of getting one Horadric cache as your reward once you complete all the bounties in an Act, you gain two caches.
CM FilthieRich explains what caches will be affected by this event and what caches won't. It only affects Horadric caches — caches earned for clearing a Greater Rift and any other caches not called Horadric caches are not affected.
The trials this season brings upon a new event for the community. Starting from 11am PT today and through the end of Season 21, all bounties will be doubled. What does this exactly entail? All Horadric Caches earned from bounties will be doubled. This means that each time you complete bounties in an Act, you will now receive two Horadric Caches as opposed to just one. Double the bounty rewards!
There are a few things to keep in mind with this effect:
The bonus cache does benefit from difficulty level; it is essentially as though you completed twice the bounties.
The rewards inside the Horadric Caches are otherwise unaffected; drop rates or the amount of individual rewards have not been altered.
The bonus cache earned from Challenge Rifts is not affected; this is a separate type of cache.
Check out our Game Guide for a list of bounty-exclusive Legendary items and more information on the Bounty system.
So that's that — while it is the return of an earlier Season's theme, it's not one that really changes up the game all that much. I'm personally not as excited for it as I would have been for double treasure goblins, but it's still extra stuff so it's hard to not be happy about that.
In addition, it appears that Blizzard's going to be extending their PTR time going forward, potentially because the last couple of Seasons haven't really gotten the testing feedback that could have led to issues like Season 21's lackluster theme being addressed more effectively sooner. I think that's a very solid move on Blizzard's part. I've liked the fast PTR cycles overall but it does make it hard to really get in there and grapple with how certain aspects of a new Season are playing out, and more time for feedback will help address that issue. Yes, it means slightly longer Seasons, which will make predicting the exact date of the next Season a little harder, but it still feels like a solid idea.
So be warned, if you want more loot from more caches, you'll need to run more Bounties from each Act in Diablo 3 to reap the rewards of this new event.