WoW
Aug 19, 2020 4:30 pm CT
Castle Nathria shakes up raid loot with weapon tokens replacing weapon drops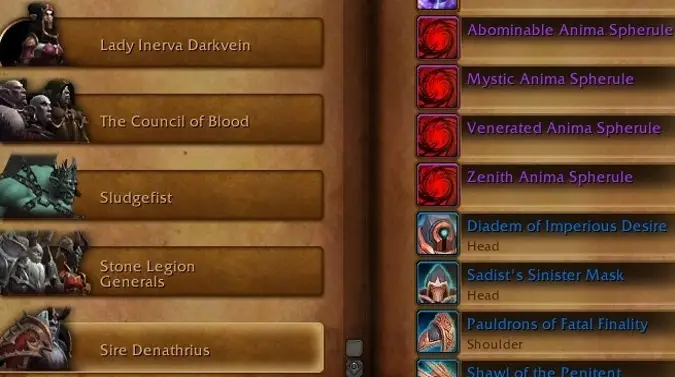 The latest Shadowlands build includes a pretty significant change to gear drops in raids: instead of weapon drops, there will be tokens you can turn in for weapons of your choice. These tokens are called Anima Spherules, and they can be turned in at your Covenant Sanctum for weapons and offhand items. Well, to be fair, the text on the items says weapons, but Wowhead says weapons, shields, and offhands. That would make the most sense when compared current systems, like Emissaries that reward a weapon — I've gotten shields several times when doing a weapon Emissary on my Prot Warriors, for example.
If this change makes it to the live servers, it's a pretty big deal — I can't recall a raid that dropped a weapon token ever in the history of World of Warcraft.
I can see some problems with it, though it's likely the system simply isn't fully implemented yet. Right now, Anima Spherule drops are only for Rogues, Death Knights, Mages, and Druids, but I expect they'll eventually make Tokens for every class. More of a problem will be the hot ticket nature of the Spherules — if this is the only means of getting a weapon in Shadowlands raids, or even just in Castle Nathria, there will be a lot of competition.
I know we don't have master loot anymore, but I can foresee a lot of subtle and not so subtle pressure to pass that crucial weapon drop on to another character. If the current live system is implemented along with these tokens, and players can't trade the Spherule if they don't have a weapon of that ilevel or better, this could be a much better solution than what we currently have. Hopefully there won't be any weird edge cases like a Resto Shaman getting the Spherule but not wanting to upgrade weapons because the one they have is perfect for their itemization and thus nobody actually getting any use out of the drop.
Weapon drops on a token system make me wonder how the Covenant Sanctum turn-in is going to work. Can we just trade these for a list of weapons on a vendor? Or does the turn in work like an Emissary in Battle for Azeroth, where you turn the Spherule in and it just morphs to a weapon for the loot specialization you've using?
I'd rather we get to choose, as it would make the Spherules last longer as a raid drop, but I am concerned at the idea of scarcity here. How many of these are going to drop? Characters that dual wield or use a weapon and shield are going to be desperate for these. Since the tokens seem to be linked to class the way class sets once were, is there a chance we'll see some set weapons? I think that would be a cool return to the game for classes that use two weapons, or even a weapon and shield or weapon and offhand like some casters.
I'm curious to see how this ends up in implementation, but it's definitely an interesting and novel approach to weapon drops, often the most contentious and sought after drops from any raid.