WoW
Aug 21, 2020 4:00 pm CT
Upcoming Guide Mentor System has new requirements in the Shadowlands beta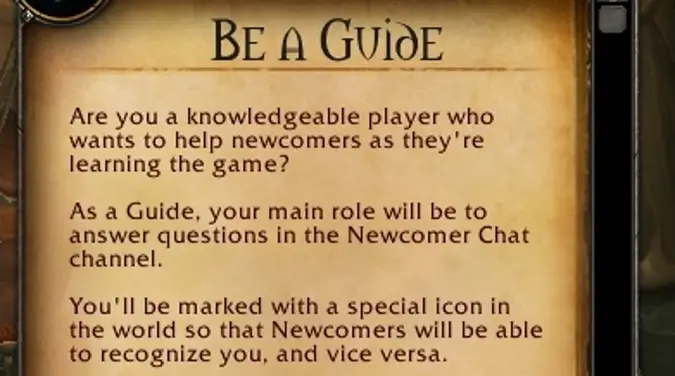 The idea of a system that connects experienced players who want to help and newer players who could use the help is a pretty good one, and that idea is one coming to Shadowlands with the Guide Mentor System. Perhaps you're one of those experienced players and you're wondering how to participate in the system — well, now thanks to Wowhead we know what criteria Blizzard may require you meet to Guide others.
In the latest #Shadowlands build, the Guide Mentor system has received new requirements for those looking to be elligible to help new players.#Warcrafthttps://t.co/z6BU5MpUuL pic.twitter.com/QKc4k4dOf3

— Wowhead💙 (@Wowhead) August 19, 2020
I don't think it's a big surprise that they expect Guides to have reached the maximum level achievable when the pre-patch for Shadowlands drops, namely level 50. If you're going to mentor other players it's probably pretty fair to be expected to have played the game at least enough to have one level 50 character. What I find interesting are the other requirements, all of which are based in achievements. Of these achievements, I think the 3000 Quests achievement is the most necessary — you want a mentor to be pretty experienced in terms of completing quests, so that even if they haven't done the specific quest they're being asked about they at least have a good grasp of how quests work and how to complete them. That feels like a solid requirement.
After being level 50 and completing 3000 quests, what else do you need? Well, there are several other achievements, of which you need at least two to qualify for the program. These are:
So it seems who they're looking for to enter the system as Guides going into Shadowlands are players who are experienced in at least one of the aspects of PVP or PVE above. A soloing player, for example, could qualify by having completed Terrific Trio — which even I, who have devoted 99% of my time to Warriors this expansion, have already completed — and We Have the Technology, which are not particularly hard to do solo. If you're a raider, TT and The Waking Dream, which would be completed even on Normal. Meanwhile, if you were a primary PVP player, TT and Rival would count to getting you qualified to be a Guide. I'm very curious to see how many players sign up for the program, and if these requirements change once we're fully into Shadowlands content — I'd expect they'd update to the appropriate Shadowlands achievements so that players who were up to speed on the game would qualify without having to go back to do Battle for Azeroth content.
Would you sign up to be a Guide, or are you looking to make use of some Mentoring to help catch up when Shadowlands hits the servers? The comments wait for you to tell us.