WoW
Aug 28, 2020 10:00 am CT
Castle Nathria raiding begins just two weeks after Shadowlands launches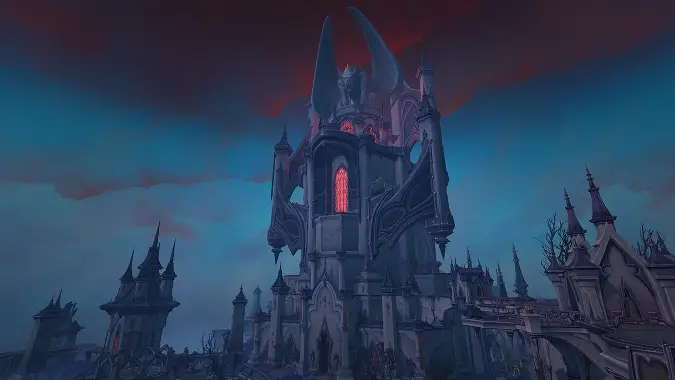 Since we finally know the release date for Shadowlands, one of the biggest remaining questions was when we'll get to lay siege to Castle Nathria. The first raid tier of an expansion is always hotly anticipated. Usually, that's where we'll find our first major victory in righting the wrongs that are being done to the lands we find ourselves in, and some delicious story morsels about what's looming on the horizon that we have to deal with. Luckily, we won't have to be waiting long before we can sink our teeth into Nathria.
The gates to that castle will be thrown wide on November 10 — just two weeks after we've arrived in Shadowlands.
RAID UNLOCK SCHEDULE (NORTH AMERICA):
November 10 – Normal and Heroic difficulties
November 17 – Mythic Castle Nathria, Raid Finder Wing 1
December 1 – Raid Finder Wing 2
December 15 –Raid Finder Wing 3
January 5 – Raid Finder Wing 4
Shadowlands Season 1 also begins on November 10
It's not just Castle Nathria that'll be opening on the 10th, either. That's when Shadowlands Season 1 of PVE and PVP begins. It also means that you'll be able to start getting your fancy new weekly chest the week after.
This is sooner than I was expecting by about a week. In Warlords of Draenor, Legion, and Battle for Azeroth, there were three weeks between the launch of the expansion and getting our feet wet in the first raids. This is not a lot of time to get yourself geared up and raid ready if your guild is planning on starting that first night. I wonder if it's opening so soon so that there's more incentive to spend time in the Normal difficulty. Since there are only two weeks where you could be running dungeons and gathering mats for crafting, the average raider might need the extra time in the raid to get the gear you need to progress in Heroic.
This is probably good news for the world-first raiders, though, not to mention the fine folks at Blizzard who are in charge of fixing any Nathria bugs. With Shadowlands releasing so late in the year, I'm sure that more than a few of them were wondering if they were going to be bumping into holiday celebrations. If the race goes as fast as it did in the past, there'll be a champion crowned by the time the second Raid Finder wing is open. They've been hard at work testing the raid as best they can, but there's no substitute for the information they get once everyone gets in.