Diablo 3 Season 22 is live on the PTR with shadow clones and bonus Kanai's Cube powers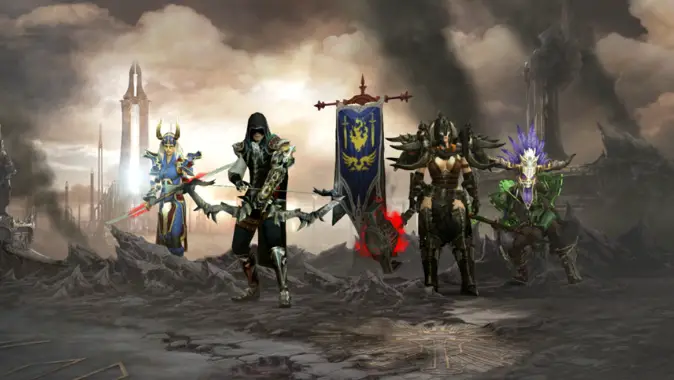 The Diablo 3 patch 2.6.10 PTR will start on October 1, opening testing for Season 22: The Season of the Shadow, as well as the usual assortment of changes to items and sets. The test period is set to last for two weeks, but I kind of hope they'll go over the two weeks just to give it a thorough test, because this is going to be one of the weirder season themes.
The Season of the Shadow is based around the various shrines and pylons we find in the game. In Season 22, when you activate one and gain the buff, you'll also get a shadow clone of your character which can have one of three possible builds. There are a lot of variations — three per class — so if you're interested in the details you can check them all out here. In addition to the build the shadow clone gets, it also scales to your level and power, and will last for a minute, so you'll basically have another you running around the field of battle tearing as many demons as possible apart for a minute or until you die. By itself, that would be an interesting Season theme, but it's not alone.
Kanai's Cube will be getting a fourth slot in Season 22, and this slot offers you all the choices of the previous three without stacking with any of them. This means you can't effectively double up on a Legendary power and get twice the effect, but you can have an extra armor, weapon, or jewelry power in Season 22. By itself, that might have been a worthwhile Season theme, but having it in addition to the shadow clone is pretty amazing.
Haedrig's Gift will also now be able to award all class sets, no more of any class sets being left out of the rotation. It doesn't mean it rewards them all at once, however — there's a new rotation for Season 22, offering Horde of the Ninety Savages, Aegis of Valor, Gears of Dreadlands, Patterns of Justice, Masquerade of the Burning Carnival, Mundunugu's Regalia, or Typhon's Veil. In addition, there's a new item: Gelmindor's Marrow Guards (Bone Spear cast from Simulacrums deal 400-500% increased damage). Should be nice for Witch Doctors.
Yes, I know it's a Necromancer skill, it was a joke, guys. Come on. A whole host of items will get buffed as well, such as the Blade of the Tribes — on the PTR, the buff that causes War Cry and Threatening Shout to also drop Avalanche and Earthquake will now also buff those abilities by 200% damage. These are generally good buffs, nothing world-shaking, just more synergy which will work well with that extra Kanai's Cube slot.
The PTR will roll out in waves, with the first week dedicated to the various changes to Legendary items and set bonuses, while the second week will be dedicated to testing out Season 22. If you're interested in taking part, you can download the PTR from your Battle.net launcher and jump in on Thursday, October 1 to test out your class and any changes being made to your Legendaries or sets, and then jump in to the upcoming Season on October 8. It's looking like an interesting Season and I'm curious how it'll shake out on the PTR.
Updated 10/1/2020