WoW
Sep 25, 2020 2:00 pm CT
Castle Nathria will have Covenant specific weaponry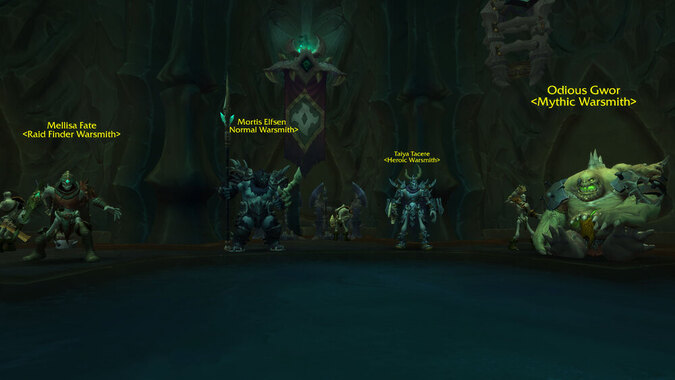 Raid weapons have some of the coolest appearances in the game. There's no feeling quite like walking out of your raid swinging a weapon that you just pried from the cold dead hands of one of the mightiest bosses on Azeroth. We've already seen that the upcoming Castle Nathria raid in Shadowlands was going to be taking a different approach to how it awards weapons — dropping Class-based tokens that you'll exchange for a weapon of your choice at your Covenant sanctum. Now we're seeing the first models that come from those tokens, and it appears that each Covenant is going to have its own unique weapon models!
Previously we'd only seen the Venthyr vendor selling Vampire-themed weapons that match the general theme of the raid –spikes, chains, and more bat motifs than you can shake a tennis racket at. But in the latest beta build the Night Fae and Necrolord vendors were added, too. Players in the Necrolords will get boney implements of death, while Night Fae looks to have homegrown their arsenal for a very primal naturalistic feel to their weapons.
This is a good news/bad news situation for transmog collectors. Good news, there are four unique sets of weapons for you to collect! But also, bad news, there are four unique sets of weapons for you to collect. That's a lot of raiding, especially when you look at slots that are fairly class-limited, like Demon Hunter glaives and Hunter ranged weapons. If you wanted to collect all of the different Nathria glaives you'd have to make a Demon Hunter for each different Covenant — or spend a lot of time swapping between them. Even if you did that I would expect that you couldn't use a Venthyr transmog appearance if you weren't currently a member of the Venthyr Covenant.
That leaves us with the question, what happens if you do swap your Covenant after buying one of their swords? Would the Venthyr sword turn into the sword from the Necrolord Covenant? Would you still be able to use the original sword, but not transmog any other swords into that Venthyr appearance?
We'll have to see what ends up happening with these weapons once Nathria opens in December. Until then I'll be drooling over that gorgeous bat-winged glaive.