The Queue: Only through the elimination of violence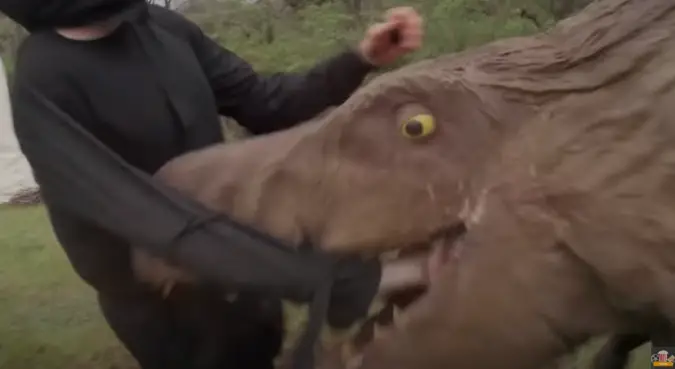 So I watched The Velocipastor last night.
It's not a good movie, but it is an astonishing watch. It's a movie that knows just how weird, potentially bad, and completely off the rails it is. Saying it's funny feels disingenuous — it's a movie that is very deliberately crackerjack, a film that will present you drug dealing religious zealots from China who are also Ninjas in a battle against a disillusioned Catholic Priest who cuts his hand on a dinosaur tooth and becomes, well, you've seen the title of the movie.
Anyway, this is the Queue.
---
A QUESTION BY ARTHONOS, WHO IS NOT TO MY KNOWLEDGE A WERE DINOSAUR
Q4tQ: inspired by RJ's post yesterday, what was the first video game you purchased with your own money? I remember working picking strawberries in the July heat so I could afford Star Fox 64 the month after it released.
I remember my mom taking me and some friends (or at least kids who were willing to go a movie with me on my mom's dime) to see E.T. when I was 10. I seem to recall liking the movie okay, but I won't pretend I have any strong recollection of it. Regardless, on the strength of that outing, I spent my birthday money on the Atari 2600 cartridge adaptation of E.T. the Extra-Terrestrial.
It was not even a good game by the relatively lax standards of the Atari 2600, which boasted games like Combat and Yars' Revenge and I'm not gonna lie, I loved Yars' Revenge and I am a bit shocked to find out it was created by the same man who made E.T. for the Atari.
---
JALAMENOS IS ALSO NOT A STRANGE FUSION OF HUMAN AND DINOSAUR UNLESS THERE'S A SECRET HERE
Everyone keeps saying how good Henry Cavill would be playing Arthas in a movie.
But I say his destiny is to play Grommash.
Grommash would have to bulk up to be played by Henry Cavill.
---
IS MUSEDMOOSE PART ALCES ALCES AND PART DAKOTARAPTOR STEINI? ALMOST CERTAINLY NOT.
Q4tQ: with BfA now almost over, what are your thoughts on future expansions having faction-exclusive content?
I know that there will always be some differences, especially with anything involving home cities or faction leaders, but I've been playing through the BfA Horde content for the past 3-4 days and I feel like only now am I getting the full story. (For example, I now understand more about G'huun and Uldir, though there's still lore I know about both that I haven't seen spelled out in-game.) I hope the devs avoid dividing things up so much in the future, as I think it leads to confusion among those of us who usually stick to one faction.
Honestly, there's always been some division between Horde and Alliance questing by the fact that you're getting your quests from different people and often the quests themselves were at least superficially different to reflect that, but I felt like the way it was divided in Warlords where each faction got one unique zone and the rest of the world was shared worked better than BFA with the three zones per faction and then the other faction comes in and infiltrates and gets a few quests per opposition zone.
As you mentioned, as an Alliance player, the whole Uldir story took forever to catch up on. Likewise, a lot of the story of the Vol'dun zone was very piecemeal to me as an Alliance player until I finally got my Tauren there. Meanwhile, Horde players in Stormsong have no idea what the Horde is actually doing in that zone, they just show up after the fact.
So while I'm not opposed to the two factions having unique quests, I do hope we don't go quite as far as BFA did in dividing the two factions for a while.
Okay, that's the Queue for today. Jurassic World would have been a much better film if Chris Pratt was bit by a dinosaur and became a Velociactor.