The Queue: Potatoes and molasses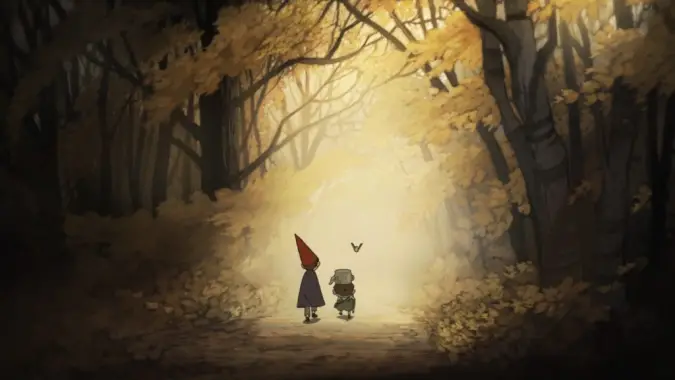 I hope y'all are having a fun Spooktober so far! Has it already been 1, 5, or 7 days since I last Queued with you? Maybe! In fact, almost certainly yes.
So let's Queue!
---
STRANGE THOMAS IS MAYBE A DOCTOR WITH POWERS:
Q4tQ: Do you have any "must watch" Halloween episodes for a TV series? Follow up question, favorite Simpson's Halloween episode?
I really love the Halloween episode of "Raising Hope", it's hilarious and touching and has great music. "Bob's Burgers" has annual Halloween episodes, I'm torn between "Full Bars" and "Wolf of Wharf Street." I love "The Shinning", but I think "Clown Without Pity" is my all time favorite.
I'm not sure it counts, but I'm gonna use this as an opportunity to plug my favorite fall-time watch, Over the Garden Wall. It's technically a miniseries, in that there are ten 12-minute episodes, but you can basically spend an evening watching it like a movie. It's delightful all around and if you've never seen it, I highly recommend watching it this Spooktober. (It's on Hulu!)
Since that's a bit of a cheat, I'll also say that the [REDACTED] Pumpkin episode in Season 1 of How I Met Your Mother is a really good episode of television that also happens to occur around Halloween. I say that because it's not really a "Halloween" episode in the traditional sense. Halloween just creates the backdrop for another almost-the-Mother story.
Oh, and both Season 1 and Season 2's Halloween episodes in Community were fantastic. Completely different styles, both great. Also don't hate me for saying this, but I've never really paid much attention to the Simpsons Halloween episodes. I have nothing against them; I just kinda missed the window to get on the Simpsons hype train.
---
ELAINE DE SHALOTT ASKS A GREAT QUESTION ABOUT THE AFTERLIFE:
If all cats go to Revendreth and all dogs go to Maldraxxus what animals go to the other two covenants?
Well for starters, mosquitoes go to the Maw. I don't care if this is more about house pets or typical animals or whatever — Mosquitoes go straight to the Maw.
As for the actual Covenants/zones, bunnies go to Ardenweald and any type of bird goes to Bastion. And if we're expanding beyond house pets, sharks to Ardenweald, kangaroos to Bastion.
---
GLOWING METEOR CARROT HAS A FOLLOW-UP:
Where do dragons go when they die?
When they're dragone, they drago to Ardenweald alongside the sharks, bunnies, and plesiosaurs.
---
MUSEDMOOSE WANTS TO KNOW HOW TO PUSH MY BUTTONS:
Q4tQ: what do you think is WoW's most annoying time gate for questing or whatever else?
Asking because I finally decided to get started on the Uuna questline, and I didn't know that the drop you need to start is isn't guaranteed. Far as I can tell, it's from an enemy you can only loot once per day. -_- I'm glad it's not something like once a week, and I'm very glad I don't have to go gather the bones and scroll again, but still, this is really annoying.
I think you hit the nail on the head there. Adding RNG on top of that daily loot limit really just makes you feel helpless to make progress. That said, I'm a bit conflicted on the daily-ish loot limit from holiday bosses. For things like the Love Rocket, it might actually be a favor to my sanity that I can only farm it on so many characters (given my aversion to alting). But on the other hand, loot like the Frostscythe of Ahune or even the Headless Horseman's mount have a low chance to drop but still high enough that it might feel more rewarding if you could mass-farm it on one character over and over.
---
ARTHONOS WANTS TO DO DAMAGE AND LOOK COOL DOING IT:
Q4tQ: Shadow Priests dual wielding daggers, yay or nay?
I think nay with the caveat that I'd be all for having a cooldown ability where they form a dagger from Void energy to do a quick bit of bonus damage. There's no actual reason it would have to be a dagger specifically, but I do like the idea of being able to pull a surprise stab on someone with a dagger you made from magic.
---
MOVEWOW ASKS ABOUT SO-BAD-THEY'RE-GOOD MOVIES:
Q4tQ: When will you watch a movie that you know is really bad? For me it's a really cheesy movie that has no pretense that it considers itself good. lol
I think this is one of those things that depends on the company I'm in. If I'm alone, I either knowingly start a movie I know will be bad as background noise, or I start a movie I expect to be good that ends up being so bad I can't look away. On rare occasions, I will actually sit down and watch a bad movie with my full attention just because I'm curious to see exactly how bad it is and also I'm bored.
I'm much more likely to watch bad movies with friends because we can make fun of them and turn it into our own little version of MST3K.
---
SIBYLLE WANTS ME TO THINK ABOUT LOOOOOOVE:
QftQ: If you were one of your characters in-game (i.o.w., none of the commitments and things you have irl), what character in the WoW universe would you most likely have an affair with, or fall in love with, or have a crush on?
Y'know, now that I think about it, I've never really considered my main character to be interested in relationships (Knaifu crushes notwithstanding). I suppose if I were my Night Elf, I'd probably fall for Vanessa VanCleef, despite her trying to kill me. But that's also because my Night Elf is a Rogue.
---
ROXXII THE BELOVED SWOOPS IN FOR THE RETROSPECTIVE SETUP:
Q4TQ: What is your favorite made up October holiday? (I.e. Orctober, Gobtober, Rocktober, Inktober, etc)
I don't really have one, to be honest! For a while, it was cool to see people share Inktober drawings, but I'm fairly certain that's not being used anymore because of drama and shenanigans.
That said, I hate Spooktober. With a passion.
That's all for today! Please leave lots of questions for Liz, and have a great weekend! I'll see you all again in a variable amount of days!
PS: I don't actually hate "Spooktober."