More collectibles, more rewards, and a totally new progression system are headed to Hearthstone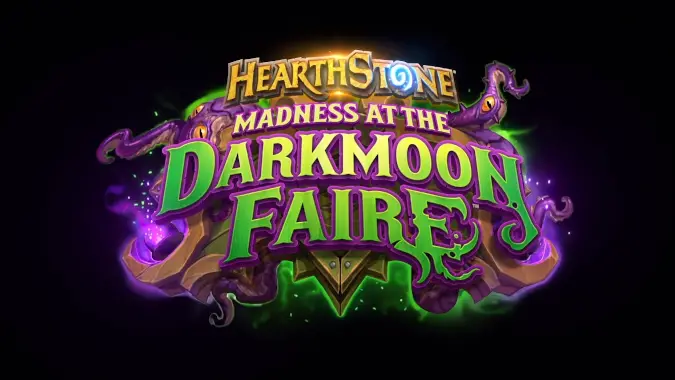 Hearthstone is getting the biggest systems revamp in its history. There's a lot to unfurl here but the gist of it is that the game is getting Achievements, a Reward Track that you can follow to earn a succession of rewards, a revamp to daily — and now weekly! — quests, and a snazzy new Profile Page that displays all your information, ranks, and stats.
You won't have to wait long for these new systems, either: everything is going live on November 12, as part of the Madness at the Darkmoon Faire expansion.
So let's get on with it! Read on to find out how much easier it will be to track your progression and rewards, as well as the galore of new things to collect and achieve.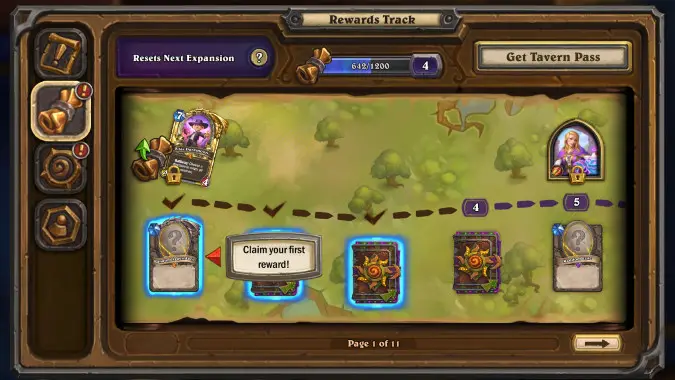 The Reward Track borrows one of the best features of Runeterra
This is the biggest part of the revamp and the one I'm most excited about. Hearthstone is finally getting on with the times and adopting a progression system that's similar to the most common model in similar games, including its main competitors. Now there will be a clearly visible track laying out rewards you'll earn as you gain enough "experience" to progress through it.
In the picture above, the player has progressed far enough to earn their first three rewards: a Legendary card for level 1 and two card packs for levels 2 and 3. Those rewards are just a few clicks away to be claimed! As they continue to play, they'll earn more experience and keep leveling up. Once they reach level 4, they'll snag another card pack, and at level 5, a Rare card. And so on and so forth, until they reach the final prize in the track: presumably, a brand new hero skin of their choice.
This system is used to much success in Legends of Runeterra, and it makes me extremely happy to see the Hearthstone team finally adopt it. The game becomes much more compelling to play once you see all there is for you to earn. Having a clear goal ahead of you is a huge boost to your motivation to simply keep playing the game — far more than just completing your dailies for gold and dust.
The Tavern Pass will now also serve to boost the rate at which you earn experience on the Reward Track, and it will be decoupled from Battleground Perks, which will be its own, separate purchase.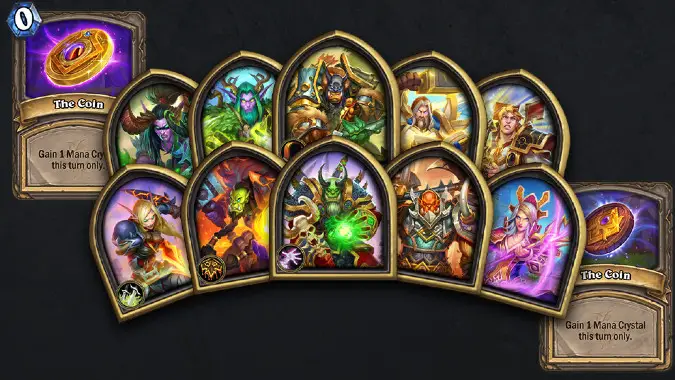 New skins, coins, and other collectables
I've been a proponent for Blizzard offering rewards beyond gold, dust, and cards — Hearthstone should also offer more cosmetic options as rewards. And it seems like they're starting to do it! Besides the usual new card backs, Blizzard is adding a number of hero skins to the game, including upgradeable skins that get improved art as you level up, plus a brand new type of cosmetic: skins for your Coin.
Better late than never, and I hope we see even more types of cosmetics in the future!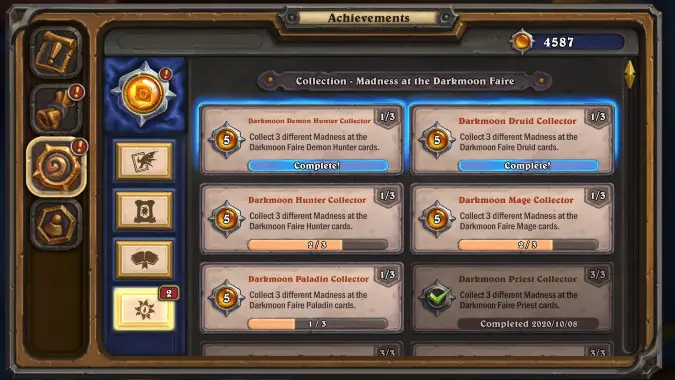 Achievements are finally coming to Hearthstone
On the subject of new things to chase after, Blizzard is adding Achievements to the game. Sure, Hearthstone already had a very small number of hidden achievements, such as earning Old Murk-Eye once you collected all the basic and classic Murloc cards. But those were very few and far between, and still a far cry from a real, robust, trackable Achievement system.
Well, no more! The official Achievement system is actually coming, and it will include a bunch of new things you'll certainly chase after. For example: controlling the Amalgam without playing as The Curator in Battlegrounds.
Achievements will come in multiple categories — at present, Progression, Gameplay, Collection, Adventures, and Game Modes, all displayed in their fancy new pane. The Collection Achievements will continue to offer rewards (such as one of the new Coin skins), much like the old hidden Achievements already did.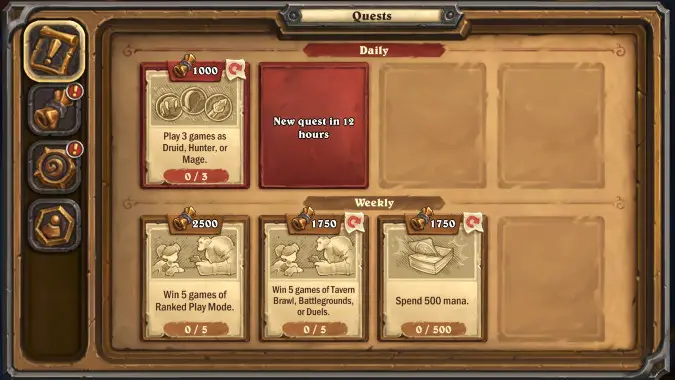 A new interface for your profile, stats, and quests
Performing daily quests will no longer directly give you gold. Instead, the gold has been moved to the Reward Track, and dailies will offer you experience instead of gold. That means missing a daily quest is no longer a guaranteed loss of gold.
Weekly quests are also being added to the game, and just like dailies, you can re-roll one per day. These are a little more difficult to complete than dailies, but also offer bigger experience rewards.
And finally, you know those special quests you get every once in a while, when a new expansion or event rolls out? Those are now being called Legendary Quests, and they'll get their own, separate category. That means they'll no longer interfere with your regular set of dailies! A nice quality of life change.
Your profile page still displays much of the same info as before: your rank in constructed, your wins in Arena, your levels with the classes, etc. But it's all found in spiffy, brand new pages, with room for new additions — and the team has already promised that they'll add more to it.
For even more details, there's an official video and blog about this huge systems revamp, so take a look at those if you're interested. All of this is going live on November 12, so it won't take that long!