The Queue: Are we there yet?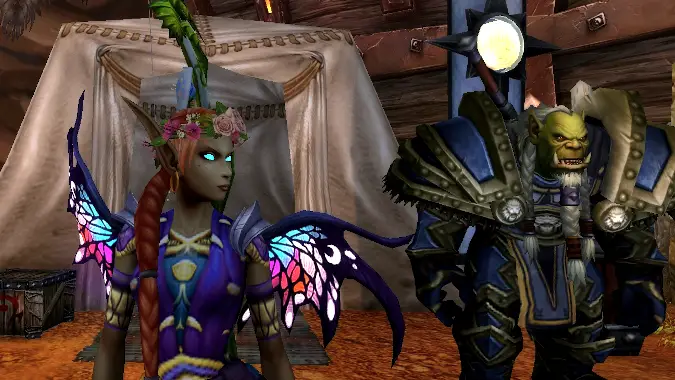 Thanks so much for this transmog gear I'm not going to use and this pet I'm also probably not going to use, really, but can we get on with it?
This is The Queue where you ask us questions and we gladly supply the answers because we're all just counting the days now.
---
JAXDADDY
QftQ: Would you come to a zeppelin dance party I hosted? As Alliance, it's been my dream for many years.
If this boat's a-rockin, feel free to come a-knockin!
I mean technically it's not a boat but it's mostly shaped like a boat, but with potentially flammable balloons on it. And it's always rockin, because it's flying, and not secured very well.
Still, though.
---
FUZZYBUNNY
Ok. We prob won't a portal from SW to Icecrown so that we can go through to The Maw on launch day. Does that mean we will need the characters we're taking through to do the portal quest line? My main hasn't done any of the new Death Rising quests.
Nope! That would be pretty short-sighted on their part… any alts that come afterward would have to make that long slog themselves, and new players would be completely lost, both literally and figuratively.
(minor spoilers to follow)
In Shadowlands, you get a summons from Bolvar from Darion Mograine. He opens a portal for you to Acherus, which lets you  pretty directly onto the Frozen Throne to start your journey into the Shadowlands. Don't worry about running all your alts through Death Rising, unless you just want to farm bags.
---
MOVEWOW
Q4tQ: I think the Shadowlands sales are going to be HUGE! With fall here the days are shorter and colder outside. People are spending more time indoors and may be looking for something to do. With Covid isolation people may want to find a way to spend more time with other people. A new expansion means new content to do. So my question is, how good does an expansion pre event have to be for players to commit to buying it?
While of course there are always oddball outliers, I don't think a pre-expansion event is necessary to drive sales. I can't really imagine being excited for an expansion and raring to play, but then being so disappointed in the minutiae of the pre-expansion event that I decide not to after all.
Pre-expansion events have always seemed to me to be a way to get everyone who's already excited even more excited, and give people incentive for playing now when almost everything that was a carrot in the previous expansion doesn't matter anymore. Again, there are always outliers, but I doubt people are taking this week to do something like Magni's dailies for Azerite Power. The pre-expansion event is mostly just intended to fill that gap.
Though, as always, I'd suggest perhaps doing pet battles.
---
QUEEN DILLENE
Actually, I'll ask this as a Q4tQ: supposing you were Kel'Thuzad or some other ne'er-do-well, and your job was to poison people and turn them into zombies. But- there was a high chance that the people you wanted to poison were following some ungodly paleo/keto diet so that tainted grain would do squat all to them. What would your backup strategy be?
Make sure rats can get infected by eating the grain the humans won't deign to touch, then make sure the fleas on the rats will carry the disease, too.
If it worked for the bubonic plague surely it'll work for a magic plague, right?