The Queue: Did something happen?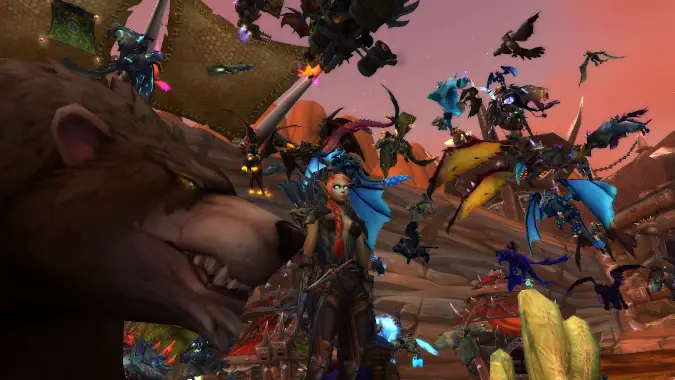 I logged in yesterday, and wow, were there a lot of people hanging around Orgrimmar today. I bet there's gonna be a pet battle tournament. Maybe a transmog fashion show! I can't wait to see what happens.
This is The Queue, and yes, I answered all the questions you asked extremely early yesterday. No reason.
---
RED
Q4Anna: what has been your Shadowlands prep? Snacks? Drinks? Kids locked up in a cage somewhere?
I made dinners as easy as possible without resorting to ordering pizza… pre-cut veggies, frozen tortellini, stuff for quesadillas and grilled cheese sandwiches, and if all else fails there are a couple frozen pizzas. Or maybe we'll resort to ordering, we'll see. I did stock up on almonds and cashews to help me stay awake, though… the protein really helps kick the sleepies without making me crash an hour later like carbs do.
In terms of kids, the older one is going through a miniteen phase, so all she wants is for me to go away, motherrrr, so that's pretty easy. My five year old will likely be hanging out in my office, just because he's all about mommy these days. On the other side of my desk is a couch, so he'll hang out there, we'll sing some songs, watch some Sesame Street, and then he'll crash his trains into whatever makes the loudest, most satisfying BANG. I'm hoping my husband can wrangle him outside to jump in a leaf pile or something — not necessarily from a "get this kid out of my hair" perspective, but more because that's fun as heck. I may join them.
---
KALCHEUS
Q4tQ: do you take a break during a new expansion release to keep up with other games, or do you just WoW all the time? I'm thinking of forcing myself to play at least one Hearthstone game a day.
I don't really play any ongoing games in the same way as WoW, so I don't necessarily plan on it, or have anything I need to keep up with in the same way.
I may play an escape or two of Hades while I wait on dungeon queues, though. DPS life is hard.
---
GALDWYNN
There were a lot of people buying Shadowland snacks at the grocery store. Most played expansion ever?
While I do have high hopes for Shadowlands, this is probably less people getting snacks for that, and more the oncoming storm of COVID-related lockdown, and the well-meaning but woefully misguided individuals still planning a big spread for Thanksgiving (in the States, at least). Whether people are planning to hunker down or hang out, they need supplies and now is really the best time to get them.
---
RUKA
Anyone else going in with Warmode on?
Hell no.
That's a pun I'm standing by.
---
HONORS HAMMER
Do you stop to mine/herb and fish as you level up in a new expansion or do you race to the cap and come back to work on professions later?
It seems like fishing in particular would slow you down but those early prices are sure to be the best you'll see all expansion.
I always herb or mine, especially now that they added an XP reward for doing so. Like you said, these prices are the best they're going to be all expansion. I don't have a super serious guild right now either, so I dump just about everything on the AH in the first few weeks, then start crafting and whatever else for myself. Even if I get fed up, I'll be up so much more on gold that I'll make it out seriously ahead.
I've also always found herbalism in particular to be a really great lizard brain dopamine hit. It's the tiniest distraction, it doesn't really cut into your leveling efficacy too much, and it gives you a tiny satisfying reward.
Fishing, on the other hand, is the worst, and I won't do it unless I have something I really wanted to get around to watching on my second monitor. I've been saving The Good Place for Shadowlands, so I'll probably get started on it a week or two into the expansion. Maybe. We'll see.