The Queue: Vicariously I live while the whole world dies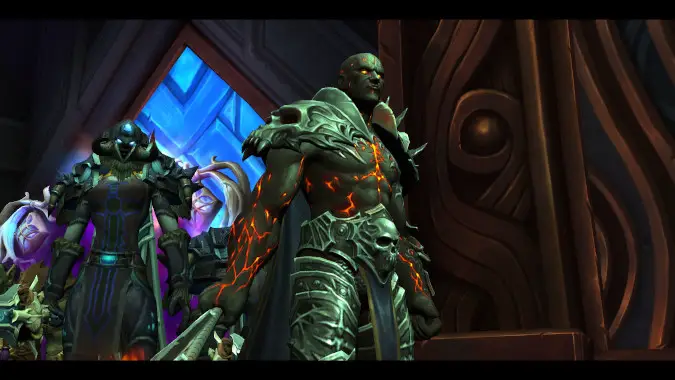 Why can't we just admit it?
Why can't we just admit it?
We won't give pause until the blood is flowing.
I need to watch things die from a good safe distance.
Vicariously I live while the whole world dies.
You all feel the same so…
This is the Queue and I'm listening to my Shadowlands playlist. This song feels very Maldraxxus-y.
---
SIBYLLE, YOU STARTED A FIRE AND NOW YOU'RE BURNING UP, BURNING UP
Pffff, the silly Morbid Boneguards in Maldraxxus have a whirlwind ability that, according to the channel bar, is called "Bonestorm". Dude, everyone known it's not a bonestorm unless you yell "BOOOOONESTOOOORRRRM!!!"
Honestly, I liked Bonestorm before it was cool.
One side effect of some of the weird stuff about Maldraxxus is, it has made the actual Scourge seem less cool. Like they're less of an unstoppable undead army and more hipsters who bit their whole style from the Necrolords.
---
JALAMENOS KNOWS THAT BLOOD KEEPS DRIFTING YOUR WAY CERTAIN OF ITS DESTINATION
Well well well, look who I found in the Animus store for AC: Valhalla.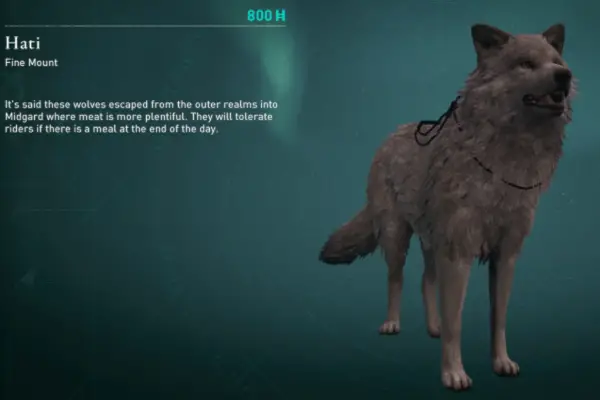 You don't say.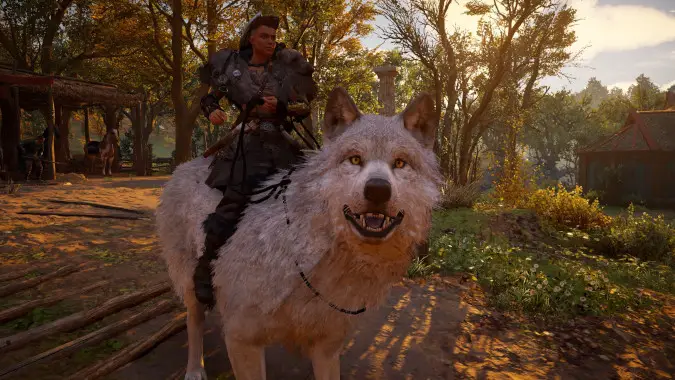 I got it with the game, though, which someone very kindly gave to me. And yes, he is a very good boy.
Also, I saw all your other AC:Valhalla posts, but if I start answering them all, we'll end up as AC:Valhalla Watch and I remember how bored people got of my constant Kassandra cheerleading so I doubt my Eivor edition would go over well.
---
HELLO AGAIN, ROXXII THE BELOVED, I KNEW YOU WHEN OUR COMMON GOAL WAS WAITING FOR THE WORLD TO END
Q4TQ: What will happen first: the player base learns not to do all the world quests like in BFA/Legion or Blizzard makes world quests like BFA/Legion?
I don't expect WQ design will ever get back to the glory days of Legion. People will stop doing WQ's as much, that's my prediction.
---
USAGISENNIN, ONE MORE TIME, ONE LAST TIME, SPARKLE AND SHINE
Have you pledged Night Fae? You should probably pledge Night Fae. They put on a wild (ha!) play that quickly sums up the last two expansions in an hilariously reductive way.
I hemed and hawed about what covenant I wanted for awhile: Checking Icy Veins for mechanical advantages, weighing the zone aesthetics, putting too much thought into cosmetic rewards.
But that "World of Warcraft: Abridged" (Yeah that's my head canon name for it) play they put on, was just wonderful.
I'm getting to it.
Actually, my Human Warrior is gonna be my first to 60 and he's probably going Bastion, but my Night Elf is definitely going Ardenweald for a whole variety of reasons and she's the one I'll likely play in the expansion.
---
ELAINE DE SHALOTT THE SHADOWS ARE FALLING THEY'RE FALLING THEY'RE FALLING AROUND YOU
Has anyone actually gotten the ((Characters Redacted)) cinematic in game yet? I see it referenced on Wowhead like it should have played but I haven't seen it?
I don't believe so, I'm pretty sure it was just datamined and no one has completed the rescue mission that would trigger it yet.
---
SIBYLLE, I THOUGHT I WOULD BELONG RIGHT HERE WHEN I WAS YOUNGER
Ok, rant incoming.
I hate Torghast with such a passion. And I hate that it's mandatory.
Don't tell me it's not. If I want to raid, I show up at my best for my guild, everything else just isn't fair. I don't mind a grind, I don't mind it being hard, but I resent being forced into Diablo when I signed up to play WoW.
I can't explain why I have such problems with "challenge" type single-player content. I can't. But I find it awful. It stresses me to the point of almost breaking down.
I'm at 510 Soul Ash, tomorrow is the reset and there's nothing I can do about it. F***.
Let me grind dungeons, let me do WQs until I'm blue in the face, but let me play an MMO.
Tonight I thought, go on, give it a go at least. I'd done Torghast with the help of two guild mates (that's another thing: "You don't have to go alone!" they say, but if I'm bad at something I do NOT want to foist myself on others. That's not playing together, that's being carried. Which is fine once, or twice, but not every single week until the end of time).
So I went into the Upper Reaches level 3. Thought, if it's bad, I'll just go and try 2 instead. Better than nothing. And I found I could do it. It wasn't even that hard, I was surprised. Took it slowly, no deaths. Then I came to the end boss which was a guy who is described as completely overtuned for melee on Wowhead even at gear level 170. Well, I died and died, finally got him to under 3%. And still died. And that's it.
Then my guildies took pity on me and formed a group of 5. I was meanwhile shaking (my hands *still* shake now, I can hardly type. Again, I don't know what stresses me about this type of content so much, but I hated hated hated Mage Tower, Visions, and now Torghast, and it's seriously about to get me to quit the game), my hands shaking so hard I died twice in the first room because there were some really complicated traps and I just couldn't run precisely to the spot I needed to be in. Thanked the guild mates and left the group, because it was getting ridiculous.
I love raiding, I really do. I really wanted to get back into it, but I guess I won't be able to. I'm not doing this when I drag everyone down.
Ugh.
/rant over
I wanted to talk about this because I wanted to say something that I don't know anyone else will, and that's this — even if I don't agree with what you're saying here (I'm on the fence about Torghast, honestly) I absolutely want you to know I have been in this exact same place in the past, angry at feeling strongarmed into running content I don't like (Mythic dungeons, in my case, especially with people I don't know via Group Finder) in order to run content I do like.
We're not all great at the same things. Someone who can excel at raiding, especially someone who is good at fitting into the group and performing their role, isn't always good at tightly tuned solo content, or vice versa. For me, personally, small group content is astonishingly  stressful. Especially when I tank it. I need people to take it seriously because I'm very compulsively perfectionist about such things, I want the pulls to go smoothly, I plan obsessively for them and I do it quickly in my head. If a player does things I don't anticipate, makes pulls for me without me asking, does dumb things to pull aggro and laughs it off, it infuriates me. This is one of the reasons I don't tank for PuG's anymore, and when it feels like I have to do that to get somewhere I want to go it's very disheartening.
Making legendaries and soul ash completely linked to Torghast means that players have to run Torghast, really. It's one of many things about Shadowlands that has me happily leveling alts instead of hitting 60 and leaping onto the treadmill there — I didn't like the Mage Tower either and since I didn't know the Artifact appearances would become transmog fodder in the future, I didn't much bother with it. I did the Visions, but not to anything like the extent others did, and at least with that it was just to level up your cloak, there weren't unique legendary gear you could only get from Visions.
If they're going to put something like this in the game, it should truly be voluntary. For every player who loves the thing, there will always be players that hate it. See World Quests, where so many players hated the Battle for Azeroth approach, and here I am, longing for those days. I loved WQ's in Battle and I don't find them interesting anymore.
Forcing players who don't want a roguelike experience into one is bad, in my opinion.
Okay, that's the Queue for today. Waiting in a car, waiting for a ride in the dark.