Food
Dec 18, 2020 4:00 pm CT
Triple Chocolate, Gingerbread, and Cranberry Margarita cookie recipes will keep Greatfather Winter happy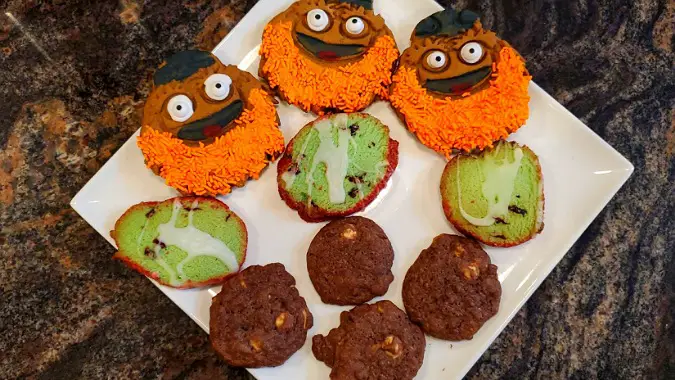 C is for cookie, that's good enough for me — and in this case good enough for me is these three classic cookie recipes to brighten up your holidays. First up is a soft chewy gingerbread, perfect for decorating into any character (or famous NHL mascot). The cranberry margarita cookie, a great pick all year round, but adding cranberries makes them extra festive with a red and green motif. Lastly, there's the triple chocolate cookie, because double chocolate is not enough and quad is way too much.
For all the recipes, you'll need the following equipment:
Mixer
Large bowl
Rolling pin
Cookies sheets
Parchment paper
Plastic wrap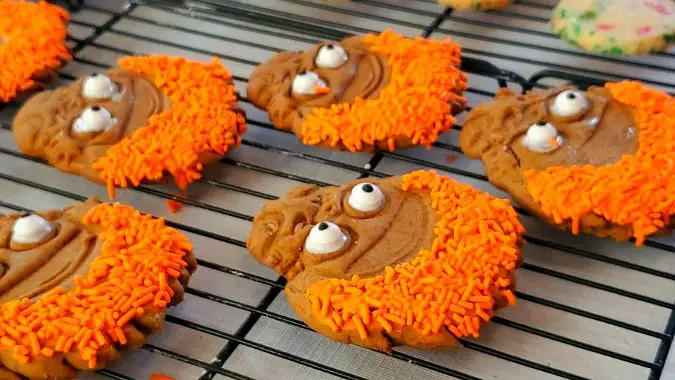 Gingerbread Cookies
Ingredients:
2/3 cup (145 g.) unsalted butter, soft
3/4 cup (150 g.) dark brown sugar
2/3 cup (200 g.) unsulphured molasses
1 egg
1 tsp. vanilla extract
3 1/2 cups (437 g.) flour
1 tsp baking soda
1/2 tsp salt
1 Tbsp ground ginger
1 Tbsp ground cinnamon
1/2 tsp allspice
1/2 tsp cloves
Cookie cutter in any shape
Optional: Decorating supplies like royal icing, food coloring, watercolor paint brushes, sprinkles, small piping bags, colored sugar, etc.
In your mixer, beat butter until creamy. Add brown sugar and molasses and continue beating till smooth. Next beat in egg and vanilla.
In a separate bowl, whisk together the flour, baking soda, salt, ginger, cinnamon, allspice, and cloves. Add the dry ingredients with the wet in the mixer — do this slowly, to prevent your own indoor flour blizzard.
This dough will become rather thick and sticky. Roll it out into a ball on some plastic wrap and divide it in 2. Wrap up and put in your fridge to chill for at least 4 hours — overnight chilling works best, but it can keep for up to 2 days.
When you're ready to bake, preheat oven to 350 F. Line your cookie trays with parchment paper and set aside. Roll out your cookie dough to about 1/4 inch thick and cut into shapes. I recommend keeping a small bowl of flour to dip the cookie cutter in every few cuts so the cutter does not stick to the dough. Place the cookies on the tray about 1 inch apart, to allow room for a little expansion. Bake for 9 minutes, then cool on cookie sheet for 5 minutes. They will be safe to decorate after they cool for an hour.
You can decorate your cookies anyway you see fit! Personally, I have become a fan of using a small paintbrush from the dollar store and painting on the frosting for detail work.

Triple Chocolate Cookies
Ingredients:
2 bottles of stout beer
1/2 c (144 g.) brown sugar
2 3/4 c (345 g.) flour
1/3 c (43 g.) unsweetened cocoa powder
1 tsp espresso powder
1 tsp baking powder
1 tsp baking soda
1 tsp salt
1 c (225 g.) unsalted butter at room temp
1 c (200 g.) sugar
1/2 c (44 g.) brown sugar (separate from the other 1/2 cup of brown sugar)
2 eggs + 1 more yolk
1 Tbsp vanilla extract
2 c (340 g.) white chocolate chips
1 bag of mini chocolate chips
In a pot, reduce beer and 1/2 cup of brown sugar down over medium to high heat and stir frequently until it reduces to 1/3 cup of syrup. This takes a long time so it is best to do this a day or so in advance.
In medium bowl whisk together flour, cocoa, espresso, baking powder, baking soda, and salt. In the mixer, cream butter and sugar together until fluffy. Add eggs and the extra yolk, as well as the vanilla and mix until combined. While on low add the beer syrup, mixing well. Add the dry ingredients and mix until flour disappears at which point add the chocolate and white chocolate chips.
Cover bowl in plastic and refrigerate for 3 hours. You may wish to just wrap the plastic around the bowl, because it is very sticky when fresh and may be hard to get out.
Preheat oven to 325 F and line a baking sheet with parchment paper. Scoop out dough in roughly 1 tablespoon portions and space on sheet 3 inches apart. As long as the dough is still chilled when going into the oven, the cookies should not spread too much.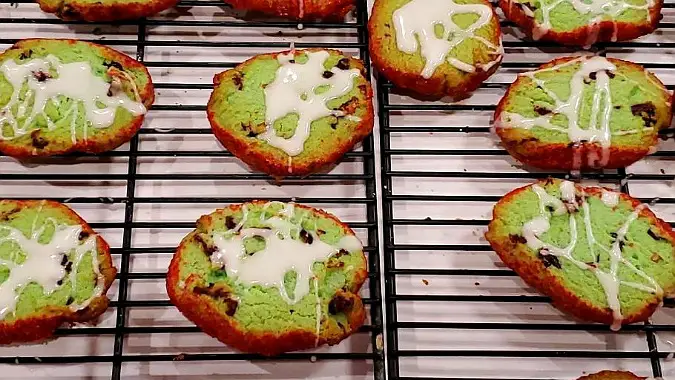 Cranberry Margarita Cookies
Ingredients:
2 cups (270 g.) of flour
1/4 teaspoon salt
3/4 cup (170 g.) butter (soft)
1 cup (200 g.) sugar
1 egg
1 tbsp lime peel, finely grated
1 tsp triple sec
1/2 c (170 g.) dried cranberries
1/2 c (64 g.) sanding sugar (any color, I used red)
1 tsp salt
Optional: Food coloring (any color, I used green)
Glaze:
1 c (128 g.) confectioners sugar
1 tbsp triple sec
1 tbsp silver tequila
In the mixer bowl, beat butter and sugar until fluffy. Add the egg, lime, cranberries, and triple sec.  Slowly add flour and salt and mix until the flour has been fully absorbed. I also add food coloring at this point so these cookies will not look like another cookie I make that are nearly identical. The green makes them extra festive, though.
Divide the dough in half, then roll into logs 9 inches long and about 1 1/2 inch in diameter. Roll in sanding sugar and flour, then wrap in plastic and let chill for at least 2 hours.
Preheat oven to 350 F and line a baking sheet with parchment paper. Slice the dough rolls in 1/4 inch slices and place the circles on cookie sheets. Bake for 13 minutes and let cool for 30 minutes before adding glaze.
To make the glaze, mix the tequila, triple sec, and confectioners sugar in a cup and stir with a spoon until creamy. You can pour on to cookies or dip them in and let them dry. If you have any glaze left over, you may want to place it in your fridge for later use — it's great on pancakes.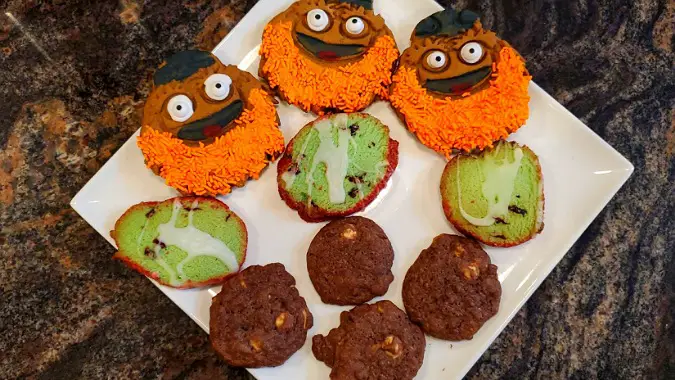 Happy Winter Veil!
Now have enough cookies to make you and Greatfather Winter happy — and you didn't need to hunt down eggs in Westfall to do it. All of these cookies will be good for 1 month, but let's be honest, they will not last that long.