The Queue: Wait… it's Friday?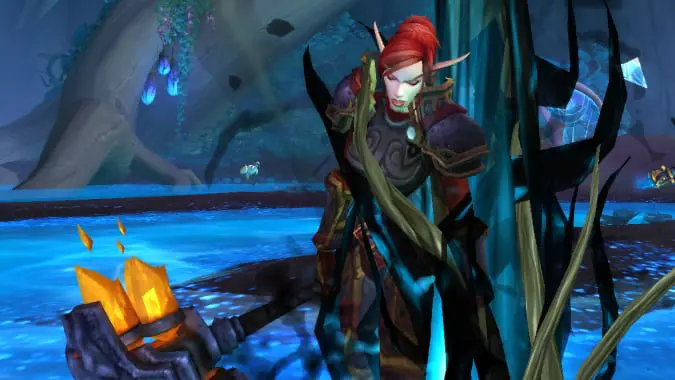 You're kidding. It's Friday? It's Friday again? Already?
This thing keeps sneaking up on me.
---
BERRIEN ASKED:
What's your favourite of the disgusting food item names in Shadowlands? Steak A La Mode is pretty good.
I'm gonna say Beef Banana Pudding. I had my own doubts about this concoction, but then Joe pointed out that beef and bananas are a pretty normal Puerto Rican dish, so I started googling and ran into a bunch of variations of this. I have to admit, the results look pretty delicious. Mildly sweet fried plantains with savory beef? I can get behind that.
I'm not sure how that translates to pudding, but I'm willing to keep an open mind.
---
TONE THE CHICKEN GUY ASKED:
Hi Liz! What's the deal with the World Quest ilevel increase after renown 10? I was super excited but to help finish gearing up to 170+ but i haven't noticed any increase in the gear rewards. What's the deal?
Blizzard wanted to make gear harder to get, and they definitely succeeded with limiting World Quest item level. The cap on item level definitely increases at renown 10, but I wonder if it's tied to item level as well. At best it seems to award you with gear within a couple of item levels of what you have, eliminating the big power swings you could get from World Quest gear in BFA.
I expect this must be working as intended, and that it isn't a bug or an oversight, because it's been in the game this long without Blizzard stepping in. They meant to make it harder to get gear, and they have. This does seem to devalue World Quests that award gear, as they rarely give you gear you want to equip, but it's a tightrope between making WQs the game's go-to loot piñata and making them unrewarding. They're an okay way to backfill incredibly underlevel pieces, or collect sets of gear with different stats, but there's a pretty big chance that gear is vendor trash.
If you want to get to ilevel 170, you really need to run Heroic dungeons (ilevel 171) or PVP (158-197). Also be sure to kill the World Boss every week — it drops a 207 piece, which is a pretty big boost. Honored and up reputation lets you buy loot with every faction (164 to 200), which helps fill slots along the way.
I'm not 170 yet myself, so I wish you luck.
---
JAXDADDY ASKED:
QftQ: What memento do you choose from Fiona's Caravan?
The cog. Zoom!
---
MATT ASKED:
Is it weird to have Diablo Immortal and Diablo 4 both release their itemization within a couple of days of each other?
Hard to keep track. Diablo 3, Diablo Immortal, and Diablo 4 have a lot of similarities — I think Immortal looks basically identical to 3 — and right now it's hard to really keep tabs on which game has which different gear direction.
---
CORY ASKED:
Who are you rooting for in the RWF?
I'm not particularly rooting for anyone. I've been watching Complexity Limit — I like the casting team and when they're running live comms everyone is very chill and professional. It's been good background noise, and I mentally tune in now and then to see how it's going. It'd be nice to see them succeed again, but I don't have a real horse in this race. I also enjoy watching BDGG — and have since Dazar'alor — but I don't think they're in the running to actually win the race (even though they're #6 in the world right now). Still fun to watch, though!
---
RETPALLYJIL ASKED:
Q4tQ:
In our world, we use "the size of a football field" as a standard unit of measurement.
Is "Ten thousand" that same sort of thing in WoW? Because it sure seems the operative number for everything.
We don't know much about the games and sports that are played in Azeroth. There certainly aren't any football fields, so perhaps they don't have any shared frames of reference like that. Are the sports fields in Stormwind the same as the sports fields in Orgrimmar? In Gadgetzan? Perhaps the world lacks the simple understanding of such small shared references, like a game that both sides know and play. Sad.
But a year is a pretty universal unit of measurement. And once Illidan did his "ten. thousand. years." speech the reference has stuck with us. It will be in Azeroth for all times, while we continue to fight rather than playing games together.
Hm. That went somewhere I didn't expect.
That's all for the Queue and all for the week. Remember to tell your loved ones you love them and try to enjoy some downtime this weekend. It's been a long year, but we're almost to the end.