What are the rewards for Hearthstone's Book of Heroes single-player adventure? Not very much.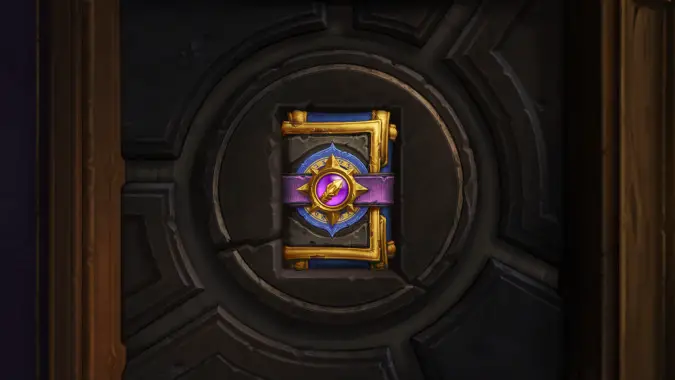 Hearthstone is a game that tries to cater to an enormous variety of audiences, from the most casual to the most competitive. Among the more casual avenues for play are their single player adventures — some that you need to purchase, others that are completely free-to-play, such as the current one, Book of Heroes. This adventure follows the journeys of some of Azeroth's greatest heroes, retelling their stories in a Hearthstone format. And because it's free and doesn't require deck-building, anyone can easily jump in to play.
But what exactly are the rewards for that single player mode? Well, the answer is one class-specific card pack. If you beat, say, the Garrosh adventure, you're rewarded with a Warrior pack, containing five guaranteed Warrior cards. The same goes for every other chapter of the adventure — Jaina and Rexxar have been released so far, with Mage- and Hunter-specific packs, respectively — and we can expect that it will be the same with the other six yet-to-be-released heroes.
Given that it is a free-to-play single player mode, should we even expect it to have rewards? Well, I'm firmly of the opinion that yes, we should. It breeds engagement; it makes players who might otherwise be turned off from the competitive aspect of a game like Hearthstone stick around — whether it's because they enjoy the Warcraft connection with the characters and the sillier more lighthearted story, or because they enjoy playing card games but don't have a large enough card collection and/or the willingness to spend real money in order to brave the more cutting-edge PVP modes. In fact, I would advocate that Hearthstone ought to take a page from the popularity of single-player deckbuilder games like Slay the Spire and Monster Train, and add their own robust, permanent single player mode.
If you ask me, the Book of Heroes reward is a little lackluster, even though it's a free-to-play game mode. In fact, most of the past single-player adventures in Hearthstone have had lackluster rewards: the sole exception to me was the Heroic Mode for the Knights of the Frozen Throne single player mode, which rewarded you with the Arthas hero. More of those single player adventures should do that: I've already talked multiple times about my distaste for the meager offerings Hearthstone has in the cosmetics department — few people really care about card backs! The one really good cosmetic the game offers is alternate hero portraits, and they ought to do more with those as rewards for player accomplishments.
Book of Heroes does have alternate hero portraits, in fact, such as Scholar Jaina and Nagrand Garrosh — but those are not rewards from actually playing the game mode itself. Instead, they are included in bundles you can purchase from the store. And if that wasn't bad enough, they also have that "wonderful" artificial scarcity in the form of "limited-time offers" — the Nagrand Garrosh bundle is only available until December 28. It's no wonder the community gets so salty with the monetization models that Hearthstone uses; it's no wonder at all.