WoW
Dec 31, 2020 4:00 pm CT
What are Grateful Offerings, and what should you spend them on?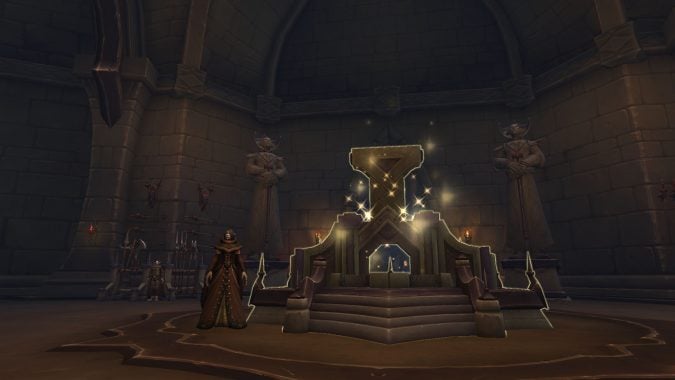 If you've unlocked the Anima Conductor in your Covenant Sanctum and have defeated the rares or opened the treasures unlocked by it, you may have noticed a new currency reward: Grateful Offering. Acquired two or three at a time when completing the Anima Conductor-spawned vignettes, Grateful Offerings can be used (typically alongside Anima) to purchase a variety of collectibles and cosmetics.
With the ability to purchase Covenant Armor reskins using Grateful Offerings beginning this week once you've reached Renown 16, it's a good time to look at all the potential purchases and start to plan what to spend them on.
Spend Grateful offerings on unique mounts and pets
I consider these items to be the most important, as the only way to acquire them is with Grateful Offerings. You need to be a member of the Covenant that sells them in order to acquire, and there are usually additional requirements which I've noted with the items. There are also some reskins purchasable, but those will be discussed in a separate section.
If you're a member of the Night Fae, your best friend for spending Grateful Offerings will be Spindlenose, the Court of Night vendor. The Court of Night is a separate reputation faction exclusive to Night Fae members, so you'll need to build up reputation by completing Anima Conductor vignettes in order to purchase these items.
At Friendly, you'll be able to purchase two companion pets — Stemmins and Willowbreeze — which each require 250 Polished Pet Charms alongside 5 Grateful Offerings. At this reputation there are also two Soulshapes you can purchase, Leonine and Lupine, which cost 1500 Anima and 5 Grateful Offerings for each. At Revered with the Court of Night there are two mounts you can purchase for 5000 Anima and 5 Grateful Offerings apiece: the Winterborn Runestag and Umbral Scythehorn.
The Court of Night is not the only way to acquire unique collectibles with Grateful Offerings: each of the Covenants has a pet tied to reaching Renown 27 available from the Renown Quartermaster. Each pet costs 1500 Anima in addition to 30 Grateful Offerings (except for the Night Fae, who get theirs at a discounted 20 Grateful Offerings). Venthyr are able to purchase Sinheart, while the Necrolords can buy Jiggles, two pets featured in our preview. Not to be outdone, the Kyrian Covenant get Ruffle, a pet with a Steward appearance, while the Night Fae are able to get Trootie.
If being a member of the Night Fae wasn't enough with the access to the Court of Night collectibles, members are also able to purchase a mount at Renown 39: the Enchanted Shadeleaf Runestag. The Necrolords, in an attempt to make sure that the Night Fae don't get all the goodies, also have a mount available at Renown 39, the Armored Plaguerot Tauralus. These cost 100 Anima and 40 Grateful Offerings apiece.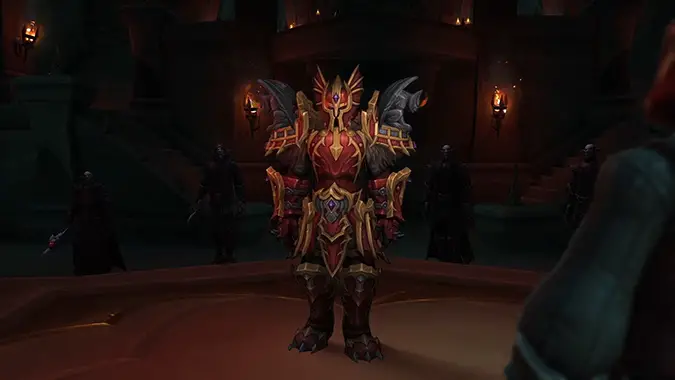 Spend Grateful Offerings on weapon and armor reskins
A large majority of the items available for purchase with Grateful Offerings are reskins of the Covenant armors, weapons, and backpieces. These appearances unlock via Renown levels, and the Renown and cost for each piece are as follows:
Renown 16: Wrists and Gloves for 2000 Anima and 15 Grateful Offerings apiece; Boots for 3000/25.
Renown 26: Legs for 3000 Anima and 25 Grateful Offerings; Boots for 2000/15; Cloaks for 1500/10. Note that for the Cloaks the matching appearances for all four armor sets are available to purchase by anybody, so make sure you pick up the correct one for your armor class
Renown 32: Helm, Chest, and Shoulders for 4000 Anima and 30 Grateful Offerings.
To unlock an entire set, it will cost you 25,500 Anima and 195 Grateful Offerings. Our old buddy Spindlenose with the Court of Night also offers an additional recolor of the Covenant armor sets once Exalted, available via an ensemble costing 25,000 Anima and 5 Grateful Offerings.
The weapon reskins are a little more straightforward, as there are two categories of recolors available. The first is available after completing the Covenant Campaign, and each weapon appearance costs 3500 Anima and 10 Grateful Offerings regardless of weapon type. The second category is available at Renown 37 and cost 3500 Anima and 50 Grateful Offerings. Both sets share the appearance of the Castle Nathria Covenant weapon sets, and like those weapon sets, not every weapon type is available for each Covenant.
Each of the Covenants has a recolor of one backpiece appearance unlocked at Renown 34 which can be purchased for 3500 Anima and 40 Grateful Offerings. In what should not be a surprise to anyone at this point, Spindlenose and the Court of Night have two recolors of Night Fae backpiece appearances available for purchase at Honored for 3500 Anima and 5 Grateful Offerings.
Grateful Offerings as a form of bad luck protection
The last category of Grateful Offering items I call Bad Luck Protection. These are mounts and Legendary Runecarver Memories that can be acquired elsewhere, but if your luck isn't serving you well you can spend some Grateful Offerings — and in the case of the mounts, Anima too — to get what you need.
Of course, when it comes to Legendary Runecarver Memories, there's a catch: there's RNG involved. The Chronicle of Lost Memories, which can only be purchased from Spindlenose or the other factions' Renown Quartermasters after you've permanently unlocked four Anima Conductor locations, does not give you a choice of Memories but instead rewards a random missing one for your class. While it's only 35 Grateful Offerings per attempt, I suggest acquiring all the guaranteed Memories first from raid bosses or vendors that sell them, otherwise you'll find yourself wasting Grateful Offerings on a Memory you could've gotten for 900 gold.
The mounts, thankfully, only have RNG when it comes to the Anima Conductor event/rare that drops them. Purchasing them requires 5000 Anima and 100 Grateful Offerings (75 for Night Fae, because the Night Fae are all about getting discounted prices for Grateful Offering purchases).
The mounts are:
A very important thing to note about these mounts is that you need to be a member of the respective Covenant to use or acquire them, so don't bother sending your non-Night Fae toons to farm Valfir for example. As these can drop from elsewhere (even though sometimes it feels like a mount will never drop), I highly recommend saving these for last when you have nothing else you're interested in spending Anima or Grateful Offerings on.
Hopefully this guide helps you organize your purchases. I highly recommend heading over to Wowhead to check out their Covenant transmog guides and the dressing room as they do a great job of displaying the different appearances available with Grateful Offering purchases.