Bake your own Dwarven Manabuns, because you don't have a Mage IRL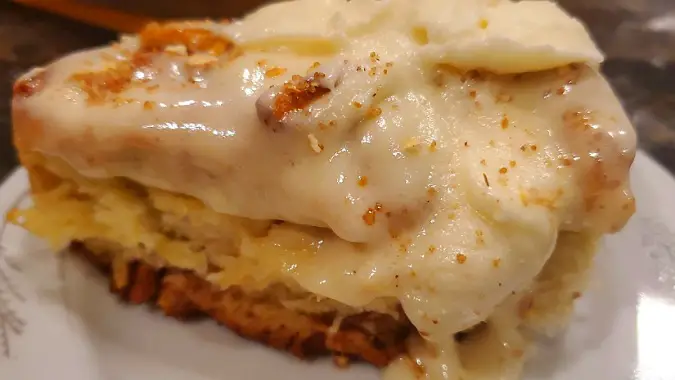 A staple of every raid, the manabun conjured by Mages has been a major part of World of Warcraft from the very beginning. This version has a Dwarven twist. Why Dwarven? They're short, stout, have pretzels baked in, and the yeast-raised dough has a particular tang that might remind you of something Stormstout-y.
This is one of my earliest recipes from when I really went gung ho into cooking. I was watching a cooking show, and a competitor tried to make this baked, yeast-raised dough in under an hour. I was like, "that isn't possible," so I tried them myself. I was right — you can't make them in under an hour, as it takes at least an hour for the dough to rise.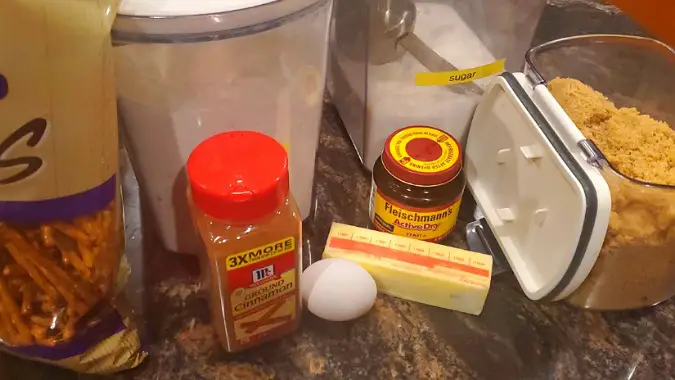 Dwarven Manabuns (Pretzel Cinnamon Rolls)
Ingredients
Dough:
2 3/4 c. (345g) flour
1/4 c. (50g) sugar
1/2 tsp salt
2 1/4 tsp instant yeast (1 packet)
1/2 c. (120ml) whole milk
1/4 cup (60ml) water
3 Tbsp unsalted butter (softened)
1 egg
Filling:
3 Tbsp (45g) unsalted butter (softened)
1 Tbsp ground cinnamon
1/4 c (50g) brown sugar
1 c crushed pretzel rods
Cream Cheese Frosting:
2 oz. (56g) cream cheese (softened)
7 Tbsp butter (softened)
1 tsp vanilla extract
2 Tbsp milk
1  1/2 c. confectioners' sugar
Equipment:
Mixer
2 heat proof bowls
Rolling pin
Pie plate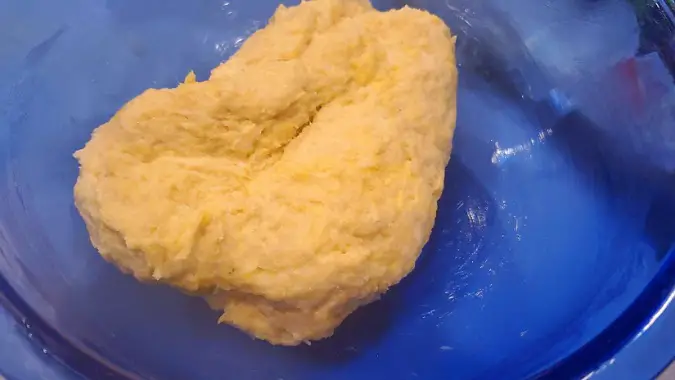 Making the Dough
1. Whisk the flour, sugar, salt, and yeast together in a mixer.
2. Combine the milk, water, and butter together in a heatproof bowl. Microwave for 20 seconds until just warm (roughly 90 F). You don't want the liquid to be too hot or you'll kill the yeast — if the yeast dies too early, your manabuns will be more like dense stone.
3. Pour the milk mixture into the dry ingredients in the mixer, then add the egg while stirring on low.
4. On a lightly floured surface knead the dough for 3 minutes. You may also wish coat your hands flour for this, as it will get sticky. Place the dough in a large, greased bowl (I use the wrapper from the butter to quickly coat the bowl). Cover with a kitchen towel, and rest for about 15 minutes.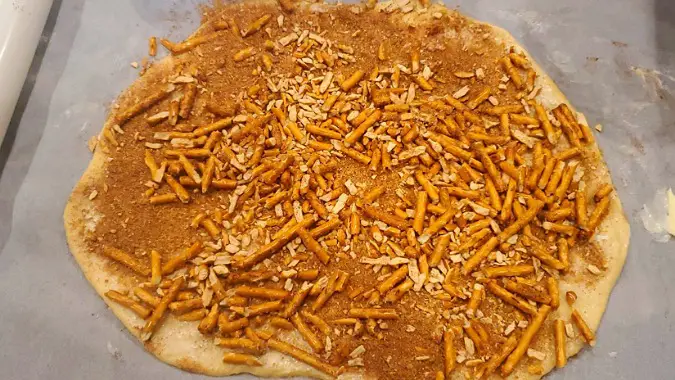 Making the pretzel and cinnamon filling
1. Put the pretzels into a plastic bag and roll them with a rolling pin (or just bash by hand) until pulverized. Pour the pretzels into a bowl and mix with the cinnamon and brown sugar.
2. Roll out the dough to roughly a 9 x 15 rectangle and spread the softened butter over the dough. The butter should be soft, but neither melted or hot as this will let it grab the filling better and not harm the yeast.
3. Spread the filling over the butter, then carefully roll the dough into a tightly rolled log. Cut into 10-12 evenly cut pieces and place in greased pie plate. Don't worry if there's still gaps in the plate as it will fill during the rising period. Save any filling that may have fallen out of the sides for later.
4. Cover pie plate tightly with aluminum foil and store in a warm place for 1 hour so the dough will rise. To make a makeshift proofing box for this, I turn the oven on to the lowest setting (175) until it makes temp, turn it off, and then put the plate in with the door open a crack to vent excess heat.
5. Preheat the oven to 375. If you used the trick from the previous step, here's a reminder to remove your buns from the oven before you start preheating! Remove the aluminum foil and bake the buns for 25 minutes. Around 15 minutes in, check to see if they are already browning —  if so, cover them with the foil for the remaining 10 minutes so they don't burn.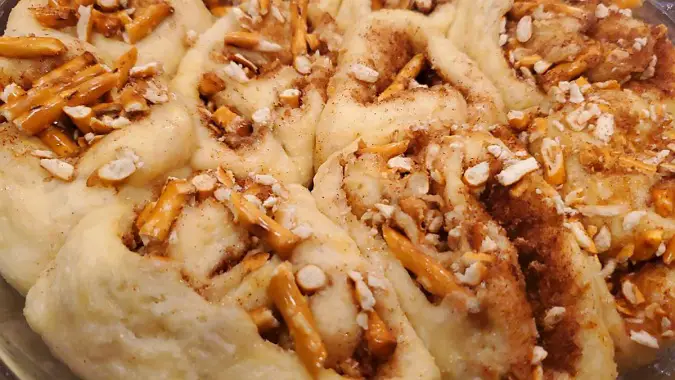 Cream Cheese Frosting
1. In the mixer, combine cream cheese, butter, vanilla, milk, and confectioner's sugar and mix on medium until smooth.
2. Ten minutes after you remove the cinnamon buns from the oven, spread the cream cheese frosting over the warm manabuns. Sprinkle any remaining filling on top for a garnish that would bring a tear to the eye of any raid leader.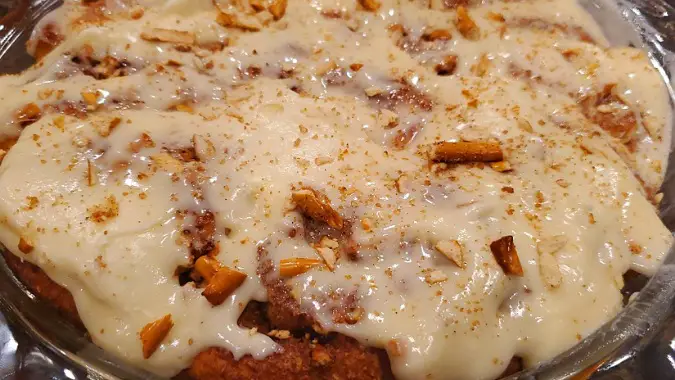 Setting out the mage table
These buns will last about 3 days if stored in the fridge — and away from nosey cats who try to get into all your food. These are perfect for brunch, a mid day snack, a late night dessert — or a quick bite in between pulls, if you don't mind having a sticky keyboard.
You can't go wrong with this twist on the classic cinnamon bun.