WoW
Jan 20, 2021 10:00 am CT
How to find the three pieces necessary to make your own skeleton-hand pet in WoW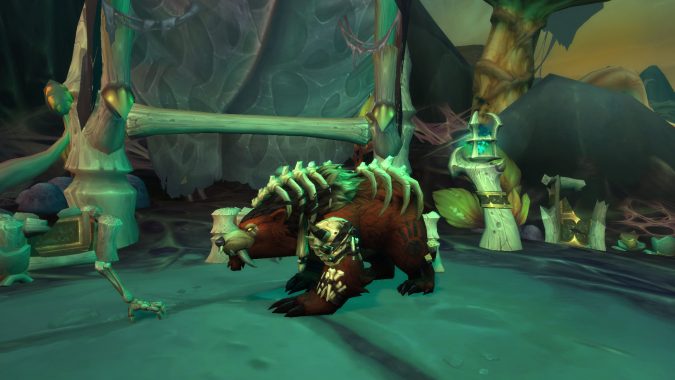 Have you ever wanted an extra hand to help you get chores done? If you have, you're in luck! Those clever Necrolords in Maldraxxus have just the pet for you. It's Carpal, the crawling skeletal-hand pet who wants to be your new best friend! The only hiccup is that there's some assembly required — Carpal comes in three parts.
Now just because this is a pet that is most at home in Maldraxxus with all of those Necrolords, doesn't mean that you have to be a Necrolord to get it. Any player can get the necessary parts to make Carpal. So go forth and live out your mad scientist fantasies of creating life from death!
To start building your new handy-dandy companion you'll need an Animated Radius. The Undying Army Quartermaster will be happy to sell you one of these for 250 Polished Pet Charms. You don't even need to have gotten any reputation with them yet. Who knew it was so easy to get magically animated body parts?
Getting the second piece will require you to do a pet battle World Quest. You're looking for the World Quest Extra Pieces to have the Animated Ulna as its reward. I wound up using a Jungle Darter, Leopard Tree Frog, and the Runeforged Servitor pet to beat it. But if you don't have those pets there are lots of different combinations that should work. If you're struggling, using pets with Decoy can really help avoid the damage from the enemies Corpse Explosions.
The final piece is the Flexing Phalanges. You won't actually be able to collect this bit of Carpal until you have the first two. You'll need to head to the Iron Trench in Maldraxxus — coordinates (47.4, 62.1) if you're using a coordinates addon.
At the top of that hill, you're looking for a giant skull with a sword sticking out of it. The twitching arm is in the skull's mouth. Just click on it and you're done! Now you can assemble those pieces to create Carpal. It's as simple as clicking on any of them in your bag. I wish all secret pets were this easy to get.
Carpal looks to have a pretty solid set of moves if you're planning on using it for pet battling. Like most hand Battle Pets, it has a way to force enemy pets to swap with Death Grip. It's also got a nice combo with Roar of the Dead and Death Coil, which could be used to get yourself some extra healing in a pinch. It can also use Return to Rest to swap places with one of your other pets, but more importantly, dodge a big attack from the enemy. If things in a fight aren't going your way — making the enemy whiff a big attack can be pretty potent.  
And hey, don't forget to give yourself a hand.