Tortellini Soup with Sausage and Kale is easy to make on a cold winter night
We can't all be like Chaddius, relaxing by a hot spring, sipping drinks — some of us are in parts of the world where it is so cold your face hurts just being outside, so a warming bowl of soup that really sticks to your ribs is a way of life. In this case, tortellini soup with hearty sausage is just what the swolekin ordered.
We even added a little kale and carrots so you can pretend it's healthy, too.

Tortellini Soup with Sausage and Kale
Ingredients:
8 tbsp. butter
2 tbsp. flour
1 tbsp. dried minced onion
at least 3 cloves of garlic (minced)
1 lb Italian sausage (casings removed)
1 c. shredded carrots
1/2 bunch kale (de-stemmed and chopped)
1 red bell pepper
1 lb cheese tortellini
1 16 oz can crushed tomatoes
1 qt chicken stock
1/2 pint light or heavy cream
1 tbsp. garlic powder
1 tbsp. Italian herbs
salt
pepper
Equipment:
A large pot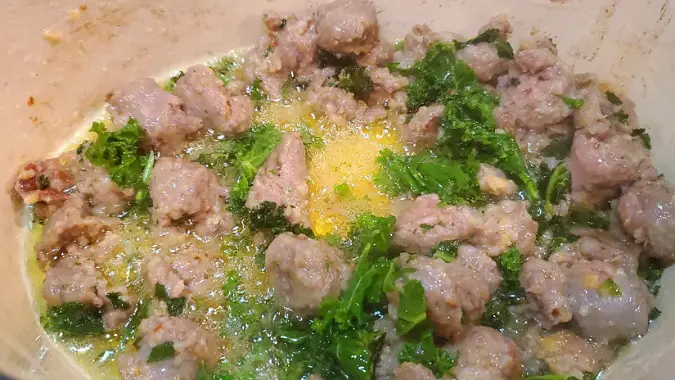 1. Start off by roasting the pepper. To do so place the whole pepper — stem, seeds, and all — under a broiler on high until the skin blackens, turning it occasionally, so that the entire pepper looks charred. Immediately place in a brown paper bag, seal shut and store in a bowl for 20 minutes (the bag will leak). The pepper will steam inside the bag and become very soft, allowing you to peel the burned skin right off with your fingers. Remove and discard the stem, seeds, and ribs as well, then dice.
2. In a large pot at medium-high heat, melt butter and mix with flour. Add garlic and minced onions and allow to cook for 5 minutes while stirring to prevent browning.
3. Add sausage and kale at the same time. This allows the kale to soften while the sausage browns. Make sure there is no pink left on the sausage before the next step as meat stops browning when the liquids are added.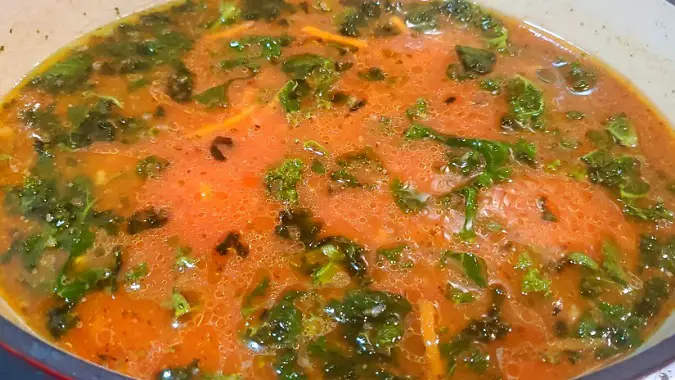 4. Add crushed tomatoes, chicken stock, carrots, your diced roasted bell pepper, and about 1 cup of water. I just use the can from the crushed tomatoes to add the water, to get every last bit of tomato out of the can. At this point also add your seasoning. Aside from Italian herbs, you should also add salt and pepper to your own liking as well as a dash of garlic salt if you choose. Allow to simmer for 10 minutes.
5. After 10 minutes, add the tortellini and continue simmering on medium heat for 10 more minutes.
6. Remove from heat and stir in cream. Once stirred together, you're ready to enjoy.
This crowd-pleasing soup is an easy way to feed a family
Making soup is one of the joys of cooking, because it isn't as exact as making other dishes — once you get it going, you can make it your own any way you want. Exercise either your creativity or your laziness! Add some hot peppers, cannellini beans, croutons, any vegetable you want (or need to use to clean out the crisper), remove the sausage, add chicken or bacon, definitely add some grated parmesan or romano.
This soup will last for days in the fridge. If you're planning on freezing it, do so before adding the cream or tortellini — cream tends to separate out of frozen soup, and pasta frozen into soup can overcook into a mushy mess when reheated. As such, if you're reheating from frozen I'd recommend using the stove and not the microwave, but hey, that just means another pot of something steamy simmering when you or your loved ones come in from the cold.