Hearthstone Battlegrounds adds new Tickatus and Greybough Heroes, and changes the Big Demons comp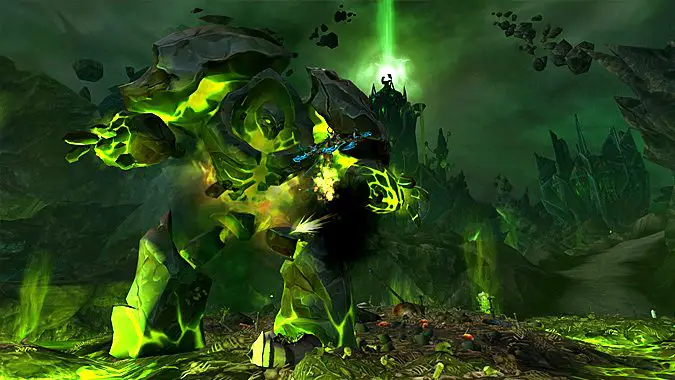 Two new heroes have joined the Hearthstone Battlegrounds roster! A new patch has been deployed bringing Greybough and Tickatus into the fray — as well as making some significant changes to the Big Demons composition.
Read on to find out what these new heroes can do, and how you can use their new powers to your advantage — as well as what is changing for Big Demons.

How to win as the new heroes Greybough and Tickatus
Greybough
Sprout It Out! [Passive]

Give +1/+2 and Taunt to minions you summon during combat.
Greybough is a hero that will mesh well with those Deathrattle minions that summon other minions when they die. Khadgar will certainly be his best friend: getting to double up on those tokens while simultaneously making them stronger and giving them Taunt is a very sound battle strategy.
When playing Greybough, you will look for minions like Voidlord and Ghastcoiler in the late game. But while you're still working your way up there, try to recruit smaller ones like Imprisoner and Scallywag, as well as the brand new Ring Matron, which we will talk about later.
Tickatus
Prize Wall [Passive]

Every 4 turns, Discover a Darkmoon Prize.
At first, I have to say I'm a little underwhelmed by this hero. Sure, the Darkmoon Prizes can be very powerful, and game-changing — but getting to use them once every four turns, and having nothing to benefit you the rest of the time means that Tickatus is likely to have slow starts, and could run into trouble catching up with other heroes later.
You are likely to start every race in a losing position, and having to make up for the lost time — as well as hoping that RNG is with you, and offers you good Darkmoon Prizes to discover when the time comes.
These two new heroes are live now if you have purchased the Battleground Perks. But if you haven't, you only have to wait until February 4th to begin playing as them.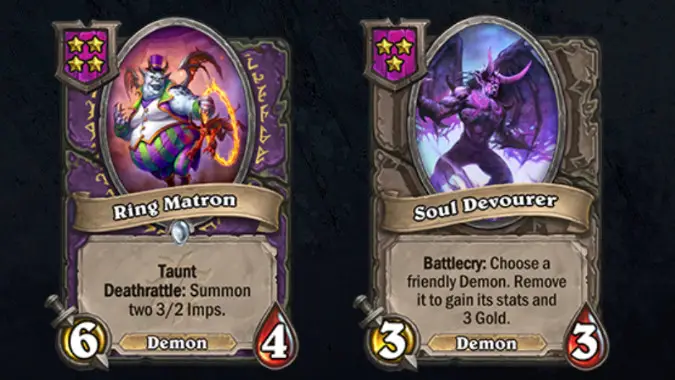 Big changes to Big Demons
The winds of change have come for the classic Big Demon composition. Since the Battlegrounds mode was released, this comp mostly relied on two minions: Wrath Weaver — which was buffed from 1/1 to 1/3 a few patches ago — and Floating Watcher. Well, that is not going to be the case anymore, since Floating Watcher has been removed from the game mode. But in its place, two new demons have been added; one on Tier 4 to take Floating Watcher's position, and one on Tier 3.
Soul Devourer
[Tier 3, Demon] 3 Attack, 3 Health

Battlecry: Choose a friendly Demon. Remove it to gain its stats and 3 Gold.
This minion promises to add a lot of value to your game plan whenever its played. It can devour a smaller Demon in order to grow bigger — although not indefinitely, like Floating Watcher did. To compensate for that downside, however, it also adds three Gold to your hand, which you can use to grab another minion from Bob's roster.
A good use for it that can be applied early on is to eat a Nathrezim Overseer you just used to buff a different demon. Or, perhaps, eating a Taunt demon that you no longer need — you get the stats without the vulnerability of being a constant Taunt target.
Ring Matron
[Tier 4, Demon] 6 Attack, 4 Health

Taunt. Deathrattle: Summon two 3/2 Imps.
At first glance, the Matron doesn't seem like it's a card that fits the Big Demon composition that well, due to having static stats and no growth potential. But its Deathrattle effect synergizes very well with Soul Juggler, which has been finding its way into Big Demon comps as well — almost as if the old Big Demon and Token Demon comps have been merged into one.
I'd speculate that this is the way the developers want Demons to move forward in Battlegrounds: as a single comp, using both big minions and juggles, instead of two separate ones.
This shakeup in minions, combined with previous changes like the buff to Wraith Weaver and the addition of Bigfernal will certainly make Demons play very differently from now on. It is a very strong comp at the moment, and time will tell if it will remain in that position now that Floating Watcher isn't there anymore.