How to survive the Cart Crash at Crosscroads Hearthstone Tavern Brawl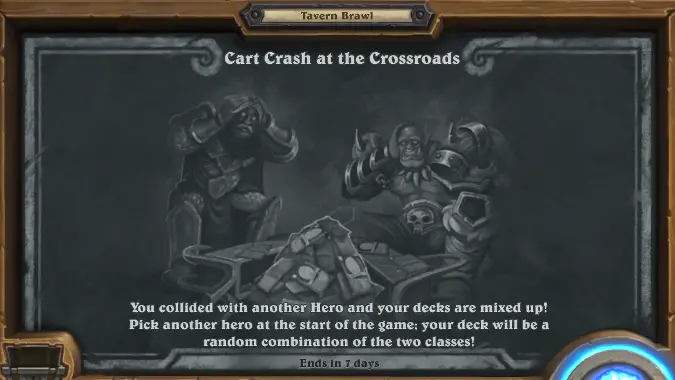 At Bilgewater Insurance, we've seen almost everything so we know how to cover almost anything (at very reasonable Goblin rates).  Even a Cart Crash at Crossroads. It was Year 33 after the opening of the Dark Portal. Two carts, one carrying a Shaman and a Rogue charged from the north, and another with a Mage and a Warrior rumbled from the south. By the time they saw each other, it was too late. CRASH! And we covered it. Talk to Bilgewater Insurance. We know a thing or two because we've seen a thing or two. And extorted a thing or two.
This is Hearthstone's Cart Crash at Crossroads Tavern Brawl.
Tavern Brawl basics
Name: Cart Crash at Crossroads
Description: You collided with another Hero and your decks are mixed up! Pick another hero at the start of the game; your deck will be a random combination of the two classes!
Fun level: 5/10
Difficulty: 5/10
Replayability: 9/10
Format: Wild
Type: PVP
Deck: Provided
Rewards: 1 Classic pack
First debuting in 2016, this is the seventh time it has been in the rotation. The only choice you need to make this week is picking your class. Despite the Brawl's age, Demon Hunters are an available choice. This will provide you with of a deck of random cards containing 11 class cards and 8 Neutral cards. Where do you get the rest of your deck? Once you start the game, you're provided with a Discover-like interface showing three other random classes. You'll choose one as your partner and get a set of 11 class cards form that class added to your deck.
You are dealt your initial hand and go through the mulligan prior to selecting your second class. You will not see any cards from the second class until you start drawing cards, but you can get a card from the second class in that first draw.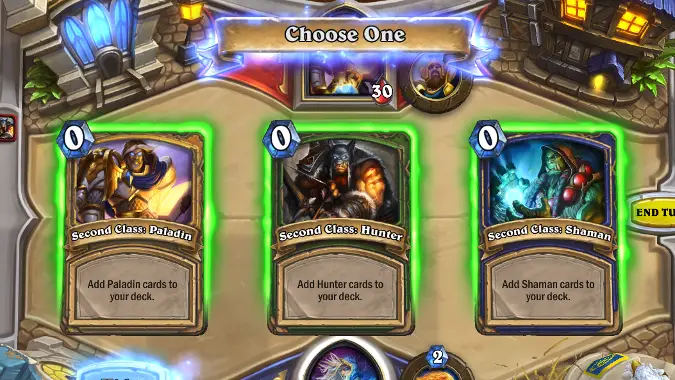 Let's say your initial choice was Mage. You'll have Mage cards in your deck along with your Neutrals. You see your initial hand of Mage and Neutral cards and decide on your mulligan. Next, you get the Discover interface and can choose between Paladin, Hunter, or Shaman. You decide on Shaman and get the Shaman cards in your deck. Now you draw your first card which could be from Mage, Shaman, or a Neutral.
The good news is the  size of your card collection doesn't matter in this Brawl, the deck is provided. What remains true is the RHBA (Random Hearthstone Brawl Autotext): "You'll find everything from Legendary cards to Basic cards in your deck — it's all random."
How to win the Cart Crash at Crossroads Tavern Brawl
Playing this Brawl requires an Arena mindset where good trades are key. Don't hesitate to drop a minion for pure stats, even if their effect won't go off (e.g., effects that trigger if you're holding a dragon and the like). You have no idea if you'll have a dragon in your deck to ever trigger it.
Try to mulligan for a good curve. This means having a minion to play on turn one, turn two, and turn three. Don't be afraid to concede early if it looks like things aren't going your way. The decks tend to be minion heavy with limited opportunities to reset the board. Your opponent will have some class spells, but it should be fairly safe to commit to a wide board without fear of AOE.
Your normal strong Arena classes like Mage and Paladin are good choices. Mage has the most flexible Hero Power in the game, and Paladin has the most consistent. But any class can win with a strong enough deck.
If you want the card pack, just keep queuing up. Eventually, you'll get a strong deck and overwhelm your opponent. May the RNG be in your favor and just roll with it, baby.