Cook your own pub grub at home with this Pimento Roasted Brussels Sprouts recipe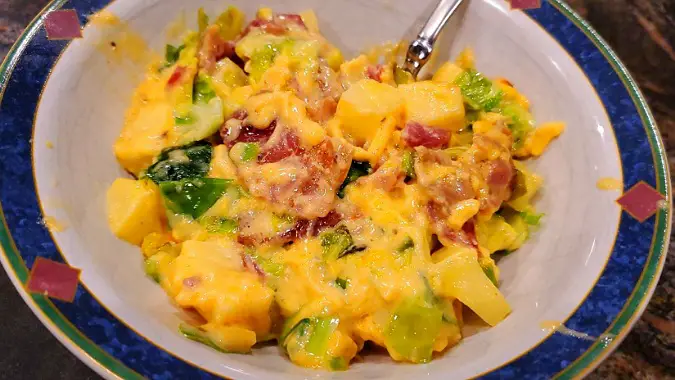 Brussels sprouts, the dreaded green that kids the world over find yucky. I get it. When I was a kid, my dad planted a Brussels sprout bush in his garden, not knowing how many it would yield — that summer it was Brussels sprouts with every meal.
I swore them off for good.
Of course, "for good" was only until my mid 30s when I became hooked on this dish at a local pub during trivia night. These days, there are not as many trivia nights, so I learned to make it myself with this Pimento-Roasted Brussels sprouts recipe.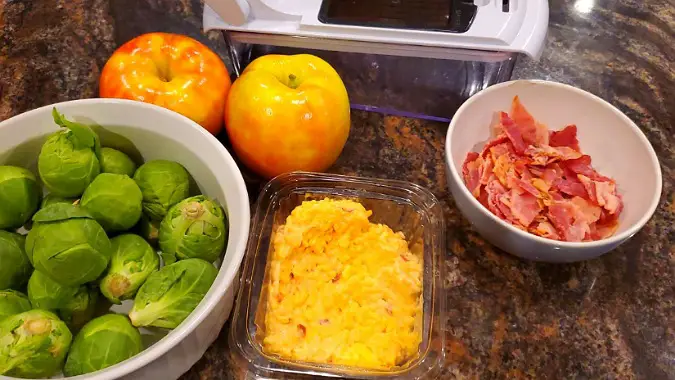 Pimento-roasted Brussels sprouts recipe
Ingredients: 
12 oz Brussels sprouts
2 apples
3 oz pre-cooked bacon
12 oz pimento cheese
Olive oil
Also needed:
8 inch baking dish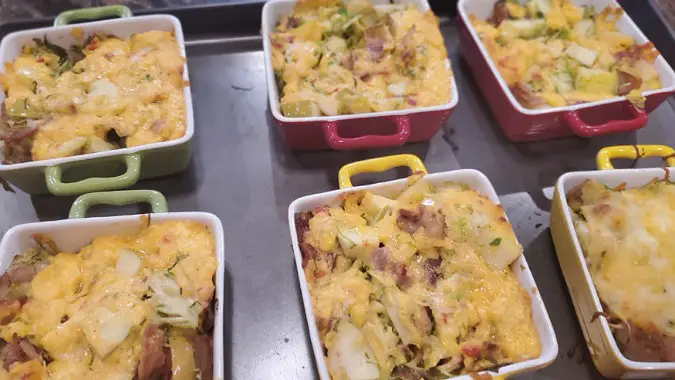 Cooking directions
1. Preheat oven to 375.
2. Shred the Brussels sprouts. This is very annoying and can be dangerous if using a mandoline as you do need them thin. If you can get the sprouts pre-shredded, I do recommend it.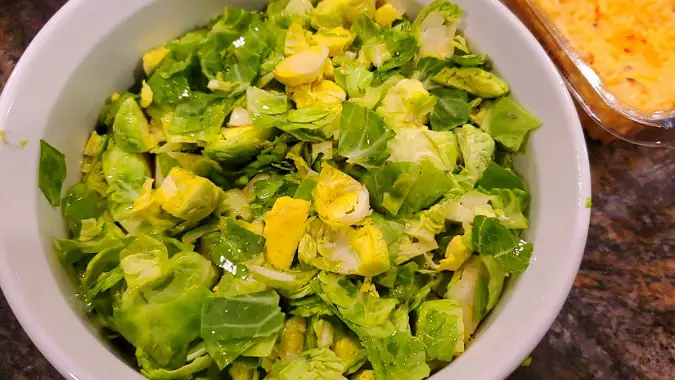 3. Peel, core, and cube the apples.  Mix in with sprouts and sprinkle on some olive oil.  This should halt any browning that may occur in the few minutes while you keep prepping the rest.
4. Chop the precooked bacon. I recommend precooked bacon as this dish is greasy enough and you do not want to add extra. I also just learned that there is thick cut precooked bacon —which is amazing— so if you can find it, buy it. Mix the bacon in with the sprouts.
5. Mix in the pimento cheese. You can mix in assorted other cheeses, but i find it perfect with just the pimento.
6. Bake at 375 for 15 minutes. You can also broil on high for 1 minute just for extra browning. Serve warm.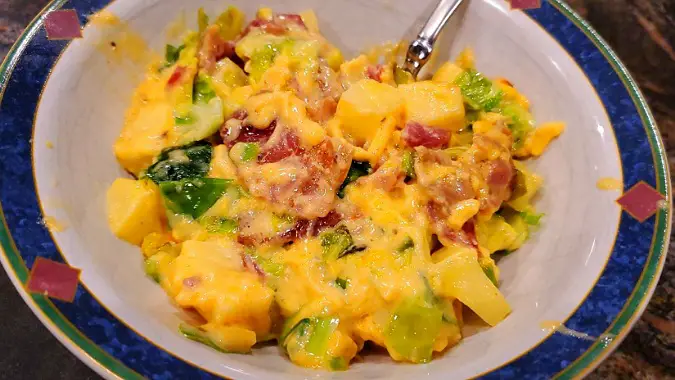 I eat this as an appetizer, a full meal, or a snack. If you are serving for multiple people, you can divvy up into a few oven safe bowls and bake in them instead of the single platter. Refrigerated, this can last 1 week.