How to get the Roadhog Pachimari skin in Overwatch, here until March 22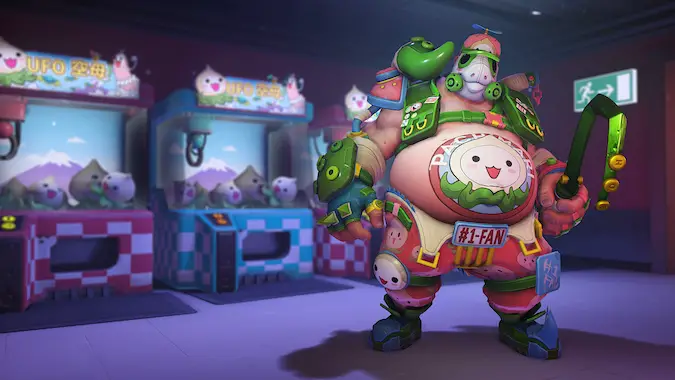 The Pachimari are my favorite non-gameplay thing in Overwatch. Are they onions, are they squids…who cares? All that matters is that they are flippin' adorable. So it's little surprise that I'm queued up and ready to get the latest unlocks in the PachiMarchi Challenge. This is one of the miniature events, with just a handful of extremely cute rewards available through March 22.
As with most of Overwatch's mini events, all you need to unlock goodies is get wins in the Quick Play, Competitive, or Arcade modes. Three games won gifts you with a Pachimari baseball cap player icon. Six wins rewards you with a pretty stellar Junkrat emote, where he rifles through a backpack to find a Pachimari of his own. And nine wins unlocks an epic tier Roadhog skin where kawaii meets creepy. He's got "#1-FAN" on his belt buckle, pachi-patterned pants and knee pads, and the hat from the player icon. It's pastel perfection.
The event also has six unique sprays, with the heroes reimagined in a Pachimari artwork style. Yes, they are also adorable. Junkrat, Zenyatta, Winston, Genji and Hanzo, Doomfist, and Sombra all got the cuteness treatment. Normally, the spray unlocks are for clocking in a certain number of hours watching Overwatch streams on Twitch. This time around, you get all six sprays just for logging into the game before the event ends.
Often, these events are tied to other content releases, like comics or short stories. But honestly, I'm pretty happy when they stick with in-game lore. There have been other teases about Roadhog's Pachimari obsession, and I think this type of world-building is always where Overwatch shines. So log in, get your unlocks before March 22 when the event ends. Roadhog will never forgive you if you don't.
Originally posted March 11, 2021. Updated March 19, 2021.