Find out if you're tough enough for Forged in the Barrens with the Recipe of Tenacity Hearthstone Tavern Brawl
Lok'tar Ogar, runt! Think you've got what it takes to be Forged in the Barrens? Well, it's time prove it. Here's your recipe: gather some Strider meat and a Shiny Red Apple to make some Strider Stew. And while you're at, try all ten deck recipes from the Hearthstone Recipe of Tenacity Tavern Brawl!
This week's Tavern Brawl is an introduction to the Forged in the Barrens expansion. This is a modified version of An Outlandish Recipe, which introduced the Ashes of Outland expansion. In this Brawl, you'll get to try out some of the expansion's most interesting decks — and win a card pack in the process.
Tavern Brawl basics
Name: Recipe of Tenacity
Description: Take to the challenges of the Barrens! Choose a class and enjoy the latest deck recipes!
Fun level: 4/10
Difficulty: 9/10 to 4/10 depending on your class, deck, and opponent
Replayability: 5/10
Format: Standard
Type: PvP
Deck: Provided
Rewards: 1 Year of the Phoenix card pack. This pack can contain cards from any of the Year of the Phoenix sets: Ashes of Outland, Scholomance Academy, or Darkmoon Faire.
For this Brawl, you choose your class, and you're assigned their deck recipe. Unlike An Outlandish Recipe, which had three recipes per class, Recipe of Tenacity only has one. The decks feature several characters from the game's cast of Mercenaries like Varden Dawngrasp and the loveably Guff Runetotem.
These are premade decks, and the same decks you'll find on the deck creation screen. The big difference in the Brawl is you get the deck with all the cards regardless of whether you own them or not. You'll have every Legendary and Epic card you need in the deck.
Which decks will you see? Each class has a recipe meant to give players a good introduction to how the class will play in Forged in the Barrens. This early into the expansion, they are still a bit unrefined.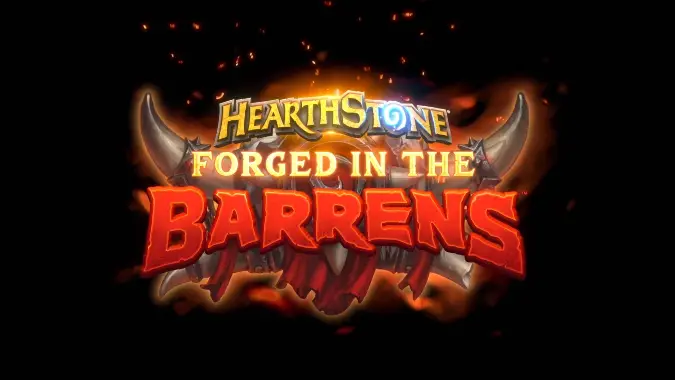 How to win A Recipe of Tenacity Tavern Brawl
With only one recipe per class, players are going to quickly find which ones are the most powerful. I suspect to see Paladins and Druids dominating the Brawl. These are the decks for each class:
Demon Hunter: Rattling Rascals
This is a Deathrattle-based deck. You're going to use Razorboar, Razorfen Beastmaster, and Deathspeaker Blackthorn to summon more Razorboars and more Razorfen Beastmasters in addition to Death's Head Cultists and Darkspear Bezerkers from your hand. You'll go from no board to a flooded board in a Blur.
Druid: Get Buff with Gruff
This deck is filled with cards to buff your minions, spells to generate minions, and some powerful Legendary minions to go along with it. If you can get Greybough and Plaguemaw on the board at the same time, it's pretty much game over for your opponent.
Hunter: Raptor Frenzy!
This appears to be an attempt to create a Buff Hunter deck. You've got cards to buff your hand, deck, and minions on board. The tough part about pulling this off is having the right combination of cards. Sometimes you wind up with all buffs and no minions, and other times all minions and no buffs.
Mage: Magical Duo
This is a Freeze and Hero Power based deck with the glacially slow Mordresh Fire Eye Legendary minion as a finisher. [Ed's note: Mordresh won me two matches in a row when I first fired up this Brawl.]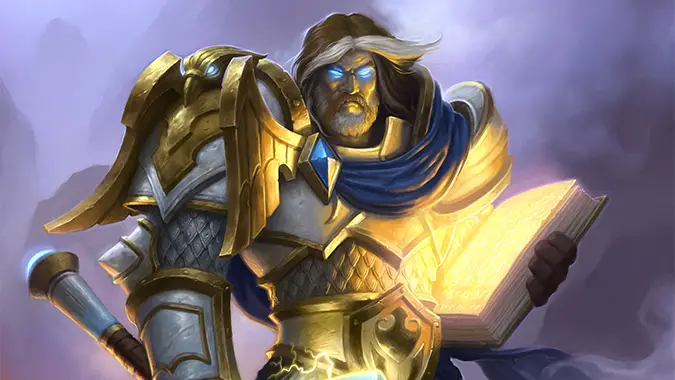 Paladin: Cariel's Chosen
I think the intent with this deck was to showcase the powerful Holy spells in Paladin's arsenal, but several of those spells are Librams. Combined with Aldor Attendant, this gives the deck much of the strength of the dominant Librarm Paladin deck tearing up the Ladder.
Priest: Power of the Sun
This is a spell-based deck with Shadow spells for damage and a ton of Holy spells for life gain. Be sure you save one copy of Apotheosis for your Blademaster Samuro. It's your only buff card and he's your only good target.
Rogue: Scabbs' Scoundrels
This deck is about the power of Scabbs Cutterbutter which some people feel is one of the most powerful cards in Forged in the Barrens. If Scabbs wasn't enough on his own, you've also got Preparation, Shadowstep, Foxy Fraud, and Efficient Octo-bot to futher reduce mana costs and empower all of the Combo cards in the deck.
Shaman: Bru'kan's Thunder
This is an elemental-based spell damage deck. You supercharge your spells while exploiting elemental synergies.
Warlock: Roaming Souls
This deck is empowered by Soul Fragments and self damage. You should get some low-cost Flesh Giants and a major swing turn from Soulciologist Malicia.
Warrior: Feel the Rush
This is a handbuff Rush Warrior with Blademaster Samuro. It has all of the normal problems of handbuff decks, but can dominate tempo if you get the Rush minions buffed up.
Whatcha got cookin?
If you want to win, try playing Paladin or Druid. But if you're struggling, try the class you're most comfortable with and hope for the best. There's no rank to lose, so don't be afraid to conceded if the game isn't going your way. Like most Brawls, if you keep at, you'll eventually get your win and get your Year of Phoenix pack.