Burning Crusade Classic will be released on June 1, pre-patch with new races on May 18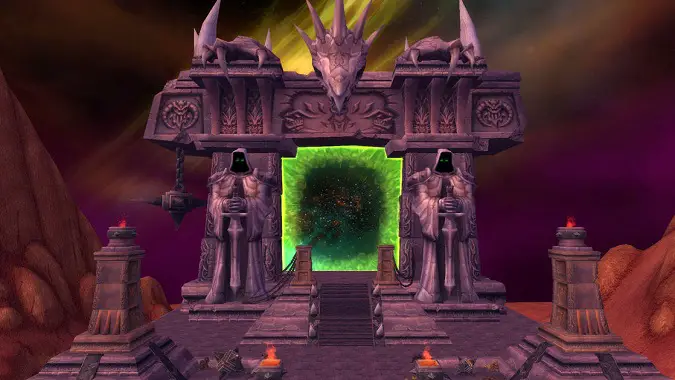 WoW Classic players finally have some new content to look forward to, because Burning Crusade Classic is launching on June 1, giving everyone a chance to venture through the Dark Portal for the first time (again). The pre-patch will be launching on May 18, at which point you'll be able to create your new Draenei Shaman and Blood Elf Paladins to speed level your way to Outland. The expansion launch will wind up splitting the WoW Classic realms: existing players can decide to stay in in the Classic era, never to step foot in Outland, or to play on a BCC server. If you want to stick to the original vanilla WoW experience, you'll have to copy your character over to a Classic server — and if you want to do both, you can clone your character to a Classic server.
But playing on both Classic realms and the new BCC realms will cost you some cash. Though you can copy your character to a Classic realm and play the original version of the game indefinitely, if you want to clone a character to a Classic realm so you can play the character in both Classic and Burning Crusade Classic, it will cost you $35.
And for players who didn't play Classic but want to play Burning Crusade Classic, you'll be able to boost a character to level 58 so you can walk right into Outland. (But be warned, these level 58 characters may be a bit flimsy compared to what they'll face in Hellfire Peninsula.) Each account can only boost one character, which can't be a Blood Elf or Draenei, so players looking forward to the new races can't take advantage of this feature. But boosting a character will cost $40, so you can think of playing those new races as a cost savings.
And there are more perks you can buy for cash. Burning Crusade Classic also has a "deluxe" edition that includes the level boost as well as special mounts for both BCC and modern WoW, a month of gametime, and some cosmetic toys. This will cost $70, which is a bit less than the modern Shadowlands Epic Edition, but still a fair chunk of cash.
There's not much time left until the Dark Portal opens again. If you're leveling a character in Classic to head into Outland, you just have a few weeks to do it in.