Battle-Ready Decks are now available in Hearthstone, letting you purchase a meta-ready deck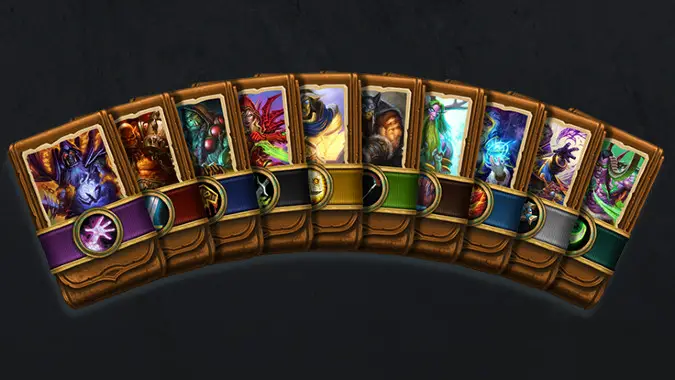 Nearly every Collectible Card Game out there offers their players the ability to purchase a full, ready-to-play deck. It's almost a wonder that it took Hearthstone seven years to finally add that feature to the game. But purchasable decks are finally here with Battle-Ready Decks.
Each Battle-Ready Deck offers players a fully-crafted, immediately-playable deck for one of the game's ten classes. Once you purchase it — at the moment, they're limited to one per account — all of those cards will be added to your collection. If you already own any of those cards, you will get them as duplicates, which you can safely disenchant.
As for cards belonging to the Core Set, if you had already earned them, you don't get the duplicates. And if you hadn't, your Heroes will be automatically leveled up to the minimum level required to earn those cards.
A Battle-Ready Deck costs $19.99, and they will only be available for a limited amount of time — at the moment, for three weeks after it shows up in the shop. The team also wants to ensure that these decks won't be for sale right after a new expansion launches. This is a good move, both for the players who will have plenty of time to play with the new cards and craft their own decks, and for Blizzard themselves, since the meta will already be settled, and the decks they release will be of a higher quality.
Check out the official blog for the full list of cards that is available on each of these initial Battle-Ready Decks.

Is the price too steep for a deck?
It could be argued, for sure, that $19.99 for a single deck is a steep price. I'd venture to say that, for a large number of players — especially those who already have established card collections — this might not be a worthy investment. The target audience for Battle-Ready Decks seems to be those players who only want to spend a certain, limited amount of money in the game, in order to quickly jump into it.
If your card collection isn't already big, and/or you only intend to spend that much money in Hearthstone, I would certainly argue that it's worthier to purchase a curated, working deck than it is to invest that same amount of money into random card packs — which will probably not net you a fully functional deck at the end of the day. In addition to that, the ability to know what you're buying is certainly much more consumer-friendly than purchasing card packs, or loot boxes, or any other kind of blind reward.
If, however, you already have a sizeable collection, and/or you're willing to spend more than just that $19.99 into boosting your card collection, then you're better off just purchasing packs. The larger variety of cards you will get will work better in your favor when you already have several other building blocks to work with.
So, my advice is: consider getting a Battle-Ready Deck if your collection isn't too large, and if you just want to jump into the game immediately. However, if you already have a good amount of cards, or if you're looking to spend the time and effort (and perhaps money) to collect a higher number of cards over a longer period of time, then perhaps this feature isn't for you.
Originally published 4/28/2021, updated 5/7/2021