How to get the Phase Hunter mounts in WoW and Burning Crusade Classic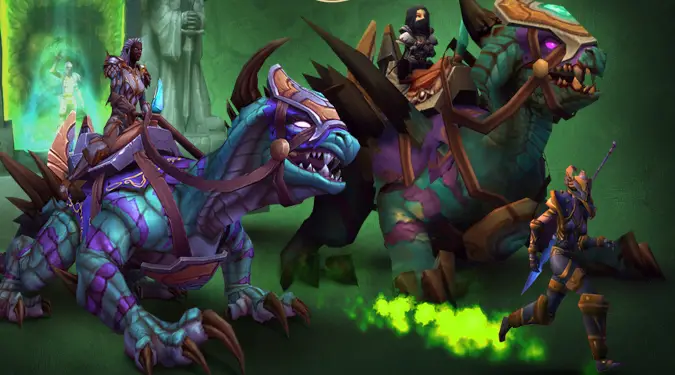 Everyone likes riding around on the back of huge, angry, teleporting lizards — that's just science. And if you're one of those everyones — and I am assured that indeed, you are — you may right now be wondering how you can get your hands on not one, but two angry, teleporting lizard mounts, each for use in either retail World of Warcraft or the upcoming Burning Crusade Classic.
Because this is a thing that is happening.
There are two mounts you can get here — the Reawakened Phase-Hunter is specific to Burning Crusade Classic, and is designed to look the way mounts did back then, so it doesn't look out of place with improved textures or beefed up models that would look too modern in comparison. But if you are playing the live game, and you want a cool, really angry teleporting lizard of your own, fret not — for you can absolutely get one, as the Viridian Phase-Hunter is a mount exclusively for use in retail WoW, and it has all the modern bells and whistles we've come to demand from our mounts.
So how do you get these bad boys?
Well, if you just want to play Burning Crusade Classic, you can do so at no additional charge. You don't have to buy anything to play BCC — it comes with your regular WoW subscription. But, if you want a lot of cool stuff, including these two mounts, then you can purchase the Deluxe Edition of BCC, and that comes with both of these mounts, an additional 30 days of game time, the Path of Illidan toy which lets you walk around with green flame footprints in your wake, a specific Dark Portal hearthstone which lets you hearth with a cool Dark Portal themed effect, and a character boost to level 58 so you can start your Outland adventures immediately. There are a few restrictions, like you can only boost one of the WoW Classic races, as both Blood Elves and Draenei are restricted.
But that's it. All you have to do to get both mounts — the Reawakened Phase-Hunter for Burning Crusade Classic and the Viridian Phase-Hunter for retail WoW — is to pick up the Deluxe Edition of BCC.