The Queue: Viking time!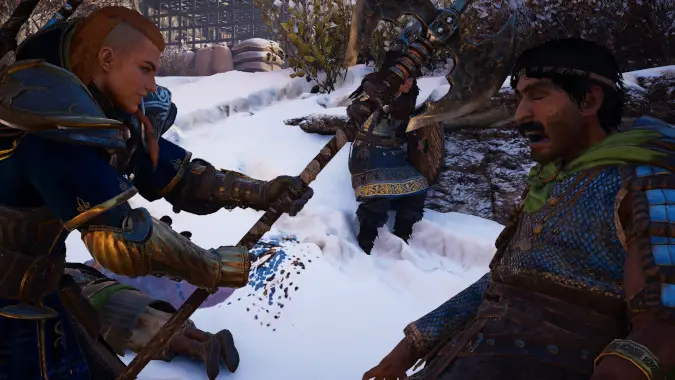 So the Wrath of the Druids expansion is about to drop for Assassin's Creed Valhalla and, well, I decided to get back in to the game for a while and this poor fellow got in my way.
This is the Queue. Let's chat.
---
KALCHEUS IS DIRECTLY RESPONSIBLE
Q4tQ: If you complete the Falcosaur quest chains, you end up healing the Matriarch you "killed" when you first got the Orphaned Hatchling, meaning that in the end you didn't fight off the Falcosaur incursions as well as Sira Moonwarden wanted you to. Do you think that's why she so easily went Dark Warden in Darkshore, out of disappointment?
Maybe you healed it, but I didn't, so I think you're the sole reason it happened. You are the cause.
---
SPENCER MORGAN, I HAVE A VERY SIMPLE OUTLOOK ON THIS
Q4tQ: Does anyone get flustered when they see pretty OCs of forsaken? I'm not denying that I occasionally hate fun for no reason, but I still feel that it runs contrary to the entire schtick of picking undead.
No, because I do not in general get that upset when I encounter other people who have different aesthetic preferences than my own.
My general preferences for PC's in WoW, for example, are Night Elves, Draenei, and Tauren. I feel these three groups make the best looking characters and I enjoy playing them. I have played every other race in the game at this point, and of all of them, I have the most fun playing those three groups.
I do not expect other players to share my enthusiasm for those three.
I can imagine wanting to play a Forsaken character who is still somewhat pretty for a variety of reasons, even if I don't personally share that aesthetic. The idea of an attractive person who is moldering on the inside isn't new, for example. It's not my bag, but I'm not invested in other people's choices like that. I play what I want, and if someone else wants to play something else for whatever their reasons are, that doesn't affect me.
---
FUZZYBUNNY, YOU HAVE MY SYMPATHY
Started Avastin injections in my right eye.
You have my sympathy. How often are you scheduled? I get mine every six weeks or so in both eyes, I hope you get better results and can space yours out more.
---
DOMEHAMMER ASKS ABOUT ADDONS
Question for Queue
Does anyone play retail WoW with no addons at all? I don't think I would be able to play retail WoW without my UI addons. Past me would be shocked by how many UI addons I use to simply revert UI changes.
I vacillate between using a few addons like DBM and such for raiding and Skada for meters and using nothing at all. I used to be really into a very heavily modified UI, but it's been long enough since I stopped progression raiding and I just can't be bothered anymore.
---
ENO IS RIGHT
I love some of the dialogue options in AC Odyssey. Guy says "oh no you can't stop them, there are too many of them!"
Answer 1 was: "I'll be careful."
Answer 2 was: "I'll crush them like insects."
I took answer 2. Kassandra said "Ajax is not the only one blessed by the gods. I will crush them like INSECTS!"
I'm sure it's satisfying hearing it too
Nothing is ever going to top Kassandra's first encounter with the Cyclops of Kephalonia for me. "Did he say Cyclops? Did he hurt your feelings?" But there are a lot of really great dialogue options for Kass in the game, and I'm insanely fond of her. She's probably my favorite protagonist in an RPG in years, even though I do also love Eivor and the version of V I'm playing at the moment.
"I killed the minotaur! Mater would be so proud." I mean, come on, that's gold.
---
ZUEL ASKED THIS LAST WEEK BUT IT DIDN'T GET ANSWERED SO I MIGHT AS WELL
lolsy QftQ: What piece of media can you watch over and over and over without ever becoming bored with it? Music [theatre or album or even just a song], television [series or season], movie, book, comic [arc or in general], etc, whatever.
I tend to fall into and out of specific songs that I can listen to for extended periods of time. I currently have a playlist of Blinding Lights by The Weeknd that I'm listening to over and over again. For movies, I guess I'd say Willow and the Iron Giant. For books, Fool on the Hill by Matt Ruff, The Anubis Gates and Last Call by Tim Powers, the Wild Cards books, Julian May's Saga of Pliocene Exile, anything by Robert E. Howard, Michael Moorcock's Mother London, C.L. Moore's Jirel of Joiry stories, Mary Renault's The King Must Die, Walter Mosley's Blue Light and there's more but I'll stop there for brevity's sake.
I could do a long list of comics but I'll just say Alan Moore and Dave Gibbons did For the Man Who Has Everything and it's pretty close to a perfect Superman story, and that's one I can come back to again and again and again.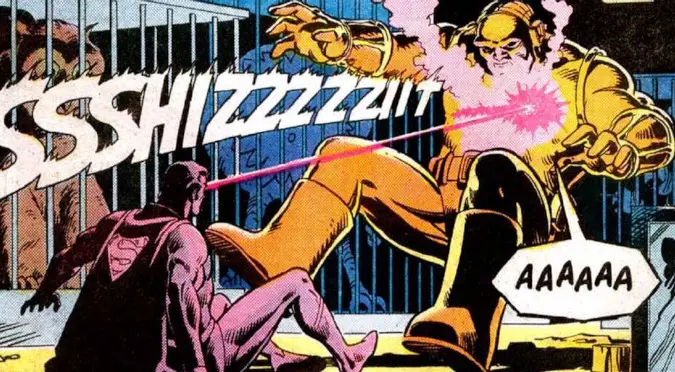 "Happy birthday, Kryptonian. I give you oblivion."
"Burn."
Still gives me chills all these years later. Anyway, that's the Queue for today. See y'all next week.