WoW
May 13, 2021 2:00 pm CT
It's possible for any character to explore a peaceful Mechagon. Here's how.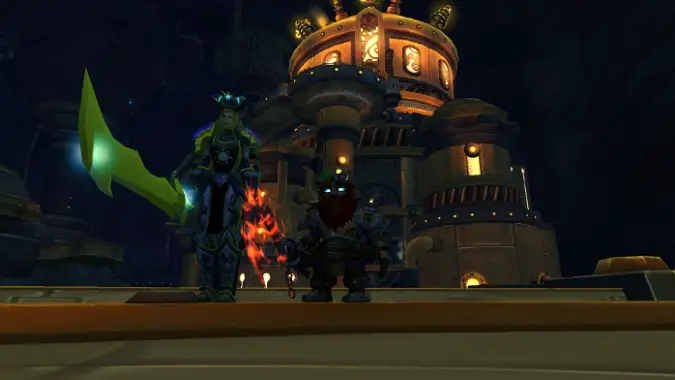 The topic of a neutral Mechagon came up recently, because patch 9.1's new dungeon Tazavesh is so cool, it has people clamoring for a neutral version of it, lamenting that Mechagon didn't get that option either — but it did. Those who did know about how to get into Mechagon just assumed it was common knowledge.
Buried beneath the junk heaps off the coast of Kul'Tiras lies the wonderous city of Mechagon, ruled over by a tyrannical — and decidedly hostile — king we were tasked with deposing in patch 8.2. Our presence was not appreciated, and though we made inroads on the island the city was so dangerous we could only visit it in Mythic dungeon groups. In patch 8.3, the Alliance welcomed the Mechagnomes into their ranks as an Allied Race, joining their cousins from Gnomeregan under the recently revitalized King Mekkatorque. New Mechagnomes could return to the throne room, but the rest of us seemed to be locked out.
There is a way to enter a peaceful instance of Mechagon, populated by Gnomes and Mechagnomes living in harmony — and it's has been there all along.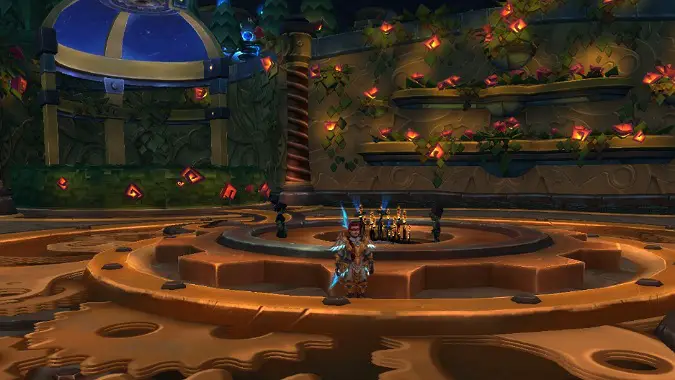 First things first — Mechagnomes and you
The first thing you need to in order to visit Mechagon is unlock the Mechagnomes Allied Race. Though you no longer need to be exalted with the Rustbolt Rebellion, unlocking Mechagnomes is still one of the harder Allied Races to achieve. Along with completing quest chains along the island, you will also need to run the Mechagon dungeon. It's no longer locked to Mythic difficulty, but it's still a bit of a challenge for level 60s.
Once you have completed the achievement The Mechagonian Threat, you will see the quest Urgent Care which begins the questline to unlock your very own steampunk Gnome.
During this quest chain, you will walk up a platform that teleports you into Mechagon where you clear out the remaining forces and Gelbin is made king of all Gnomekind. After this quest is done, if you walk up that same platform in Rustbolt, it will teleport you back into Mechagon. This time, however, instead of running into hostile forces, you meet friendly gnomes and mechagnomes going about their day.
Don't worry, Horde loyalists — just because you're on the opposing faction doesn't mean you can't bask in the wonder of Mechagon City. It seems that by just unlocking Mechagnomes, Horde members can walk up the platform and teleport into the city without completing the whole quest chain that the Alliance does. Unfortunately, Gnomes will still be friendly, so there's no punting them into the chasms around the city. It's still fun to walk around and do /rude gestures to a faction leader.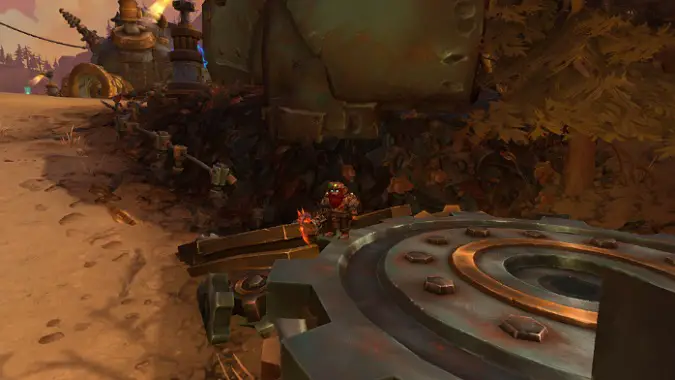 Where is this portal to a neutral Mechagon?
The platform that will teleport you to the neutral version of Mechagon is located along the path to the Horde landing area on the outskirts of Rustbolt. Stepping on the platform will cause a bolt of lightning to strike, and you will be teleported in to a hallway just after the battlebots fight — the only area you will not be allowed to visit.
From there you can roam the gardens, stop in some huts to see named NPCs, or teleport up to the throne with Mekkatorque and Erazmin. When you are done, you can either take the teleport pad in the throne room to Stormwind, or the teleport pad in the vestibule you started which will take you back to Rustbolt.
Being in an instanced version of the city, you won't encounter any walk-up style roleplay. You can, however, set up a party with people who have completed the unlock quest and enter the city together. This opens up a whole new venue for events or get togethers, or just a place to hang out.
It does seem a little weird that this has been in the game for over a year and yet no one really talks about it. It also has a slight feeling of the forbidden, like old Ironforge or the crypts beneath Karazhan, which required tricks to get into — before being blocked off. However, Mechagon is much more accessible than any secret area we've seen in the past. Not only can anyone walk in, there are portals to walk back out.
It's a secret no one discussed, just waiting for players to find it — and now you can.