Critical Role's Campaign 2 ends this week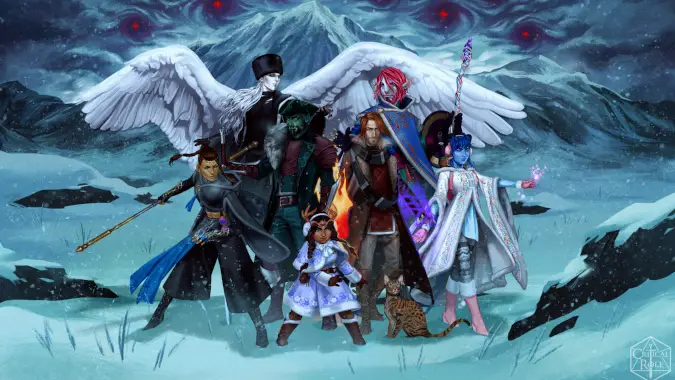 If you're not aware, Critical Role is a web series that streams on Twitch every week on Thursday nights, 7 p.m. Pacific, and on that stream (currently pre-recorded due to the pandemic but originally live) a group of friends with serious voice acting resumes — including the roles of Jaina Proudmoore, Illidan Stormrage, and Jesse McCree — play Dungeons and Dragons. They've had an amazingly successful Kickstarter campaign to fund an animated series, they even played a Diablo one-shot session at BlizzConline this year. After several years their second campaign featuring the adventurers called the Mighty Nein is reaching its end, with the final episode airing this Thursday.
The massive, climactic battle against a figure with a lot of lore connections to the campaign — and I'm not going to spoil it,  you can watch the fight here — took place last week. There are a lot of loose ends to tie up though, and a few NPCs I wouldn't mind getting punched in the mouth one last time before it's truly over. There's been a lot of discussion about the campaign ending since Matthew Mercer tweeted that they were in the final stretch, but we now know for sure that on Thursday, June 3, we'll be watching the last adventure for the Mighty Nein.
There hasn't been any announcement for what comes next, but we're sure to see more D&D soon. if it's anything like when Campaign 1 ended, there will be a few weeks of one-shots — some of which may come from their Kickstarter stretch goals — and a small break before we get any idea of what Campaign 3 will be like, where it will be set, and who the cast will be playing.
For Campaign 3, personally I want Laura Bailey to play a Barbarian, Travis Willingham to play a Wizard or Cleric, Sam Riegel to play a Paladin, Liam O'Brien could play a cardboard box and I'd be here for it, Taliesin Jaffe might as well play three characters next campaign, why not, Marisha Ray should play a Sorcerer or really just anything she likes but I'd love to watch her rain spells onto enemies, or again maybe a Cleric because they can be crazy strong, and Ashley Johnson should play a Warlock.  But I know whatever expectations I have, they will subvert them. Campaign 2 was the first Critical Role campaign that started on Twitch, instead of being their home game ported there like Campaign 1 was, and so it's the first time we've gotten to see the complete character arcs of the entire party. I've enjoyed it immensely.
Critical Role Campaign 2 episode 141 will be an extra-long episode — no, seriously, they've said it's just over 7 hours. You can watch on the Critical Role Twitch this Thursday, June 3 at 7pm Pacific or, if that's a little bit too late to stay up on a weekday, you can catch the VOD on YouTube afterwards.
I'm looking forward to what's coming, but I would be lying if I said I wasn't going to miss the Mighty Nein.