What kind of legendary weapon would you like to see next?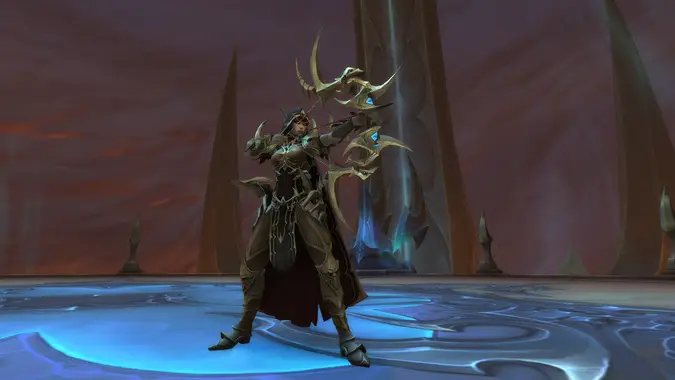 There's no piece of gear quite like a weapon. You can get your best in slot pair of bracers that have the perfect stats but even if those bracers were once worn by Illidan, they're not as exciting as getting your hands on one of his glaives. With Sylvanas being the final boss of the Sanctum of Domination raid, players will finally be able to get their hands on her mighty warbow, Rae'shalere. If they play a Hunter that is.
It's been a long time since I played any of the classes that could use one of the fancy legendary weapons during the content it came out in. I still remember being eighth in line for my guild's Shadowmournes back in Wrath of the Lich King. The person just ahead of me couldn't manage to survive through the Blood Queen Lana'thel attunement, so I finished the tier never getting to collect my shards for it.
I'm really hoping for a tank legendary next time. I know that the difficulty with that is that there isn't a unified tank weapon, if it's a shield then Warriors and Paladins are happy, if it's a two-handed weapon then Warriors, Paladins, and Demon Hunters are sad. It'd have to be something that slightly modifies itself depending on which tank class picks it up. Certainly, that wouldn't be the hardest thing in the world to explain in a fantastical world like Warcraft. Just off the top of my head, we could have a Gnomish or Goblin source so the weapon transforms through mechanical means — with bonus points if it turns Guardian Druids into mechanical bears.
Are you hoping to get your hands on Anduin's runeforged version of Shalamayne — Kingsmourne? What about actually getting to wield Remornia? Or do you want the powerful heroes to keep their own weapons while we forge new stories with weapons that are legendary, but not from any known source?  Are you happy that we're getting Sylvanas's new bow or do you wish that we'd gotten her old one with all the skulls on it? Did somebody say Thunderfury, Blessed Blade of the Windseeker?