For the Alliance! The next Hearthstone expansion is United in Stormwind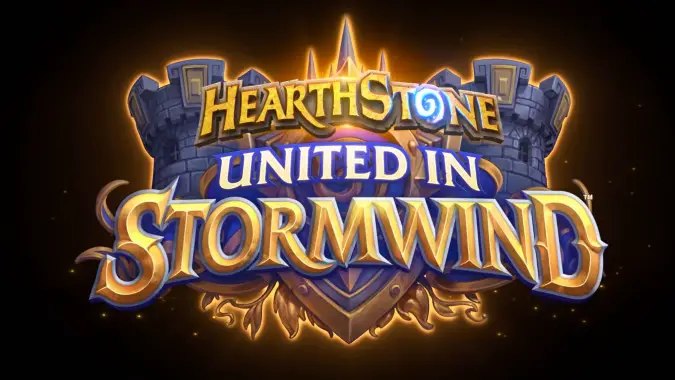 "Behold the might of Stormwind!," said the Stormwind Champion — and behold it we will, for the next Hearthstone expansion, United in Stormwind, is coming out worldwide on August 3. You know what that means, right?
A new trailer! With music!
But it actually means a little more than that. We're also getting 135 new cards, with new features which include:
Tradeable Keyword: You can spend 1 mana to return a Tradeable card to your deck and draw another one.
Profession Tools: Essentially these are Weapons you don't use to attack, but rather, for their special effects.
Mounts: These cards buff your existing minions, but once those minions are dead, the mount they were riding on remains as its own minion.
There's also a new variation on our good old Quest cards: they're called Questlines, and work just like Quests (being always present in your starting hand), except they have multiple steps to them. Once you complete the current step, you get an immediate small reward, and the Questline then advances to the next step. Once you fulfill all of the steps, you are rewarded with "a powerful Legendary mercenary minion."
Some of the new cards that are coming in United in Stormwind have already been revealed, and can be found at the official card library, which will be updated as more cards are revealed. There already are a few very exciting cards in there, such as the new Priest Legendary, Darkbishop Benedictus, which has the potential to completely change how the Priest class plays, focusing on its Shadow effects — which are suited for damage, disruption, and destruction — rather than healing and controlling the board. A very good prospect, if you ask me (even if I don't feel as strongly about it as some people do)!
As usual, we can also already preorder the bundles for United in Stormwind, which come in two versions. The smaller, "regular" bundle includes 60 United in Stormwind card packs, two random Legendaries from the expansion, and a nice card back — which features the famous motif of red with purple scales worn by a certain important lady who rules over the city. This bundle can be yours for $50.
The larger, "mega" bundle comes with 80 United in Stormwind packs, plus 5 golden United in Stormwind packs (which include only golden cards), and two random Golden Legendaries from the expansion. You also get the same card back, plus a few goodies: Battleground Perks are included, as well as the Lady Katrana Prestor alternate hero portrait for the Mage class (so it was her!), and a brand-new type of goodie that is being introduced: an alternate Bartender for Battlegrounds! You can get Ve'nari, the Broker, to replace the overwhelming wholesomeness of Bob in your BG games from now on. This mega bundle, should you decide to get it, will set you back $80.
While I really love Bob, I admit that it is tempting to hear Ve'nari for a change: she is voiced by Aysha Selim, who is also the VA of Ana from Overwatch! But if you'd like to have that prize without purchasing the mega bundle, don't fret: Ve'nari is also available for pre-purchase as a standalone item.
But even if you're in no mood for buying things, this expansion already has something totally free for you: log into the game now, and you will receive the Flightmaster Dungar Legendary card! He has a really unique effect where he can take you to one of three locations:
Westfall in one turn, to summon a 2/2 Adventurer with a random bonus effect;
Ironforge in three turns, to restore 10 health to your hero, or;
the Eastern Plaguelands in five turns, to deal 12 damage randomly split among your enemies.
But this is just the tip of the iceberg of all that was revealed for Hearthstone today! There is more to come, and it is certainly a very satisfying time to be playing the game.