The Queue: Kitty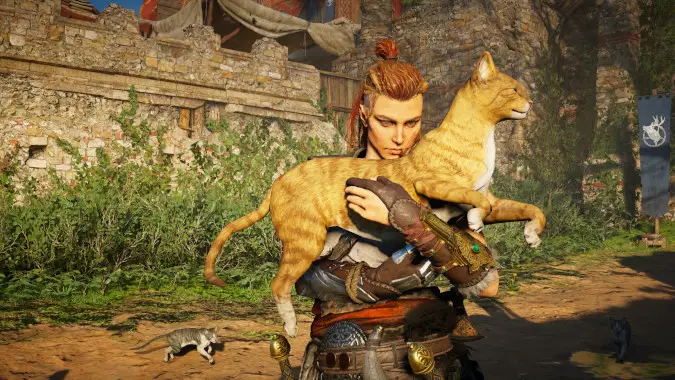 So The Siege of Paris DLC came out for Assassin's Creed Valhalla so I'm back on my Viking BS, wandering around Francia petting every cat I see and occasionally murdering someone horribly. Mostly the cat petting, though.
I unabashedly love how much Eivor likes cats. It's refreshing. She even got into an argument with a dude about how loyal and steadfast cats are.
---
DIAMONDDUSTVIII
So, off topic…what's good for the PS5? I managed to snag one yesterday (for the children, of course) and the only thing I'm interested in playing on it right now is the Demon's Souls remake. The only thing I've seen I think the boys might enjoy is Spider Man: Miles Morales or maybe the new Ratchet and Clank. Any other suggestions?
I mean, I'm playing Assassin's Creed Valhalla right now and I think it's a good time to pick it up with both DLC now out, plus AC Odyssey is playable on the PS5 and there's a rumor it's getting a glow up for the new consoles. Of course, I also stand by the Immortals Fenyx Rising recommendation, and since you're on a PS5, I'll even say that Cyberpunk 2077 just got a major patch and is running pretty well on PS5.
Other games I would recommend for PS5 that will be coming out soon-ish include Deathloop, the time traveling assassination game (kinda like Groundhog Day meets Spy vs. Spy), another Life is Strange is coming out in September, and there's a chance we'll get Elden Ring by January of 2022.
Also I hear Ghosts of Tsushima is pretty good.
---
LAE
Very often I get called dude or bro when I meet other players when I do quests or join groups. Half of the time I bother correcting them, but it feels awkward. I feel like they don't acknowledge that female players exist, but having played this game for 14 years, I know a gazillion female players! I also feel like it shouldn't be my job to have to point out that I am indeed female, but if I don't, I'm afraid this will never stop being a thing. How would you deal with this, if it kept happening to you?
Honestly, it gets really irritating with the whole "I call everyone Dude" or "Bro is all-inclusive" arguments I get when I bring this up. My latest thing is to call everyone ma'am. They get all huffy and then I can respond with "Sorry, ladies."
Usually they just go away, but if they don't, I can usually make the whole "This is why you shouldn't just call everybody Dude" argument and it's more likely to land.
---
JAXDADDY
What's your favorite Girl Scout cookie?
Samoas or Caramel deLites. There are slight differences in the recipe according to some folks but I can't taste it and they're basically the exact same cookie as far as I can tell. Tagalogs/Peanut Butter Patties would be my backup cookie.
---
RJAGODA
Q4tQ: When you pronounce "Worcestershire," do you go for accuracy, or do you just do your best? A running joke between my ex-wife and me was calling it "Worcestershirerer."
I grew up in Rhode Island, not all that far from Worchester, Massachusetts. I say it Wooster-shire, basically. I'm not saying that's how it is supposed to be pronounced, I'm just saying I'm not unlearning that one any time soon.
---
DARKBRINGER OF THE APOCALYPSE
Peanut butter balls are the bomb, yo. Like a confectionary version of Ben Affleck in Phantoms.
Okay, that's the Queue for today. Be like Eivor, go hug a kitty.