The Queue: Better than a poke in the eye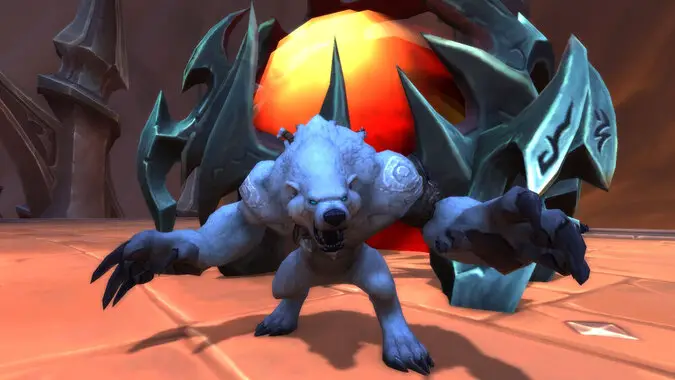 The Mythic Eye of the Jailer is no more! For this week anyway. My guild has managed to see the path forward and didn't blink in the face of adversity to come out victorious! I know how much you all love living vitreously through my raid updates. Even if sometimes they're a bit cornea. I can only hope that I can lead by example and be a teacher for you, my beloved pupils. Just don't lash out at me for these puns.
How does one celebrate after killing a giant eyeball? Well, it turns out that we celebrate by killing some Val'kyr too. The Mythic Nine wound up not being as difficult as the Eye, but I think that's mainly because we were just trying to brute force a mechanic rather than deal with it the right way. With them down we're now 3/10 Mythic, but we still haven't done Heroic Sylvanas. In theory, the first three Mythic bosses were easier than her, I guess eye'll see next week!
While I dodge all the rotten fruit that is undoubtedly being thrown at me, it's time for — The Queue.
---
LUOTIANX YOU'RE JUST TOO GOOD TO BE TRUE
What do you call a group of trees in the middle of a field? Like just a little clump of trees.
Call them a taxi, they're obviously lost!
---
AT LONG LAST DAELOS HAS ARRIVED
Hello again observers of frozen things! Question this time for the Blizzard Watch podcast, as it has to do more with mechanics than lore. Feel free to edit/consolidate, as I'm often long-winded.
I love the TimeWalking mechanic, but I find myself missing some of the options in there. Utgarde Pinnacle but no Utgarde Keep during Wrath TW? Say it ain't so!
Blizzard has already developed the technology to scale dungeons as needed, so I don't THINK it's a matter of technical capacity (I'm not a programmer, so I may be underestimating the work here). But as a quality of life improvement, let's maybe have all the dungeons from an expansion instead of just six of them.
I'm all for additional content! I do think that it might be a bit of work on the scaling side of things. There is always a boss ability or two that seem to behave strangely when scaled to certain points. We are about to get a bunch of new Timewalking content with the inclusion of the Legion dungeons, and Legion Mythic+ Timewalking that they're adding in patch 9.1.5. So maybe with developers having just worked on scaling some more dungeons for it, they'll be more willing to go back and look at others.
A larger Timewalking expansion would be nice too. The Legion Timewalking will be up for two weeks when it first comes out so that's fun, but now we have six expansions worth of Timewalking weeks. When combined with the other weekly events that means that it takes months before we see an expansions content again. On the one hand, absence makes the heart grow fonder, but on the other hand — I wouldn't mind if the Timewalking weekly was just always on and we got a six-week cycle while the other events rotated around.
---
AND I THANK RED I'M ALIVE
Q4TQ: are there any World Quests you enjoy doing, no matter the reward?
For me, it's the one in Maldraxxus where you have to light the five braziers. That quest is super well-designed, and a delight to do, IMO.
Running on foot at 300% speed? Super fun.
Speed boosts last just long enough that you have a clear path from boost to boost, AND they double down as a very clear trail you have to follow until the next brazier (like coins in a Mario game).
Dodging slimes? Just challenging enough to force you to pay attention, but without being hard or frustrating.
Great quest!
I love the torch quest!
I'll always try and do the Flight School quests in Bastion. I love those wacky mini-games. Well, maybe not the flower-bouncing one. I'll give that World Quest only two attempts if I don't need it for a Calling. Ditto for the Parasol in Revendreth, Flayedwing training in Maldraxxus, and Cocoon gathering in Ardenweald. Oddly enough those all involve flying — or gliding in the case of the Parasol quest. I guess I just really like quests that let me float through the air without a care.
Of course, I would also go out of my way to do the puzzle quests in Nazjatar. So maybe I just like things that tweak gameplay from the standard playstyle.
---
THE SIGHT OF RETPALLYJIL LEAVES ME WEAK
I've got about half of them, but it's a slog. What I can't find is a stupid bottle of black dye for my dredger – and what annoys me most is that I KNOW I found one and used it, but apparently it didn't register.
I had the same issue when I was getting those achievements done! Maybe not the black dye, but one of the colors definitely didn't want to show up for sure.
What I ended up doing was summoning the butler and giving him a new dye. Even if it wasn't the color I was missing, somehow that must've convinced the game that it could let the other ones drop again.
---
PLEASE LET MAALIN KNOW THAT IT'S REAL
Q4tQ: What's up with the Korthia Research Report: All Seeing Crystal? It's supposed to show me which mobs have relics. After a couple of weeks I have yet to see ANY visual change in any mobs at all. A guildie said that they had a purple glow but I'm not seeing it. The buff does show up on me, just nothing else.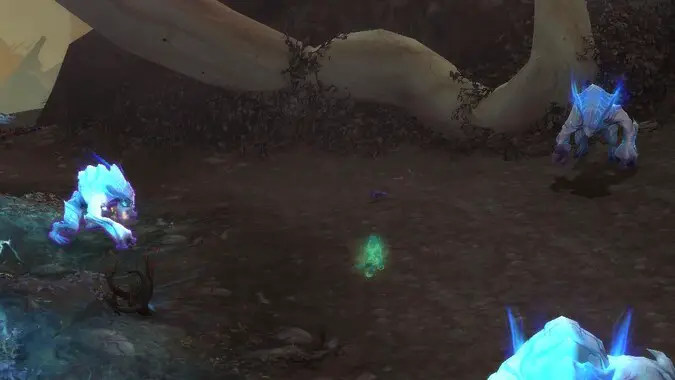 So the Devourer on the left has a purple tinge to it, while the one on the right doesn't. It's not a super noticeable effect, but once you know what to look for you should see a few of them scattered around. Apparently, you will need to have outlines turned on to see the purple.
---
CAN'T TAKE MY EYES OFF OF KALCHEUS
Q4tQ Are you going to upgrade your heirlooms when able to in patch 9.1.5?
Probably not. I don't wind up leveling that many characters, and I'm a bit cheap when I do wind up doing it. Those Heirloom upgrades are expensive! If anything I might spend Timewalking currency on it, but even then I'm loathe to spend it — what if I need it to buy a mount or toy from the newly added Legion Timewalking vendor? This is just like holding on to all of your items through an entire game just in case you might need them.
Today's Anna Earworm™: Can't Take My Eyes Off You
Have a great week everyone, be excellent to each other, and leave lots of questions for Anna tomorrow!