Long live Fabulor the Fabulous, a dear friend that we miss terribly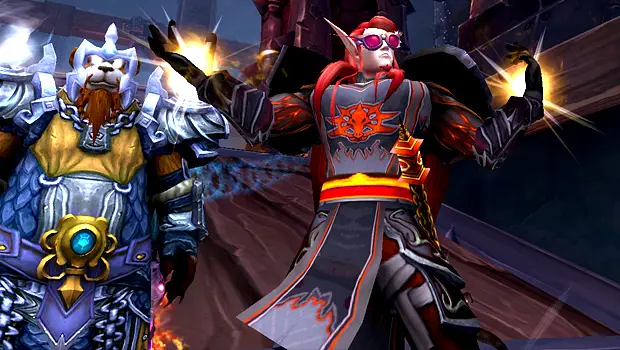 I'm not really sure how to start this, but this post begins with some heavy news.
A former staff member of our site, and a long-term staple and friend to many of us in the WoW community, passed away suddenly and unexpectedly last weekend. You may have encountered him on Twitter under the handle @_Rades, or maybe you read his blog Orcish Army Knife. Maybe you saw him here or on The Former Website as the writer for our Paladin columns.
He was my friend, guildmate, healing competition, and fellow "Bad Idea Bear." If you knew him, you knew how kind and funny a person he was, and the strength of his personality.
If you did not know him, well, let me share some memories from us here on the site, and from our World of Warcraft guild.
I had known Rades from the blogosphere — in fact his website and mine linked back to each other in the nascent days of the WoW blog universe. The healer circle was a pretty tight knit and we tended to share traffic and post topics and just generally tried to support each other. At the tail end of Cataclysm and moving into Mists of Pandaria I found myself looking for a new guild — I wasn't happy where I was anymore and needed a change. My partner was in TTGF, a WoW guild filled with many folks from around the blogging community, so I spent a few nights hanging out with them and going to a few raids in Throne of Thunder with an alt. The environment was fun, laid back, and nothing but warm and inviting.
Rades was the raid leader, playing Fabulor his Holy Paladin. Rades was an excellent raid leader, finding a balance between our goof ball tendencies and still getting things done. Raiding with him was wildly different than anything I had been used to up to this point. A raid leader that wasn't yelling at you? A guild telling jokes? A raid environment that wasn't incredibly tense? Impossible!
Shortly after those first few casual raids, I moved Lodur to the server and became a full time raider.
Rades was the strongest healing competition I believe I ever had, and our battle for supremacy of heals was epic and iconic. Paladin vs. Shaman was, after all, the oldest of the rivalries. It was never more than just fun, though, and never any heat behind it. We pushed each other in a friendly way that made us both better healers. He helped me up my screenshot game for header images for our articles, and often our headers would feature each other in some compromising WoW position. At one point I even decided that Shaman totems should be Fabulor's head.
Speaking of Fabulor's head, Rades' raiding UI was the stuff of legends, too.
Rades was a keen fashionista, honing his transmog game to levels we could only hope to achieve. He had an outfit literally for every and any occasion. PVP, raiding different tiers, challenge modes, fishing, walking very quickly. You name it he had an outfit for it, and we would often have themed transmog nights in raids and events. He earned that "fabulous" title.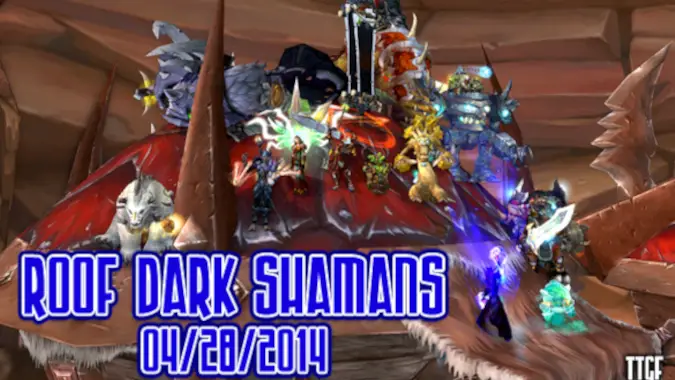 He had a wonderful sense of humor and loved puns. He wouldn't get mad when we did something like kill the raid on trash or on the wind bridge in Throne of Thunder. In fact, he had a keen eye for clipping some of our more insane moments like defeating the Dark Shaman on the roof tops of Orgrimmar just because we could, or killing Krosus and Aluriel at the same time — dubbed our Kroluriel kill — joking all the while that in TTGF we made our own hard modes. His sense of humor spilled over into the web comic From Draenor With Love, or his personal blog Orcish Army Knife with his wild, satirical posts that were hilarious — and sometimes eerily spot on, even years later.
You would see him RP walking in a raid or Brawler's Guild fight just because he could. Just because it was fun. Just because it was funny.
Outside of WoW, our guild decided to check out a little game called Wild Star. Turned out the game ended when you opened up player housing, and Rades's creation of Rainbeer Road was a perfect representation of his personality. He took a random cosmetic item — a neon flashing beer sign — and created an elaborate playground based off of the Rainbow Road from Mario Kart using it, and it alone.
He went out of his way to make people feel welcomed, to feel valid, to make sure they were having a good time. He was quick to defend you when you needed it, or offer good-natured ribbing or a well-timed pun when you needed that. His comments, whether kind or teasing, snuck up on you when you weren't paying attention. He was my friend who I would talk Transformers and D&D with, often comparing notes or talking about what weird thing we were going to do to our players.
When my father passed, Rades checked in on me pretty much daily, sometimes twice a day, just to make sure I was doing okay.

Fabulor, as presented by Matt Fossen the Cranky Tank
The world was better for Rades living in it. He helped shape our community and forged bonds of friendship between overlapping circles of people that are still just now being discovered. I wish we would have had more time, but I suspect that's almost always the case. His legacy, I hope, will live on and be remembered for all of the good things he did and brought to our community, the friends that were met through him, and the family we made over the years.
We say in our guild that the F in TTGF stands for Family. Today that F stands for Fabulor. To say that he will be missed would be a massive understatement.
I hope you rest easy, friend. Grimclaw here now.
If you knew him, and have a memory of Rades, I would love to hear it. Please, feel free to share below.