Lake is a game that's almost too wholesome — sometimes to the detriment of its emotional beats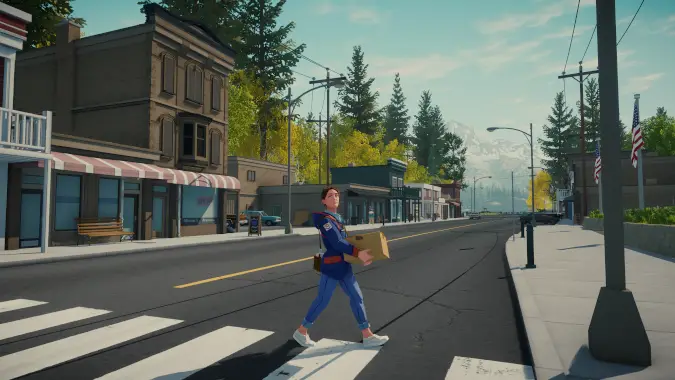 In the reels and trailers for the indie game Lake, we're treated to a lovely panorama of small town American life in the Pacific Northwest in the late 80s. It's lovely, full of pine trees and flowers, and the titular lake. You play as Meredith, a thirtysomething woman returning to lovely Providence Oaks, the lovely hometown she'd left behind 15 years ago, filling in for your dad in his job as a mail carrier while he and your mom go on a 2-week vacation. You make small talk with the locals while you make deliveries.
If this is all you're expecting from the game, you're in luck! That's pretty much what it delivers, and yes, that was a mail pun.
It's… lovely. Just lovely. That's all. Lovely.
(This review will contain spoilers for Lake).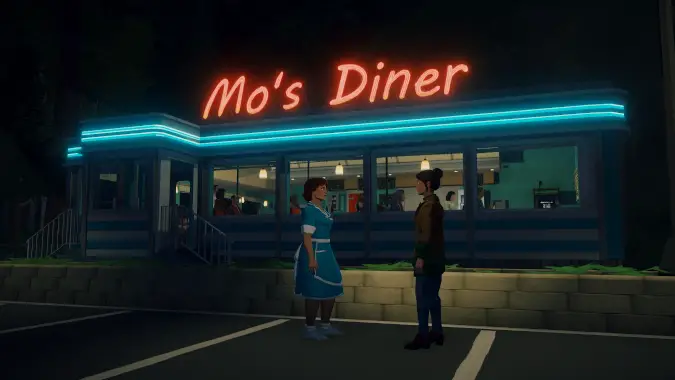 If wholesomeness were an entire town
The town of Providence Oaks is exactly what you'd expect from a game intended to be wholesome before all else. Most of the townspeople are, as to be expected, caricatures. The first woman you meet is the town's crazy cat lady. There's the brassy waitress who owns the diner, the lumberjack, the quirky lady who owns the video store — and so on. After two weeks, you're made to decide whether to return to the lucrative life you had as a software developer, stay in Providence Oaks, or hit the open road in the RV you just coincidentally happened to acquire while you were in town.
Lake is relaxing. The scenery is gorgeous. It's kinda fun, assuming you like delivering mail and making small talk. I did run into one fairly serious bug while I was playing, where I was dumped off on the opposite side of the map with no mail truck, but it wasn't anything a reload couldn't fix.
There's nothing wrong with being wholesome, but Lake avoids many more emotions than that, despite coming close to some fairly serious issues.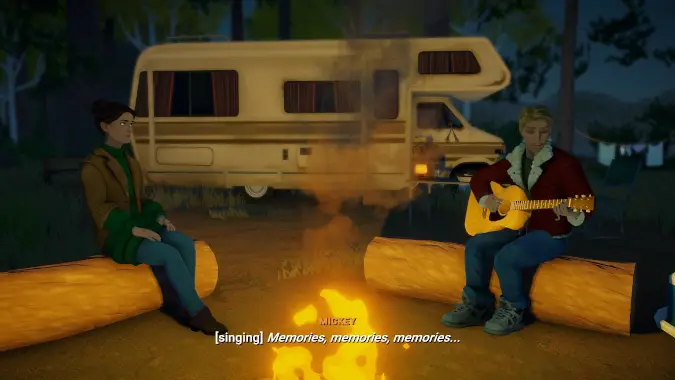 Lake doesn't always give weight to its own stories
For instance, the death of Meredith's high school best friend Kay's uncle is kind of glossed over with a bit of an "Ah well, what can ya do" kind of attitude. After all, Meredith left so long ago, it's a distant memory now. Kay's lost dream to be a musician is touched on, and even rekindled — but she doesn't really express much ambivalence that maybe if she really tried it, in another life, maybe she'd be touring with The Talking Heads instead of happily being a wife and mother, working at her late uncle's diner. Both can be happy thoughts, and both can be tinged with sadness.
Lake seems to refuse to acknowledge the emotion which may be present in the hindsight of a decision like giving up a music career at all, let alone the decision Meredith is faced with at the end of the game. It doesn't even acknowledge what financial stability would mean to a single woman in her 30s like Meredith, especially in a game deliberately set in a decade characterized by recession.
I don't want to be too harsh to a game that didn't really promise anything other than a fun little mail delivery sim. On that, it does deliver. But considering the issues Lake brushes against without truly acknowledging to weight of, to me, playing it was almost reminiscent of the Kidz Bop version of a song like Rolling In The Deep. Sure, the beat still slaps, and now anyone can enjoy it, but the soul that made it feel like it means something is gone.