Diablo 2 Resurrected will bring quality of life changes that you are going to totally take for granted but still love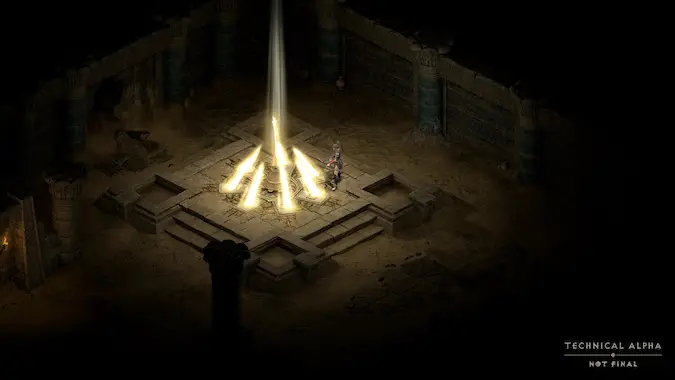 Diablo 2 Resurrected is due out September 23, and we at Blizzard Watch cannot wait! It's gorgeous — simply and utterly beautiful. While D2R has everything I loved from my very first playthrough of the original Diablo 2, we're getting some improvements to our player experience as a cherry on top! Let's check out some of our favorites.

Notifications and automatic gold pickup are clear improvements
First, and probably the best, is the introduction of automatic gold pickup by your character. Run over the little sparkling piles of currency in the game, and voila — it's yours. You quickly forget the old need to click-click-click on the dropped coins after every kill, and honestly, I think this will be one of the big things to draw back the Diablo 3 crowd. Thank you for giving my left mouse button a break, developers. However, if you're genuinely devoted to the old system, you can turn off this feature with the check of a box in the game settings.
Next up is something easily ignored but ultimately very handy: level-up notifications. In D3, you get those repetitive charming alerts about new skills and skill runes unlocking. However, D2's system is framed entirely around the skill trees, and that's where these notifications shine: they remind you to assign both your skill points and your stat points, which I forget in about 2.5 microseconds. I still appreciate the developers trying to save me from my forgetfulness.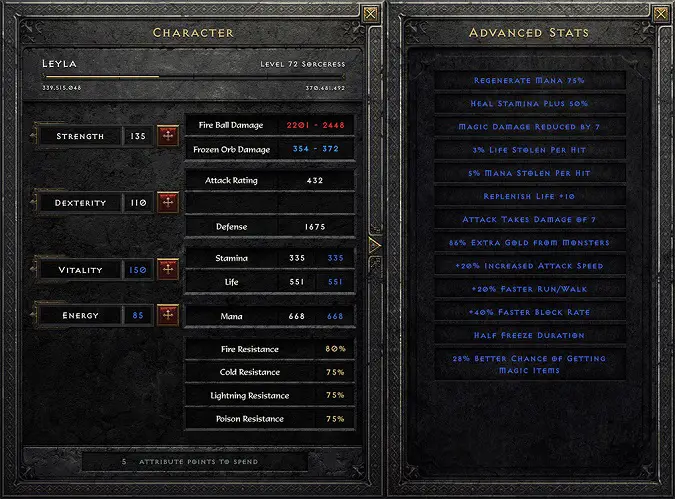 Character sheets expanded to include gear bonuses
The D2 character sheet receives more than just a 4K glow-up from the original configuration. First, the header gets a refresh from being text-only to including a leveling progress bar. Second, the "points to spend" section is now part of the frame's footer instead of directly beneath the main stats. But the new inclusion is the Advanced Stats section.
The Advanced Stats panel is a list of all the bonuses applied by your gear. For example, is your helm granting you +20% enhanced defense? That will show up as a line item in the panel. What if a chest dropped that gives a 10% better chance of getting magic items? Equip it, and the new entry will show up in the list. In short, it's an insanely helpful summary of all the boosts provided by your gear.
Speaking of equipping new gear, the ability to compare pieces by holding the Shift Button is also coming to D2R. Yes, you may not care about this one if you're completely confident in your abilities with your favorite class(es). However, I greatly appreciate comparing stats side-by-side on an equipped piece and a new drop. You can toggle this setting in the User Interface settings.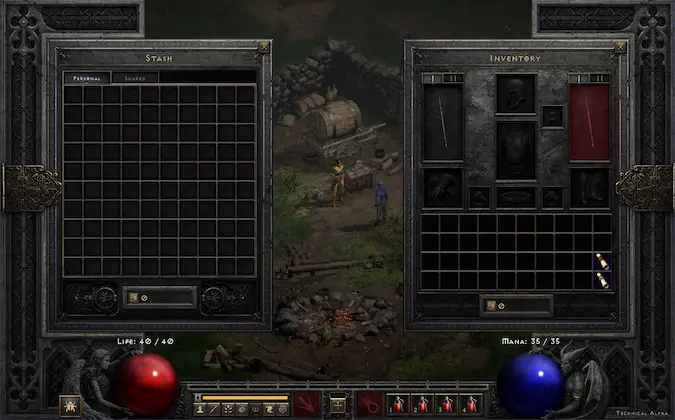 The shared stash comes to D2R
The shared stash is another feature that may draw the D3 players; the D2 community so clearly wanted this option that they included in many an unsupported mod. Now, it is not a direct port — the stash Tetris of the past still exists to some degree. Still, players have a larger personal stash (a 10×10 grid, expanded from the previous 6×8) and three separate tabs for shared stash space between all characters in the account. No more letting that Sorceress Orb go to waste when it drops on your Barbarian.
The little things tie it all together
It surprises this is noteworthy, but a clock is getting added. One of those things that I never processed was not there until it showed up as an improvement! Enable it through your User Interface settings in-game. Additional items coming on the User Interface include UI scaling (helpful in our high definition display world), large font mode, and contrast settings for improved readability.
Now let's be honest — automatic gold pickup is the clear winner here. Overall, these minor improvements didn't have to happen as part of a remastered game, but they made it in regardless. And you'll get to enjoy them all, and more, starting September 23!
Originally published 4/30/2021, updated 9/22/2021