How to get the cute Sarge mouse mount in WoW by playing Hearthstone Mercenaries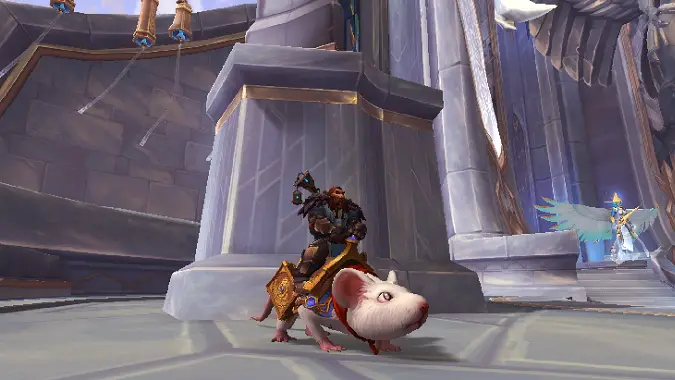 Meet Sarge, a new mouse mount in WoW that's the latest promotional mount available to World of Warcraft players who partake in the new Hearthstone Mercenaries mode This is only the third cross-promotion between these two games, and it's been over five years since the Lady Liadrin portrait became available in Hearthstone, and even longer since the Hearthsteed, the very first cross-promo reward.
Fortunately, getting Sarge is pretty simple, even if you don't know anything about Hearthstone. Unlike the Hearthsteed, you don't need to win any games against other players to earn this mouse mount in WoW. Instead, you'll dive into the Mercenaries tutorial to learn how to play the new mode, which is done entirely against the AI. Once you complete the tutorial — it will take 10 to 20 minutes depending on how carefully you proceed through it — you only need to start a bounty and that will reward Sarge on your retail World of Warcraft account (it will not be available in Classic).
Here's what you need to do to get your very own Sarge mount in World of Warcraft.
Play Hearthstone Mercenaries to unlock the Sarge mount
If you don't have Hearthstone, you'll need to download it first: just open your Battle.net launcher, click the Hearthstone tab, and click install. Once it's installed, log in and head to the new Mercenaries mode. Tthe Mercenaries button will be highlighted and indicate its newly available status. You'll also receive a quest to "Win 1 Bounty in Mercenaries" in your bonus daily quest slot, and it will reward two Mercenaries packs, which you'll complete while during the tutorial. So if you like Mercenaries, you'll already have some packs to play with.
From here, just follow the instructions and play through the tutorial. You'll start the game with Tyrande, a fighter, and Cariel Roame, a protector (if you're unfamiliar with Cariel, she's one of 10 new characters introduced in the Book of Mercenaries single player mode). Along the way you'll add Xyrella, a caster (another character from the Book of Mercenaries), and Grom Hellscream, another protector — albeit a legendary one. You'll have to go against five increasingly tough encounters; Hogger, of course, is the final and most difficult encounter. While you can't afk your way through the fights, the game does a solid job of guiding you through, and it shouldn't be too difficult.
After the combat ends, you'll get to see your own little Mercenaries encampment, and build three structures: a tavern, where you can see and upgrade your mercenaries; a campfire, where visitors can come and offer you tasks to complete; and a travel point, which will let you go where you need to in order to complete tasks. Don't be concerned that the task is labeled "Tutorial I," once you use the travel point to go to the Barrens and start the task, you'll earn the Sarge's Tale mount.
Claim Sarge in World of Warcraft and you're done!
Simply log over to World of Warcraft (if you don't have an active account, you should be able to login on a low level toon) and the mount will be waiting for you to unwrap. Overall I wouldn't characterize the tutorial as strong enough to make you a pro Mercenaries player, but if your only goal is to get the mount you'll be riding around the Shadowlands on a mouse in no time!