The Queue: Happy Birthday Fozzie Bear!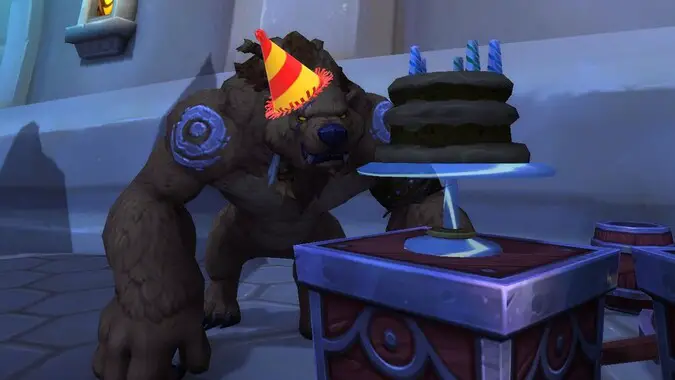 You know, in looking through our internal media kit to honor Cory on his birthday, I started wondering if a theme emerged, along the lines of orangish-brown bears. Probably not.
This is The Queue, where you ask us questions and we'll supply the answers — in glorious transmog, naturally.
---
BOVEN WHITEHOOF
Oh. Hallows End started today. I thought that was tomorrow.
Wait, it's what month?
But uh, I guess this is a thing we're doing now. We did start off republishing some of our older spooky favorites from years past to honor the holiday.
---
ARTHONOS
Q4tQ: After you complete a game, do you ever consider the tone of what you just finished when trying to decide what to play next? I just finished Metroid Dread, so as a bit of a pallet cleanser from the abject horror of being stalked by murder robots or the intensity of the very challenging boss fights, I'm looking for something much more relaxing and slower paced. Or are you the type to finish a game, want more, and seek out something of the same genre and tone?
I swing pretty wildly from one game to the next without much rhyme or reason.
Sometimes it's based on stuff like new releases, which can be somewhat tangential. This week I'm playing a lot of Hearthstone, in part because of the Mercenaries release, but I'm really digging Battlegrounds. I'm also planning on playing a bit of House Flipper because they have a new DLC which looks like a lot of fun to play around with — and of course, I'm always jonesing for player housing.
I'll also start picking up some stuff based on the time of year. Right now is obviously all about spooky games, and to be fair many of them are down to their steepest discounts of the year, so I've picked up a few new-to-me as a result, like Darkwood, which was released in 2017 and promises to be a mix of Silent Hill and Don't Starve, and was like, $5. A lot of new spooky games just hit the market, too. I picked up Chasing Static, which looks right up my alley. The Long Dark is a match to both winter (for the immersion) and summer (because I'm too hot and want to feel colder) but I don't usually play it through the spring and fall — unless they put out a new feature, which, lucky me, they just did last week.
I will say that if I play something that has a lot of narrative complexity to it, I like to play something that's mostly mechanics immediately afterward so I have time to chew on it. Heck, every so often I play American Truck Simulator just because I want to think about Kentucky Route Zero or SOMA again. What is the meaning of self, anyway? Do you have to be human to be human? I guess I just gotta hit the open road and think on it a spell.
---
ROXXII
Q4TQ: What are your thoughts about Mike Ybarra, Blizzard co-lead, getting so much community blowback due to advertising his mythic guild's Heroic sale run stream?
It's weird. Like, real weird.
I get that, on the one hand, people are disappointed in the kind of off-handed way he just tweeted it out. On the other, this is such a commonplace occurrence among most M+ raid groups it would be like me feeling the need to give a lot of gravitas to tweeting about having to do the dishes or something. It's a chore you do so you can do the fun stuff later — in this case, the chore gets you enough gold to buy flasks and repairs and whatnot so you can continue raiding.
Furthermore, selling almost anything for gold has always been explicitly allowed by Blizzard, whether it's AotC titles, gear, or specific mounts. People have also bought gold since WoW began, though initially it was illicit. I can vividly remember a particularly well-heeled guildmate buying gold from some sketchy company while we were doing Van Cleef runs in 2004 because he was frustrated that he didn't have the gold to buy polearm skill.
I think part of it stems from the general annoyance of trying to find runs and having the Group Finder clogged with selling runs as opposed to a collaborative experience, which is totally valid. Believe me, as a relatively solo Hunter, I absolutely get that. But, while he might want to advocate for a better Group Finder experience — I'm sure it's also frustrating to have people ask about free runs if you're trying to sell, too — as an M+ player with a solid guild that isn't where his free time is focused.
The idea that he said this on his personal Twitter to get people to buy tokens and increase his bonus (???) is a stretch, to put it generously. It's like saying I mentioned the Muppets at the start of this post because I want people to read Charles Dickens. I can see how people got tangentially from point A to B to C, but there are so many better ways to come to that end — if it was even his desired end in tweeting it — that trying to go about it in the way it's being aggressively asserted that he was is just a bizarre conclusion to draw.