WoW
Nov 11, 2021 5:00 pm CT
STOP THE PRESSES! There's a new Darkmoon Faire mini-game coming in patch 9.2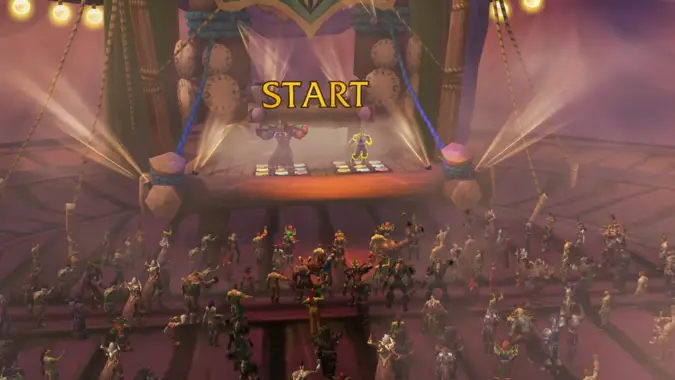 Everybody dance now! Near the end of the Shadowlands patch 9.2 preview video was a few seconds of a new minigame coming to the Darkmoon Faire. I hope you've been studying up on new dance moves because it looks like your dancing skills will be put to the test with a Dance Dance Revolution-inspired minigame.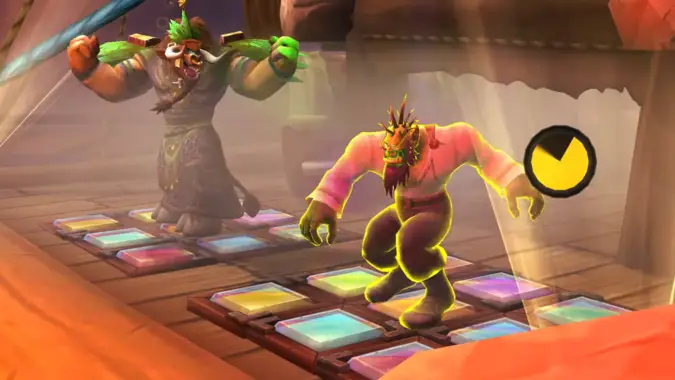 All we've seen so far is an Orc and a Tauren bustin some fresh moves on some very shiny floor pads in front of a crowd of cheering onlookers. It does look like it'll be a head-to-head kind of minigame with two dancers taking the stage to engage in an epic dance-off. I love when we get these competitive minigames against other real people, just like the Sausage Eating during Brewfest.
The last time we got a new addition to the Darkmoon Faire was the rollercoaster that came in Battle for Azeroth's first patch. I love that the Darkmoon Faire has been this place where Blizzard can toss these weird ideas into to see what works and what doesn't. I just wish that they'd pull in more of the ideas from Hearthstone's Madness at the Darkmoon Faire expansion, and let the Old Gods really run wild on the Darkmoon Island.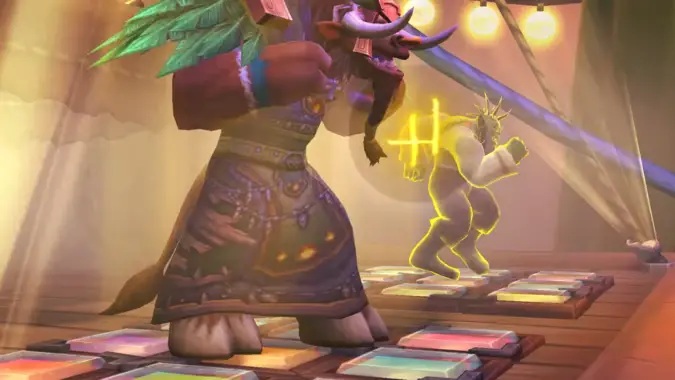 How will this game work? Will we have to match arrows like in DDR? It looks like there are colored runes lighting up and a timer to beat, will you get more points for hitting the right rune faster than your opponent? Will there be new dance-related prizes? It's just a small inclusion in a patch so I can't imagine that we'd get anything quite as ambitious as a way to change what dance your character does when you type /dance… but maybe this would provide some way in the future for players to have that opportunity?
All I know for sure is that there is still time to practice my dance moves before patch 9.2 comes out. If only there was some sort of dance studio for me to practice in…