Something big is coming to the Darkmoon Faire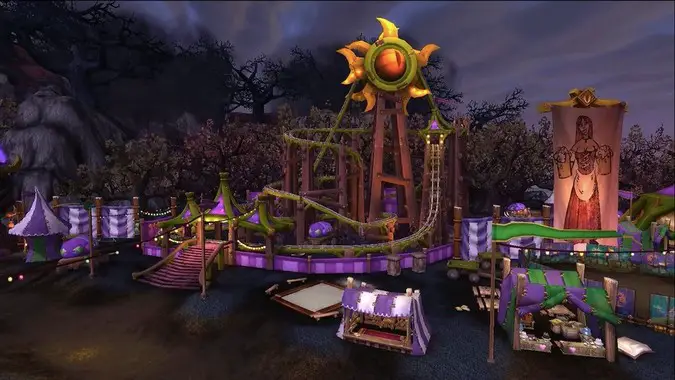 Old Silas Darkmoon has been working on something big behind the scenes at the Darkmoon Faire. Starting with the first Faire of patch 8.1.5 players will be able to ride his latest and greatest attraction: The Gryvern! Standing as the tallest structure in the park and festooned with a glorious Darkmoon Faire Eye, you won't be able to look away. There are no loop-the-loops, but the first rollercoasters hadn't quite gotten to the technical sophistication that we're seeing in modern coaster technology. With a design reminiscent of the Wild One roller coaster from Six Flags America (built in 1917 and still operational!) the Gryvern is a mostly wooden coaster. No Gnomish tech here, just good old-fashioned gravity and rails.
There's no word on if there are any buffs for riding the Gryvern. Although I wouldn't be surprised if it was another way to get the Whee! buff that we can currently get from the Darkmoon carousel. This is the first major addition to the Darkmoon Faire since Blight Boar set up their concert in the caves. I like that we're still seeing a focus on the Faire as a content destination, and as a chance for developers to let loose and have a little fun.
What's next for the Faire? I hope that the Goblins see this as a personal challenge and start construction on a bigger, badder, and more extreme roller coaster to really get the citizens of Azeroth excited. Or are we going to see a mini-game where we try and pelt people riding the coaster with water balloons? Maybe they'll add a third musical act, to match this years closing ceremonies. Whatever is next, I'm just glad that they stuck the exit for the Gryvern so close to the sandbox — in case I lose my lunch!