Tavern Watch Plays Witchlight, Episode 2: How to get kicked out of a Feywild carnival in three easy steps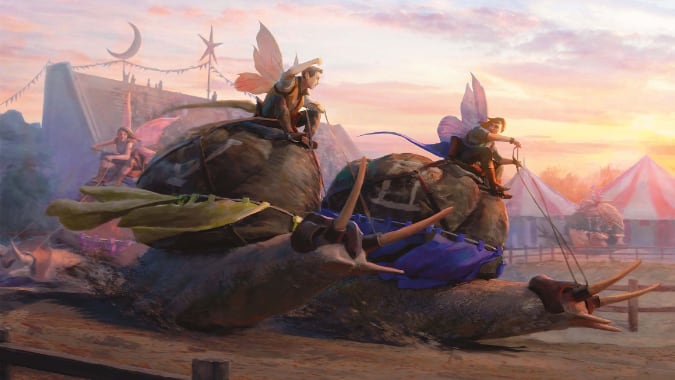 Welcome back to another Feywild adventure as our crew of D&D players continue their adventures through the Witchlight Carnival as we play The Wild Beyond the Witchlight with Joe, Matt, Andrew, Anna and DM Liz (that's me!). And for our second episode we had a special guest: Mitch, adding a seed of chaos into the heart of our story.
In this session, our intrepid party realizes that strange things are disappearing from the Witchlight Carnival… but now giant snails and monstrous dragonflies have vanished as well. Could a kenku troublemaker who's been plaguing the carnival be to blame? Plus: giant snail racing, giant snail flying, singing mermaids, mute mimes, mysterious benefactors, and most of the party getting kicked out of the carnival.
Have we piqued your curiosity? You can listen to Episode 2: How to get kicked out of a Feywild carnival in three easy steps on Soundcloud or directly from this post. You can also click on download icon along the lower bar of the player below to listen on your own device.
Not caught up with our Witchlight game? You can also listen to Episode 1: A New Adventure right now or find the entire series in our Witchlight playlist.
You can also subscribe on Spotify, iTunes, or your podcast player of choice to be notified when a new episode is released. You can also catch up on our other podcasts — including our new tabletop gaming Tavern Watch podcast — on our podcast page. And if you subscribe to our Patreon Tier 2 or above you can listen to all of our podcasts early, as well as uncut versions of the Blizzard Watch and Tavern Watch podcasts.
Thanks for your support and enjoy the show!