Meet Lucky the dog, the most important character in the new Disney+ Hawkeye series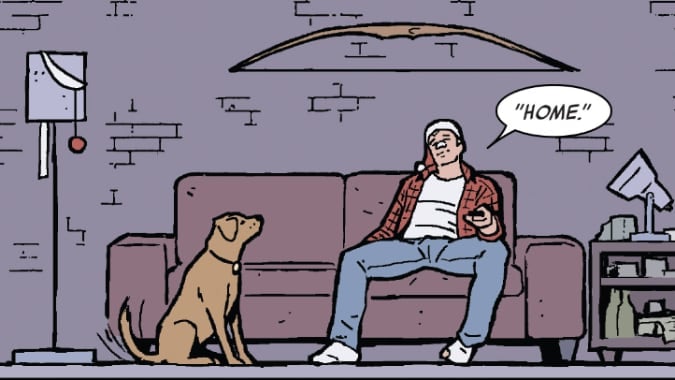 Whenever you see a fuzzy character that grips at your heartstrings in a new show or movie and just know you would kill for them, it's truly something special. I remember watching the first three episodes of Avatar: The Last Airbender when I realized that the hero of the story was Appa. Seriously, the amount of times that Sky Bison saved the day and kept this unruly gaggle of kids alive is astonishing.
Similarly, the second you see Lucky (frequently known as "pizza dog") appear on the new streaming Hawkeye series on Disney+, you know who you're going to be rooting for all series long, and it's neither Clint Barton (although I do love his grumpy Gen X is tired of this energy) nor Kate Bishop (although the way she destroys clock/bell towers does endear her to me as a fellow disaster on legs), but rather this dog, this legend, this absolute good boy. The best thing about the Avengers video game, by far, is when the Avengers pet Lucky. Look at his little eyepatch! That's comics accurate.
I cannot stress to you enough that as great as Lucky is so far in the new Disney+ series, it is nothing compared to his appearances in the Hawkeye comic series by Matt Fraction and David Aja that the show is fairly directly adapting. I especially recommend Hawkeye issue 11, as it is a Lucky-centric story where you view Hawkeye's world through the eyes of a dog. In the comics, Lucky was originally a dog named Arrow who hung out with a minor gang named the Track Suit Mafia. He befriended Clint Barton and helped him before getting injured, which Clint repaid by taking care of the wounded animal and adopting him, giving him the name Lucky. The dog hero would later meet Kate Bishop, who in turn adopted the cute little guy, he's such a good boy — ahem, sorry — anyway, she brought Lucky along on her solo adventures as Hawkeye. The story's a bit different in the Hawkeye TV series, but the result is the same: Hawkeye winds up with an adorable dog named Lucky.
Now, as part of Marvel's digital comics initiative Marvel Unlimited, Lucky is getting his own comic. It's a one shot story about Lucky trying to find out where the pizza that was supposed to be delivered to Kate Bishop — and therefore to him — actually ended up. And there could be more Lucky media, if only we support it — so watch the new Hawkeye series on Disney+, and go read Lucky's solo comic, and also remember that Lucky is a good boy, yes he is, such a good boy.