The Queue: I feel pretty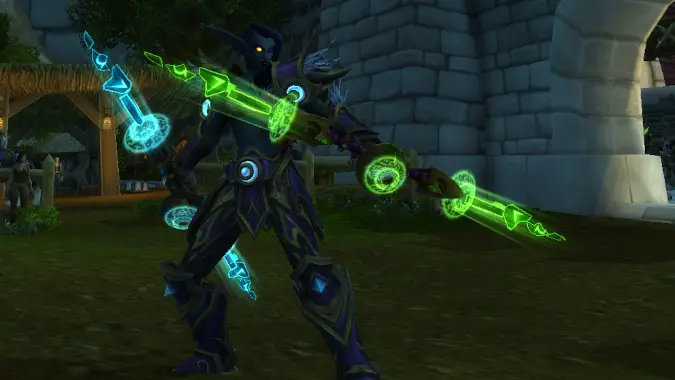 I love my glowstick weapons.
It's the Queue let's gooooooo.
---
ARTHONOS
Q4tQ: Why is it so much more difficult to design awesome looking weapons for casters? Is the idea that the main aesthetics for those classes should be tied to their spells? It seems like each raid tier comes with a bunch of impressive melee weapons, but designs for staves or offhands can be very hit or miss. You think there would be more creative freedom allowed for a weapon that doesn't actually need to strike an opponent.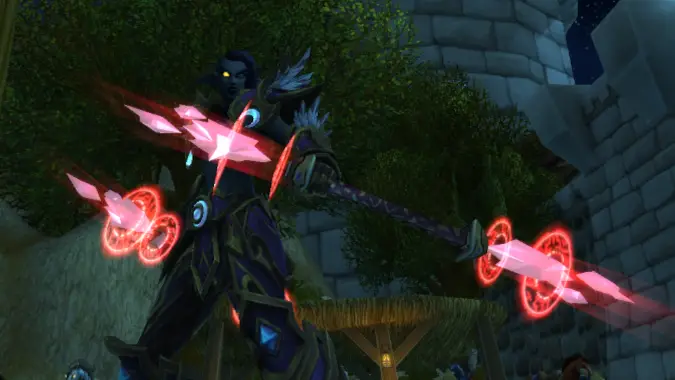 I mean, I don't really play a lot of casters, but I've always dug caster weapons. This is the Crystalheart Pulse-Staff model, it's a look I've loved for a long time now and I still break it out sometimes when I want to smack things with some savoir faire. I of course used the Edict of Argus for the header, that's another staff I really dig.
I mean, this stuff is all kinds of subjective — what you and I think look awesome is always subject to personal opinion and biases. For example,  I love big, impractical, glowing things. Calamity's Grasp is one of my favorite options for an Elemental Shaman, and it's ridiculous, but I still love it. I think it's a better model for a caster than a melee player, because a caster can just stand back and let the thing swirl and glow. So when you ask why they can't design awesome looking weapons for casters, I feel like it's more like you don't like the weapons they design for casters, which is absolutely fair but not really the same thing.
I mean, I really dig the Maledict Opus from Sanctum, and after all these years I think the Blade of Wizardry and Talon of the Tempest are neat caster weapons. Of course, you may not agree, and the more power to you, it's always an individual's aesthetic choices and it should be respected.
---
LUOTIANX
I can't get Country Roads out of my head. I don't even like that song that much XD.
That happened to me especially when it was used in the Fallout 76 trailer. That song will just latch itself to your brain and not let go and you'll find yourself doing something like cleaning out the cat box while singing it to yourself.
Oddly enough, the Warcraft song Times Change from Warlords of Draenor can get it out of my head. No idea if it will help you, but I present it here in the hope that it can get it dislodged.
---
MYTHRIAK
Really? GODSTALKER set?!? Not only it's ridiculously plain and boring to look at, WHO'D STALK A GOD?!
Y'all enable Mitch in his obsessive Old God stalking, so I'd say, a sizeable chunk of you fine folks might well do so.
---
ENO
World latency's getting high for me atm for some reason.
You know what you did.
---
ELAINE DE SHALOTT
FF14 question. So I checked on an alt. It is possible to run between Gridania and Ul'dah at level 10. Is it possible to get to Limsa?
I have no idea, but if y'all get our Patreon up over 6k I'm willing to live stream myself playing the game to find out until max level.
---
Honestly, the entire way people just fell in love with A Song of Ice and Fire and became so obsessed with Game of Thrones just left me cold on the show, and I was never a particular fan of the books. George is an excellent writer/editor, I loved his Wild Cards writing, but for whatever reason I was never a fan of this particular story.
I think some of the actors on the show were great and there's a lot of really good scenes you can watch on YouTube, but taken as a whole, I've always bee an outsider looking in not understanding why everyone loved this. Then again, the kind of fantasy I like is stuff like Pavane or  Dhalgren. 
Heck, when's Fool on the Hill getting adapted?
I'm not surprised George hasn't finished the books, though. Speaking as someone who wrote three novels in a series after literally years of not being able to get them done — I started the first book in 1993 and didn't finish it until 2016 — sometimes stuff just doesn't come together. Writers can find themselves working for days, weeks, even years on a project only to have to scrap all of that work and start over because it just didn't work, and I have real sympathy for George finding himself riding a tiger when GoT became ridiculously super popular. That is a lot of pressure.
None of this really addresses what Red was talking about, but I got to mention Pavane and Dhalgren in a Queue, so I'm happy.
So yeah, that's the Queue. I am six days away from turning 50. Life is weird.