The Queue: Are you pondering what I'm pondering?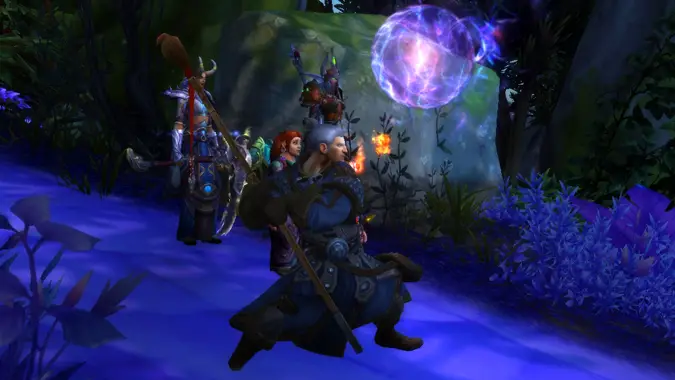 Orbs! They're everywhere right now. Who knows why, but who am I to go against the will of the internet…
While I try and find more Orbs to ponder, it's time for — The Orb Queue.
---
KALCHEUS GOT THE TOUCH
I don't get it but I'mma gonna meme it
Me either, but when in Rome! Here's my favorite that I've seen so far. Well, favorite next to this excellent Steamed Hams one that is just too long to embed.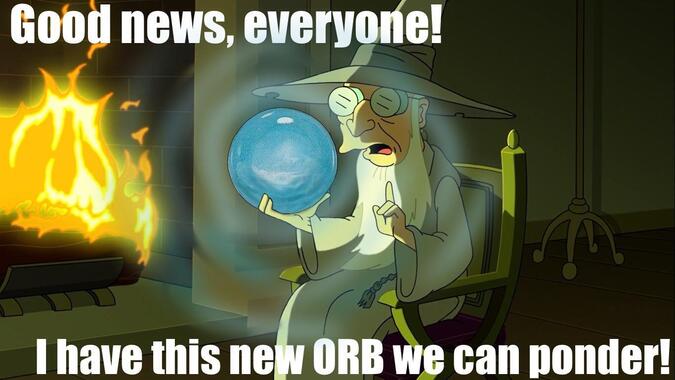 ---
SIBYLLE GOT THE POWER
Q4tC (Question for the Cory) and the Queuevians: Favourite and least favourite encounter in Sanctum of Domination?
Here are mine – caveat: I've only done them on hc, so I don't know or can comment on the mythic versions.
Favourite: Ner'zhul. Probably as the only person on earth. I like the "dance" with the knockback mechanic, and I get some decent damage done as a feral.
Least favourite: Fatescribe. Jeeeeez. The annoyance of having the randomly assigned players do the runes on hc, rather than being able to assign the roles to whoever is best suited to it, and the RNG of how hard it'll be each time, and so many things that can go wrong. Uff.
So I love any fight that keeps me busy in interesting ways. Which is why I love tanking Sylvanas so much. Every phase has things for me to do, and they all add up to a fun tank encounter. Ner'zhul is the same way, I'm always paying attention — even still now that he's on 'farm' — because I have to keep making sure that he's pointed at the right Orbs and that I'm picking up and disposing of those Orbs properly. The swaps and the incoming damage, and dodging out of the pizza slices on the floor also keep me on my toes. It's never boring!
Now Guardian of the First Ones on the other hand — there's a fight that I can snooze through. The tank mechanic is a simple swap, and move slightly so you don't crush your raiders, while the main difficulty should be coming from the race to beat him before you run out of Pylons. Like Sludgefist and his pillars back in Castle Nathria. Only unlike Sludgefist, Guardian is tuned too nicely and my raid has never really felt in danger of bumping into that soft enrage point. I just find it boring, and I don't feel like I have to change my playstyle even to maximize my damage output in order to help beat the fight.
---
AFTER ALL IS SAID AND DONE LEFTY NEVER WALKED, YOU'VE NEVER RUN
Also: what is your favorite expansion, and why?
What is your least favorite expansion, and why?
Mists of Pandaria is my favorite expansion by a long shot. It's not even close. Everything was working out so well for me in-game then. We had a great little ten-player raid that could kill things pretty well. We got our Realm First! Ra-Den achievement (While in Siege of Orgrimmar gear, but still first!) I had the most raid characters up and running that I've ever had thanks to OpenRaid. Seriously how great was OpenRaid, my roommate and I would just spend our Saturdays making Siege runs and killing Garrosh. I could go on, but it would be a whole Queue of me being like "Wasn't Lei Shen amazing, oh and weren't the Klaxxi cool, and how great was the Yak Wash?"
Least favorite is Cataclysm. I don't have anything specific against it, I just don't really remember much of my time there. It's fine, but I even with the content drought I think that Warlords of Draenor edges it out — I really liked my Garrison.
---
RED GOT THE MOVES, KNOWS THE STREETS
Q4TQ: what do you think the odds are that Night Fae characters will get to keep using their Soulshapes even after Shadowlands is over?
I'd guess about 70% that Night Fae keep access to their Soulshapes/Crittershapes in some way.
There'd be a riot in Ardenweald if they didn't. I know that we've been dropping expansion powers by the wayside for the last few expansions, but even without access to the actual Soulshape ability, it'd be madness for Blizzard to take it away entirely. Maybe we'll see a Night Fae toy that lets you turn into your shapes out of combat.
Of course, if it turns out that we don't get them anymore in the next expansion, y'all better not quote this back to me.
---
CAPTAIN CAKEWALK THE DERP BREAK THE RULES, TAKE THE HEAT
Resubbed to BlizzardWatch Patreon! o/
You rock! Thank you so much!
And a big thank you to anyone else who may have taken advantage of our Patreon Pledge drive to kick a few bucks our way. Y'all literally keep the lights on around here.
---
WHEN ALL HELL'S BREAKING LOOSE ARTHONOS WILL BE RIDING THE EYE OF THE STORM
Q4tQ: what is your favorite game that you've never actually played? It could be a game that you watched someone else play, or a game that you just love the art or music from, but it has to be a game you never personally played.
I think that probably goes to Super Mario Maker. I really like watching a few high-level Mario players tear through the difficult courses, but I've never played it myself. Watching them bounce and twirl off of Goombas with the utmost precision is a joy to watch, and I think that if I was to try it myself I would be annoyed when I couldn't replicate it.
I'm also literally listening to the Crypt of the Necrodancer soundtrack right now and I've never played it. I just really dig the soundtrack!
---
MUSEDMOOSE YOU'RE AT YOUR BEST WHEN THE GOING GETS ROUGH, YOU'VE BEEN PUT TO THE TEST, BUT IT'S NEVER ENOUGH
Q4tQ: now that 9.2 is on the PTR and we know it's the final big patch of Shadowlands, what are your predictions for the next expansion announcement and release date?
Since patches like this are usually on the PTR for a few months, I'm guessing an early- to mid-February launch for 9.2, with an expansion announcement in March, after the raid's been beaten and we know how Shadowlands ends. I think it's possible we could see the next expansion before the end of 2022, which mean would 9.2 lasts for 9-10 months, which isn't too bad.
You're very optimistic!
I'm not quite as optimistic this time. I don't think you're that far off, but I'd be surprised if we got the next expansion announcement before May/June of 2022. That way there's enough time for LFR to finish coming out and everyone who wants to can beat up Zovaal. With the mid-2022 announcement, I bet that we'd see Q1/Q2 2023 as the expansion release. This means that we'd have roughly a year in 9.2 — not the longest final patch, but getting up there. At least then we'd have time to build every mount and pet from Zereth Mortis.
Of course, just like the Night Fae Soulshapes, if this doesn't come true don't quote me.
Today's Anna Earworm™: The Touch
Can you believe it's December?!? It feels like it was just Halloween. I hope that you've all gotten your Winter Veil presents ready for your friends and loved ones, and don't forget to leave Anna with lots of questions for tomorrow!