The Queue: The most wonderful time of the year, maybe, if you're into that sort of thing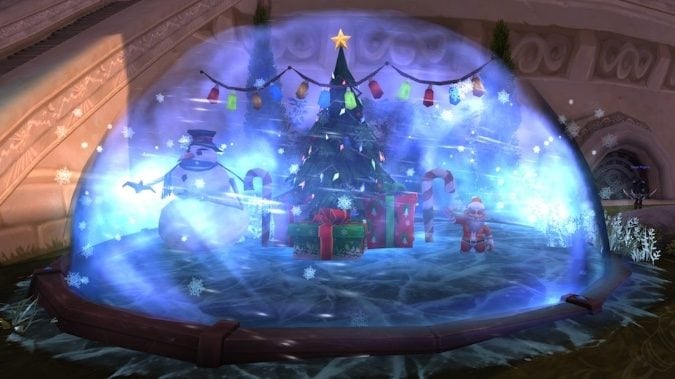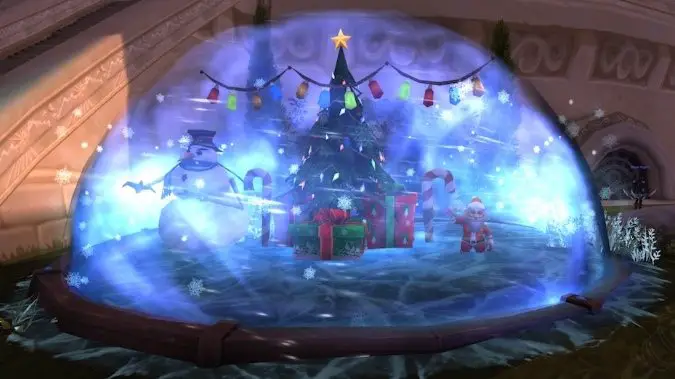 Winter Veil is live and we're heading towards the end of 2021 as the holiday season — both real and imagined — zooms by. It's wild how we've already gone through another year, isn't it?
But wonderful or not, timely or not, now it's time for the Queue.
---
KALCHEUS ASKED:
Q4tQ: do you transmog to Winter Veil outfits?
I rarely use holiday transmog looks for any holiday except for the bronze-tinted sunglasses for the anniversary. They just feel like a year-round aesthetic and go nicely with a golden-eyed blood elf. It's just a good look at goes with any transmog. Doesn't matter what — it will look better with sunglasses.
However, I have to say… sometimes you just feel like putting on an ugly holiday sweater. Sometimes.
---
RJAGODA ASKED:
Q4tQ: Did you like the addition of Allied Races? Do you think we should get more? If so, what?
I don't have any particularly strong feelings about Allied Races. I have an alt or two that's an Allied Race, but my main remains a ordinary old race. But I'm a fan of players having options, and Allied Races have unlocked a ton of new visual options for players to customize their characters. These offer new visuals and customization options, and some of them have migrated to other races since launch, meaning new customization options for everybody. Playing a character that's who you want, what you want, is a big part of any RPG, so things like this are a great addition to the game.
Plus, whether you care about customization or not, each new race had its own little story and quest line to join your faction, which were interesting little side stories. I've enjoyed doing those quite a bit.
So on one hand, I'm not playing any of these races and so it hasn't really impacted me, isn't an important part of my personal gameplay. On the other, new options and customizations and abilities are always fun, and Allied Races have been great for that. I say the more the merrier.
But as to who's next? I'm not going to even hazard a guess. It's going to depend very much on where we land for the next expansion, which I'm also not going to hazard a guess on.
---
SIN EATER ROXXII ASKED:
Q4TLiz: Are Wild players really Hearthstone players? Are Wild players really people?
All people are in fact people, including people who play weird game modes. Heck, to them, we're probably the weird ones.
Wild is, well, a wild way to play the game where you can use (almost) every single card that's ever been released in Hearthstone. That means you need a collection with tons and tons of cards — including old, obscure, and rare cards — to get ahead. It's not a very accessible game mode because if you haven't already been collecting cards it's going to be really tough to catch up.
But having a game mode with so many cards is also interesting. There are weird combos you won't see in standard. Unpredictable behavior that doesn't exist without this huge library of cards. Sure, there are still meta decks that dominate, but there are so many more cards and so many more options that you can see all sorts of things in wild.
So your mileage may vary. On one hand playing with so many options can make for interesting, novel gameplay. But it's much more difficult for a newer player to get into, and any period of the game where you weren't playing or collecting cards may put you behind the curve — and it may put you way behind the curve.
Now, are wild players actually Hearthstone players? The game mode is quite different when you remove the limitations of standard. But it's still more like standard Hearthstone than Mercenaries or Battlegrounds, both of which we still call Hearthstone. Hearthstone is a pretty big game, with a huge variety of gameplay modes… but it's still Hearthstone in the end.
So, yes, let us all play this weird amalgam of a card game — which sometimes does not even have cards — together. We can love it and hate it together, ask for buffs and nerfs together, and just be Hearthstone players together, can't we? I think we can.
---
KALCHEUS ASKED:
Q4tQ What is your favorite "obscure" Christmas song? I'd have to go with Christmas Time Again by Extreme
I don't know about obscure, but this is the only Christmas song I'll willingly listen to. It could be Stockholm syndrome, though, since sometimes Dad likes to turn it on repeat and just leave it until Mom is ready to murder him. (Dad likes to watch/listen to/read his favorite things endlessly. Mom's happy doing something once and calling it done. Sometimes this is a problem.)
Make margaritas when the eggnog's gone — sounds like a good holiday all around, doesn't it?
And that's all for today. I hope you all have a good day and a good weekend, regardless of what you're up to. Be sure to pet your pets and hug your loved ones — and I'll see you back here next week. 💙