The Queue: Self Motivation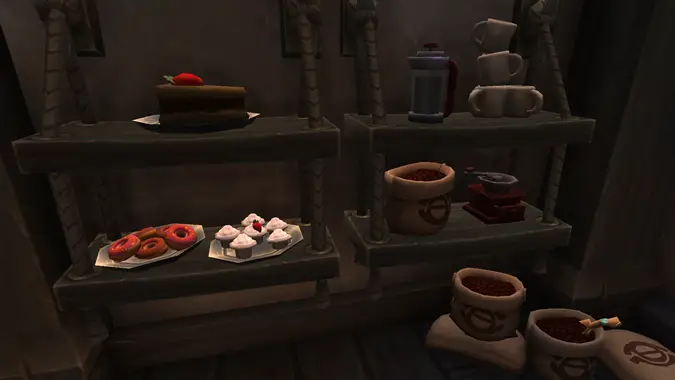 One of the most common questions you get as a professional freelancer is how you can stay motivated. I have to confess I've been having some trouble with this lately — I always tend to get a little sluggish at this point in the year due to the lack of sun, but the general, you know, everything right now has made this winter especially trying. I do tend to do better with staying disciplined and in a routine rather than trying to work up the motivation, because I usually don't want to do anything. However, I've found a little lifehack lately that really cuts through that 2:45 brain fog.
It's coffee. The lifehack for staying awake is another cup of coffee.
This is The Queue, where you ask us questions and we answer just as soon as we're done brewing this cuppa. Yes, another. Don't judge me.
---
JAXDADDY
I haven't played Night Fae, but with as much effort continues to be put into adding soul shapes and critter shapes, d'ya reckon the special ability is going to stick around in some form for players?
Maybe a toy or collectible, though I'd guess it'll likely stick around as a zone-centric ability a la the Garrison's Jukebox if nothing else. I feel like it's an obvious statement that the utility portion of the ability will go away, and if it doesn't it'll be limited to rested areas.
That said, though it's always kind of a risky business as someone outside a particular development team to dismiss the difficulty of literally any task, I kinda get the feeling that adding these new soulshapes is relatively straightforward. They use pre-existing (though lightly somewhat redrawn) skeletons and art assets, and though scaling these critters and making sure they work properly with hitboxes and all that is a consideration, I'd guess it's probably a relatively quick task to add a new soulshape.
---
BRAINSTRAIN
QFTQ: How/where do you keep track of all your games?
I've been using Backloggery, but I'm looking at switching to something like GG or Grouvee.
Is… is this a thing… people? do? Beyond just a very long list of random games on Steam? I cannot relate to this queue question on a fundamental level, and me and the 389 items on my wishlist are feeling incredibly attacked right now.
---
RJAGODA
What is your favorite title, and why?
For me, my main wears "The Scenaturdist." It's just such a random title for a random achievement.
At first I thought you meant like, book or movie titles, and I got really excited, because much like a good man, a good title is hard to find. A lot of the time they do a fine job in terms of describing the work or just serving as an identifier, but sometimes they truly serve to enrich the meaning of the entire work. I often wonder about, say, Shakespeare's Sonnets, and how it might change things if he called, say, Sonnet 18 by a more evocative title and not just Sonnet 18. Wait, which one was 18, again? Just the most read love poem in the English language, no big.
But then I realized you're talking the WoW titles you get next to your name and above your head. And in that case, my personal favorite is probably still Tamer, though there are definitely cooler ones. And I'll also sidebar here to wish they had a few more real-world aristocratic titles on offer. I still need to grind out Necrolord rep for Baroness, which might be my answer if I weren't so behind on rep and/or alt grinds.
---
JAXDADDY
QftQ: What do you think of dust jackets on books? I hate them with a burning passion unless they are enclosed in a nice library clear polyester jacket. I've actually paid local libraries to put them on a few books I own. Otherwise they are just trashy paper that tears or gets fingerprints on them too easily.
I always keep them on whenever possible to protect the book. I don't know where my sticky, greasy fingers have been!
I know they drive people nuts, and I generally don't like using the ones that are covered over in plastic, like they do to library books, but at the same time those tend to actually need the dust jacket so I'm cool with it.
---
ROXXII
Q4TQ: What do you think the impact will be of Team Liquid starting an MMO division and partnering with the guild formerly known as Limit? It seems they plan to invest in MMO space and have added a WoW arenas team.
Honestly, probably relatively minimal. It's possible that having a more mainstream esports brand take a look at WoW as a viable platform for esports will change things a bit. In fact I think it may be somewhat likely that we'll see an organization like Immortals trying to scoop up an organization like Big Dumb Guild in the short term.
However, Team Liquid tends to be an organization that understands that it makes sense to diversify their offerings. They had a quite successful Heroes of the Storm team back when the HGC was a thing, for instance. So while they do have a good amount of visibility and it may lead to a bit of a surge in interest, I doubt it'll make much of a bump longer term.