Horizon Forbidden West is almost here, so is Horizon Zero Dawn still worth playing?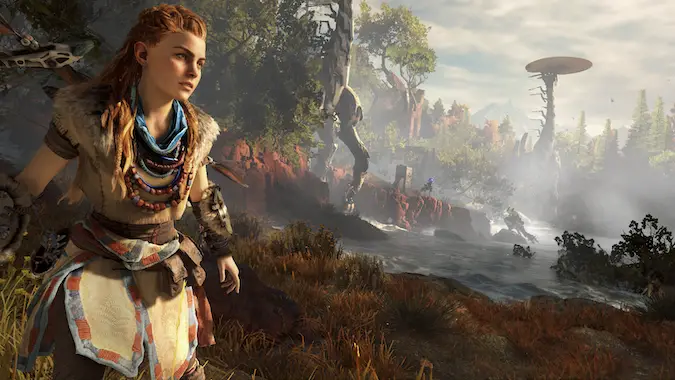 Horizon Zero Dawn first hit PlayStation consoles in 2017, and almost five years later, Guerilla Games is releasing the sequel Horizon Forbidden West. From the get-go, we knew HFW would be worth the hype — the Forbidden West announcement trailer is utterly stunning, and early reviews of the game suggest it lives up to every expectation. Still, every beautiful sequel announcement has a follow-up moment of "should I check out the first one?" So let's explore that question — is it still worth tackling the original game when there's a shiny new sequel to play? Should you take the time to buy and play Horizon Zero Dawn?
The short answer is a resounding yes. Even after five years, Horizon Zero Dawn is a thoroughly impressive — and thoroughly fun — game.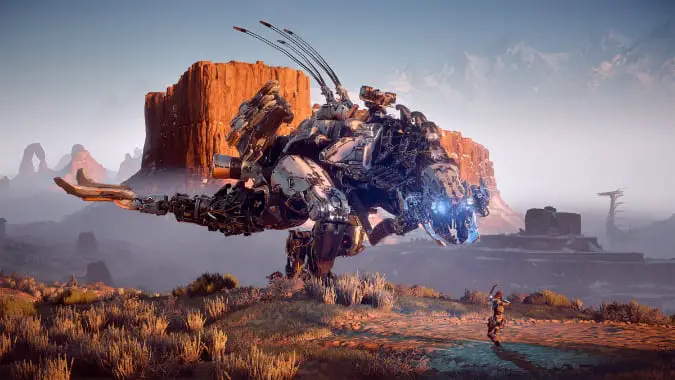 HZD is an open-world RPG with awe-inspiring scale, and there's still lots to explore
Functionally, Horizon Zero Dawn is an action role-playing game, but don't let the genre fool you. HZD leverages an open-world design where the scale of both terrain and opponents (giant, animal-inspired robots) is integral to the title's survival elements. That giant cliff (or equally massive Tallneck)? You need to climb it. Hiding in the grass from a pack of vicious Watchers? They can and will come after you, sounding the alarm before you can even contemplate your primary target. The land provides resources, but it is undoubtedly not your friend.
One of the most interesting facets is the post-apocalyptic setting and its integration with the narrative. Your character, Aloy, is a true bow-and-spear-wielding huntress to start. As the world builds around you through discovery and exploration, you're simultaneously learning about the destruction that led her home to its dystopian state. The sheer uncultivated beauty surrounding you has come at a cost that you're digging deeper into, revealing decimated cityscapes reclaimed by forests, flora retaking ruins, and wild fauna comprised of wild robot creatures. Your technological toolkit expands while you discover the ruinous impact of technology on the planet. It's an ongoing study in dichotomies, contrasts, and global costs that maintains the title's relevance.
Most relevant of all is your isolation as a player. Mother Nature is slowly recapturing this vast world; enormous machine-monsters roam free and will blithely trample you if you get in their way. Yet, through it all, you progress alone. Interacting with others, sure; however, Aloy is the driving factor throughout the tale. Not Aloy plus a Deckard Cain type figure, a Bolvar Fordragon, or even a Bartender Bob. Small, human Aloy.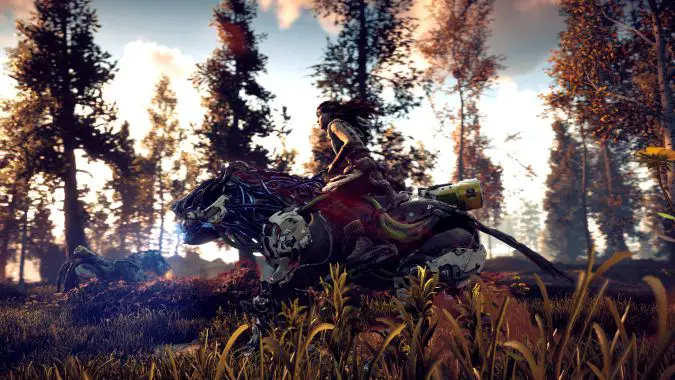 Is now still a good time to play HZD?
This question was a no-brainer for me. I love ARPGs to begin with and was all-in once someone mentioned smooth mechanics and hair designed so well we should be writing sonnets about it. Horizon Zero Dawn is available on both PlayStation and Windows (via Steam) now for much less than the standard $60+ for new game releases. The graphics are gorgeous, whether you're comparing them to 2017 standards or 2022 standards. Aloy's tale is compelling, in part because it's easy (albeit terrifying) to picture the storyline as our potential future. You play, wondering throughout if you're looking at the fate of your many-times-removed grandchildren — a sobering thought, to be sure.
Even so, it's worth the experience. Ziplining from a cliff as Aloy dangles over a rocky abyss, crouching in tall grass as time slows to aim the perfect shot, ascending the robot equivalent of a giraffe or brontosaurus to unlock more of the map — from an adventure perspective, this game is loaded. Essential functional elements are tying into your main arc, such as crafting new ammunition for various targets or health potions to supplement your forays. Additional unlockable items flesh out replayability while dodging the dreaded grind: tackle challenges in the form of bandit outposts, pursue errands and side-quests to flesh out the story, or seek out in-game collectibles (relics, vantages, and flowers, each with their own tale to tell).
That said: zero judgment if you don't want to invest the time in playing the old game before the new! There are plenty of online resources to catch up on relevant story details if you want to go into Horizon Forbidden West fully prepared. I suggest our Lore Watch Podcast deep-dive of the Horizon Zero Dawn story and host Matt Rossi's accompanying write-up of everything you need to know from HZD before starting your playthrough of Horizon Forbidden West.
And whether you give HZD a playthrough or dive straight into HFW, the other title will still be there afterward so you can discover Aloy's future or revisit the past that led her to where you are.