WoW
Mar 31, 2022 10:00 am CT
These are the Warlords of Draenor Mythic+ dungeons that will be in Shadowlands Season 4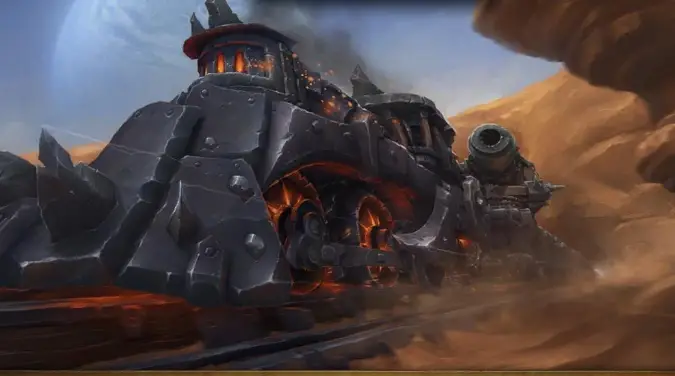 Shadowlands Season 4 is going to add a selection of dungeons from previous expansions to the available Mythic+ pool — the two wings of Tazavesh from the current expansion, the two wings of Mechagon from Battle for Azeroth, and the two wings of the Return to Karazhan mega dungeon from Legion. But for Warlords of Draenor, which didn't have a mega dungeon, we got a poll allowing players to vote on which two Warlords of Draenor dungeons we'd get in the Mythic+ pool for Season 4.
And apparently players decided to vote for Grimrail Depot and Iron Docks, proving to me once and for all that the player base is a mercurial and self-flagellating group that will choose options that are less than ideal if they think it would be funny. That's the only reason I can think of to explain why Grimrail-freakin-Depot, the most annoying dungeon I have ever run, won the poll with the most votes. And then, the second most annoying dungeon in Warlords, the Iron Docks, took the number two spot. At least Iron Docks isn't the second most annoying dungeon I've ever run — that was original Sunken Temple, which led as number one for years before finally losing to Grimrail Depot.
I understand that one person's poison is another person's cure, and I get that these two dungeons have interesting ideas behind them. I also understand that nobody was going to vote for Everbloom or Bloodmaul Slag Mines. But Auchindoun and Upper Blackrock Spire were right there, guys, and you chose Grimrail Depot? At least they're putting in a fix for the motion sickness from the train, which is the main reason I don't like the dungeon, so maybe it'll be all right. But still, I'll be over here lamenting the possibility of a Mythic+ Auchindoun for Season 4.
Honestly, I'd love it if they did a Mythic+ adaptation of all the wings of Burning Crusade Auchindoun. Mythic+ Murmur could be amazing, plus I'd love to have the contrast between the ruined Auchindoun we saw first and the technically original undestroyed one we saw later in Warlords. It's one of my favorite series of dungeons and I'm really sad the Warlords version fared so poorly in the vote. I'm heartened that Upper Blackrock Spire was in third place — although I of course would have preferred it to have actually won.
Still, a winner is a winner, and Grimrail Depot and the Iron Docks are our winners for the Warlords Mythic+ dungeons in Shadowlands Season 4. Ah, what might have been.